What Lead Generation Channels You Can Use to Help You Grow your Business
7 min read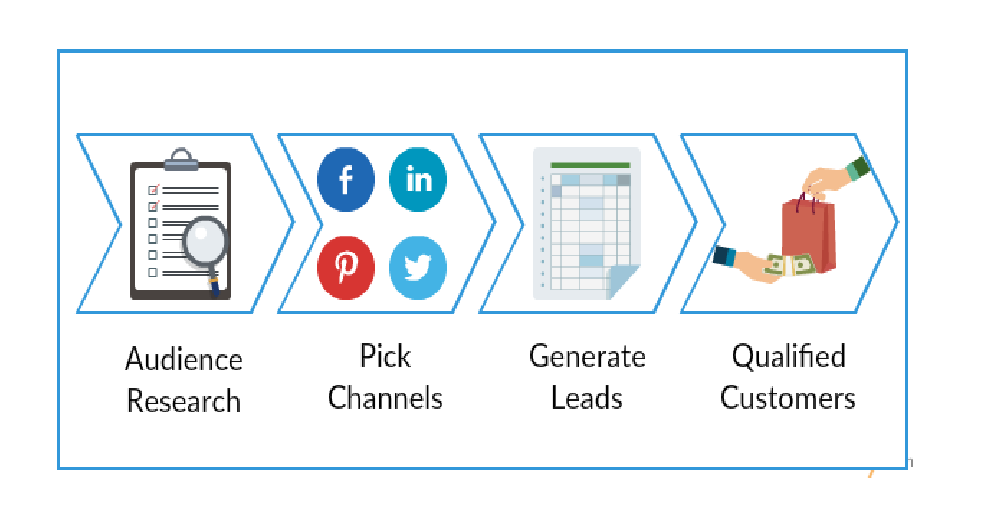 A lead is a person who is interested in your business. If enough time is spent on persuading this person, he'll make a conversion, and ultimately become a customer.
Lead generation is necessary because, without leads, you're not going to get many customers. Businesses need to optimize their lead generation strategy. Identifying channels that produce the best results for a business is not an easy task.
There are several lead generation channels, but if you're not sure about which ones will work for your business, it might be a good idea to take it slow. Test and optimize a channel as best as you can before moving on to another one.
Here are eight lead generation channels that will help you grow your business:
Valuable and relevant content.
Your business is surrounded by its competitors. You need to make your business stand out.
Producing helpful and relevant content for your target audience will increase your brand's awareness and positively impact your brand image.
Content generation and content marketing have become an increasingly important part of a business's overall marketing strategy. Companies are now producing more helpful content than they've ever produced in the past.
How does content marketing increase my leads? Check out the scenario below.
You are a vehicle parts distributor. You've reached a decision to give content marketing a go and come up with a strategy to produce content that'll help people with issues related to your business.
A teenager who got his first car a few days ago finds out that his car's engine is acting weird. He's a teenager that has grown up with the internet, so he does what comes naturally to him, search his problem on Google.
He finds an article posted by your business. The advice available on your article helps him eventually fix his car. Next time he has any trouble with his car, he'll make sure to check your website for a solution before anything else.
This teenage has now become a lead for your business. A little persuasion and some marketing will turn this lead into a conversion, which is what you want as a business owner.
Social media marketing.
Social media marketing has become essential for lead generation. People are spending more and more time online and on these platforms.
People want to know more about you and your business. They want to see what you're up to. Social media is a great place to inform your audience about your business.
Social media marketing is inexpensive and allows you to market your products to a broad range of clients. Social media platforms provide you with analytics and other useful tools so that you can focus on lead generation and making conversions and leave out all the rest.
To effectively generate leads from social media, you'll need to pay close attention to who your audience is and their interests. Businesses can quickly generate leads using social media, which saves them a lot of effort.
Different audiences prefer to use different platforms. Professionals who want to find a job or a new employee spend more time on LinkedIn. A younger, more social audience would use platforms like Instagram, Snapchat, and TikTok. A vast majority of people use Facebook to connect with their family and friends.
Start marketing on a platform where your audience is most concentrated. Selecting a platform wisely will allow you to display your ads to your audience. Start small and expand your marketing budget when you start to get results.
Website for your business.
Having a website for your business is essential these days. A website represents your business online.
On other platforms, you'll need to adhere to their standards and regulations. On your website, however, you can do whatever you like.
Having useful content on your website is a necessity and is not optional anymore. Offer as much value as you can to your website visitors. Give live support through live chat app for solving visitors queries in real time.
Have strategically located CTA (Call To Action) buttons placed on your website. A visitor might click on one of those CTAs and become a lead and eventually a customer.
Link your social media accounts to your website. This allows your visitors to interact with you on a platform of their choice, an essential point if you want to generate leads. Facilitate your audience and visitors as much as you can, and you will be rewarded.
E-books.
If your audience wants to get e-books for free, all they need to do is enter their name and email. They get an e-book, and you get a high-quality lead.
Some people might not want to stick around your website to read a piece of content. Presenting that content in the form of an e-book will allow your audience to read your content at their leisure.
If you aren't the best writer, you can always learn by doing. Writing e-books isn't too hard once you get the hang of it.
If you want to save some time and spend a little money, hire someone else to write your e-book for you. Find someone who has writing experience in your industry. Freelancing websites like Fiverr and Upwork make this an even easier job for you.
There are only a few things that can generate as much excitement as a giveaway, especially when the item up for grabs is expensive.
Giveaways can generate a large number of leads if they are correctly used.
One thing that you need to take into consideration is the quality of leads obtained. Generally, giveaways produce low-quality leads because the prize is too generic.
Let's look at a scenario where giveaways can produce high-quality leads.
Your target audience includes HR managers. Suppose that there is a costly tool available that would increase the productivity of HR managers significantly and save them a lot of time.
If you want to capture leads from HR managers, you should purchase a yearly subscription for the tool and give it away in a lucky draw. All HR managers need to do to get the tool is to give their email and nothing else.
The leads generated from this giveaway would be very high-quality. The tool would only be useful for HR managers or people working in HR, so the leads you obtain would be precise and targeted. It would be easier for you to persuade them to make a conversion.
Commenting on forums related to your industry.
Forum commenting is something that several SEO experts use to generate leads.
If you have reasonable knowledge about a particular topic or niche, find forums where people have questions.
Answer the questions posted on forums to the best of your abilities and make sure that you provide value to people. It's all about delivering value to your target audience.
When you answer these questions, make sure to include a link to your website or a brief description of your business. Writing this little bit of information will significantly increase awareness if the forum has a lot of traffic.
An ideal forum would have a lot of traffic and reasonable domain authority. Also, make sure to look for engagement and current activity levels on the forum.
Influencer marketing.
Influencer marketing has become quite popular recently. Thanks to the internet and social media platforms, ordinary people can become influencers in only a short amount of time.
Influencers have now replaced celebrities. Back in the day, only huge corporations could afford celebrity endorsements. Celebrities were few and far between, all that has changed. Today, small and medium-sized businesses can partner up with influencers and generate serious interest, awareness, and engagement.
Choosing the right influencer, who's related to your niche and industry and is a good fit for your brand, takes some searching. With so many influencers available, only partner up with individuals who have a serious and loyal following.
Influencer marketing, when done right, can generate a lot of leads. Taking care of a lead and nurturing it to conversion-hood will take a serious amount of effort and time.
Guest posting.
Guest posting is a great way to generate leads. By pitching your content to other websites, you can create a lot of awareness.
By writing a guest post on a reputable website, you can leverage a wider audience and can potentially generate more leads.
By writing a compelling post on something related to your niche, people who are interested in your niche, but haven't heard of you will become aware of your presence. They might want to see more from you and visit your social media profiles or your website.
By writing guest posts, you'll be able to establish yourself as an expert in your niche. Writing on popular or trending topics will give you a lot of attention, which ultimately translates to increased awareness for your business.
Conclusion:
There are several lead generation channels available for you to choose from and utilize.
But choosing the right channel doesn't mean that your job is done. You need to keep optimizing these channels and find new ones that have the potential to produce even more leads and conversions.
Learn from your competitors and adopt industry best practices to make a comprehensive lead generation strategy.
HamzahAdil is a young content writer who is passionate about marketing and business. Other topics of interests include entrepreneurship, social media, viral trends and technology. He is currently working at a startup that has developed a new live chat app called SwiftChat. This live chat software allows its users to cater to visitors on their website in real time and provide the best customer experience possible.