What Is The Difference Between Spam And Phishing
4 min read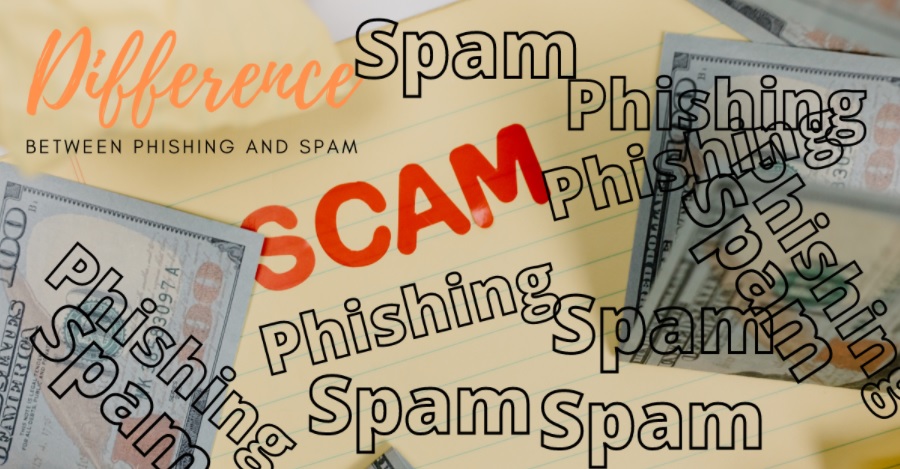 Difference Between Spam and Phishing
Fraudsters are adopting phishing and spamming tactics at bewildering speed. According to Forbes, a phishing scam was circulating on Instagram. They were claiming to provide "Instagram Verification Service" at a discounted price endangering users of a scam. It also stated that it is accepting Amazon gift cards or cryptocurrency as a payment. 
Another incident occurred in August 2021 when hackers gained access to user login details of famous political leaders on Twitter. They were able to acquire sensitive information through a phishing link. 
There are zillion types of frauds hackers are developing, and it's high time for regulations to wake up and smell the coffee. 
Spam and Phishing – The Bedrock of Cybersecurity Disaster 
There are many types and forms of cybercrimes that are happening worldwide. The most significant of those is spamming and phishing. According to Statista, financial institutions are facing approximately 30 percent of phishing scams. Hence, giving rise to two-factor authentication as enhanced security.   
A phishing attack is also known as a social networking attack. The scam includes tactics to steal sensitive data of individuals. Data such as login details of social media accounts, insurance accounts, or bank accounts. 
The phishing attack transpires when hackers encourage users to click on the link rendered. Moreover, cybercriminals present themselves as trustworthy sources by sending emails through official accounts. Therefore, when users click on the link sent, they are sent to the imitation of the original website. The website then asks for sensitive details to log in to their official accounts. Undoubtedly, the hackers then get access to id and password and use the information to log in from the official website. 
The official website can belong to any platform, such as a bank account or a social media account. In addition, the link can automatically download malware or ransomware software on the computer. The software is then used to monitor activities on the computer and access saved passwords. 
What is Spamming?
Using digital messaging systems to send bulk messages is known as spamming. Unwanted emails or messages are sent as a broadcast media to spam the inbox of the user. Although the email system automatically filters out spam emails, so many emails can go unnoticed. These messages are usually sent through instant messages, mobile messages, social media messages, forums, and many more. 
Spam is usually used to sell goods or services to a large market. The emails or phone numbers are accessible on distinct platforms. Spammers acquire this information to send bulk messages. Even though these are harmless messages, the CAN-SPAM Act of 2013 helped minimize the rise in spam messages. The most common types of spam are coupons, mature content, and unwanted newsletters. The main purpose of spam is to direct the user to buy the product or service the spammer is offering. 
The 4 Differences Between Spam and Phishing 
The difference between spam and phishing can be categorized in terms of purpose, nature, content, and legislation. 
1. Purpose
Sending messages that are marketing products and services is spamming. 
Frauding, the user with messages that have evil motives, is known as a phishing scam. The aim is to get access to the login credentials of official accounts. 
2. Nature
Unwanted and annoying bulk commercial emails that are not harmful are sent through spam messages. 
In phishing, there will be misleading messages wanting to acquire information that is sent from legal organizations. 
3. What do they contain?
Spam emails will contain advertisements, coupons, or discount vouchers for the product/service the spammer is providing. 
Nevertheless, phishing messages will contain malware attachments, infected links, and manipulative messages. 
4. Legislation
Spam – Anti-Spam laws and the U.S Non-Solicited pornography and marketing act of 2003 
Phishing – U.S Federal criminal law and multiple other state laws 
The Solution to Spam Vs. Phishing Scam
Corporate businesses need to adopt state-of-the-art technologies to overcome spam and phishing attacks. Incorporating some significant steps by the user and companies can assist businesses in staying away from threats, such as the following. 
To begin with the thinking mind: 
Spoofed messages have spelling mistakes and changes in the domain names. Therefore, individuals must make sure that they check such emails and think about why they are even receiving them in the first place. 
Two-Factor Authentication: 
2FA is enhanced security that most businesses are now acquiring to counter phishing attacks. It is primarily used to verify the identity of individuals. Two-factor authentication for phishing is used for logging into official accounts. 
The application relies on: 
Username and password – Username and password are mostly only known by the user. 

Authentication code – It sends a text message code, or an authenticator app is used to create codes that will expire within a time frame. This small time frame increases the authenticity of the app. 
Conclusion
In addition to adopting innovative technologies to prevent phishing and scamming, businesses must also change their strategies. Employees should be encouraged to use different passwords for each site and must occasionally change the passwords. Although auto-fill is beneficial, it should be avoided to combat cyber threats. Additionally, the installation of antivirus software on the computer must also be considered.