No Brainer Tips To Start A Career In Web Development
5 min read
Becoming a web developer is an intricate career to choose for your life. If you don't know much about how things work then you better make a plan and get started with software development. But before anything, you should know why development is the career you wanted to go for.
If you don't have any idea about the web development career then you must know it's something that is being used in every other industry. On an average scale, 75% of a country's businesses are up against a digital skills shortage which means they are hiring talent. That's actually great for people who want to start their career in the web development industry. This is because every business needs a strong and responsive website that can help them market their brand. It doesn't matter what age you are, you can opt for web development as a career wherever, whenever!
WHAT IS A WEB DEVELOPER'S JOB?
The job of a web developer is very complexed. You have to sit with designers and other stakeholders to discuss the design. This process is important to build the layout of the website. This will help the designers continue sketching the website and start functioning. While being the developer you have to begin with start developing the website. This process might look easy though it's not. You have to come up with creative and new ideas that can give a fresh new look to the website.
From a small vision of how you'll create it to start working on it, you have to do it all. You can also make your job easier with the latest website technology which can help you market and reinvent tools that can give a new look to your website.
During the designing process, you also have to make sure you've used the other aspects pretty well. From contrasting it to adding the navigation tools, you have to meticulously create it as it is important to improve the website's usability. Along with this, it's a web developer's job to ensure if the site's functioning properly on each platform. Because a responsive or mobile-friendly website helps in gathering more traffic, a web developer must create smooth websites that provide ongoing support without any glitches.  Also, always keep room for updates or improvement so you can implement new features time-to-time.
Now comes the part where you can learn ways to become a web developer. Here is what you need to do:
Once you get done with your web development course, you can start working as an internee. Your journey as an intern will help you understand and practice everything you've learned. It will eventually help you become a lead developer with experience.
While pursuing your journey as a web developer, you can go for these categories:
FREELANCER
If you believe that you have a strong grip on your web development skills then you can work from the comfort of your home. Similar to the work you do for an agency, you can work for yourself or other clients that can pay you pretty well.
FRONTEND DEVELOPER
You can also go for frontend developing where you can build the public-facing aspects of a website. By using all the programming and coding languages (HTML, JavaScript, and CSS) you can create a user-friendly website.
BACKEND DEVELOPER
If you are not interested in frontend developing then you can also go for backend developing. The backend developer handles all the operations behind a perfect website. These developers manage the database and servers that hold the shape and body of a website. PHP, SQL, and Ruby are the programming languages that are commonly used for executing functions.
FULL-STACK DEVELOPMENT
Full-stack development is the term used for developers who have got skills for both frontend and backend development. In case you are good with both and want to pursue your career by working as a developer then you are free to do it.
COMMON ROUTINE TASKS AS A DEVELOPER
The routine operations of a web developer might vary on the type of languages and coding. A developer can begin by fixing bugs or errors in the website's layout or update new features. From checking the functionality to the site's accessibility, developers have to make a site more responsive. It's the job of a developer to ensure that the website is safely working on several browsers or internet platforms as this is an import tool to boost engagement. By making it more interactive, developers also have to make sure that they keep the site safe from any risks (cyber-attacks). This is because it's a developer's first priority to deliver the top-quality and secure website to each client.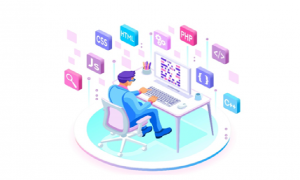 SKILLS THAT YOU NEED TO PRACTICE TO BECOME A WEB DEVELOPER
As mentioned above, becoming a web developer is an intricate job. You need to have a strong command over a variety of coding and programming language. As a beginner, you can go for HTML and CSS as it will help you hold a grip on the language. Once you practice and master skills as a beginner, you can pursue by learning PHP, SQL, and JavaScript which are used as the main toolkit in the programming language. Also, to become a professional web developer, you must get familiar with the following aspects:
Database management systems
Web application frameworks
Responsive web design
Security and encryption
Version control systems
To compliment your basic web development practices, here are a few things that you should add to your client's understanding:
USER EXPERIENCE (UX)
It is also an important task of the developer to make sure that the website offers a fine user experience to the client. The better user experience can be easy navigation, relevant content and fine patterns.
WEB DESIGNING
Even though web designing is not particularly a developer's job but the developer should have the awareness of how a website is designed.
SEO AND SMM
To have knowledge about SEO (Search Engine Optimization) helps you rank a website on multiple browsers whereas SMM (Social Media Marketing) helps you market your brand on several social platforms.
THE BOTTOM LINE
By keeping all these points and aspects in mind, you can begin your career as a web developer. You can also visit Webmization to get an idea about professional web developers/designers.