End of season sale get your favorite before run out of stock
3 min read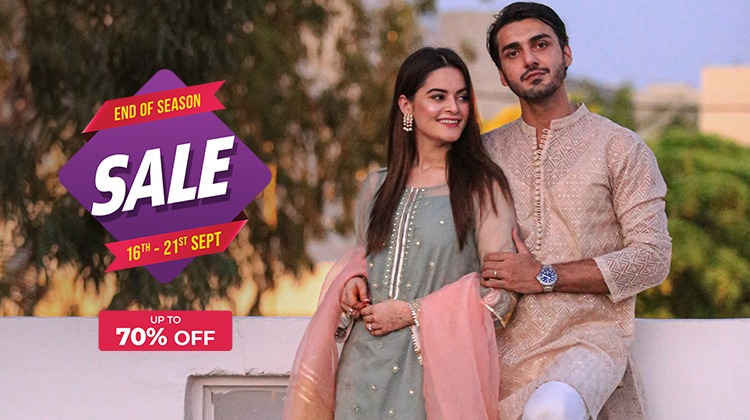 What is better for a shopaholic than shopping at a sale that is providing you upto 70% off and a platform that has over 400+ brands at one place and an online shopping experience you have never had before? I can answer that for you, Nothing is better than this. LAAM is the platform that has the biggest end of season sale going live now! The platform is providing you over 25+ brands on upto 70% off sale including unstitched, pret, luxury pret, shoes, bags and the best deal is they have couture sales as well. You can now purchase the look of your dream at the most amazing discounted prices and by connecting with fashion consultants that are available at your service always!
LAAM wins when it comes to arranging sales for its customers. All the best deals are now on sale. You can purchase the lawn collections from the biggest lawn collections of the year – Elan, republic, crimson, Mannat, epoque, Gul Ahmed, Limelight, Cross stitch, Maryam Hussain, Zara Shahjahan, Zarif, ZAHA, Edenrobe, Shiza Hassan, Hussain Rehar, Maria B, Ittehad Textile, Mashriki and Taana Bana etc.
These are just a few names that are on sale at LAAM with amazing discounts. Now that the summer season is coming to an end, we need to grab the amazing outfits now on discount because clothes are never enough in the summer season. From printed kurtis to complete 3 piece and luxury lawn by the famous designers – all the collections are now available on Sale.
Pret and luxury pret by brands like Umsha, HEM, Bano empire, Rang e Haya, Akhrot, Garnet clothing, Saira Shakira and Haris Shakeel – all brands are now available on amazing discounts. The luxury pret 3 piece and 2 piece including unique work techniques and top fashion trendy clothing fabric and designs all can now be availed at upto 70% off only at LAAM's end of season sale. The best selling outfits with amazing colors and options to avail them on discounted prices is the best you can get at a sale.
Shanzay and Anooshay, Maan Mehran, Allure by IH, Waqas shah and nilofer shahid – all the luxury couture brands can now be availed at discounts as well. Rock your brunch, dinner, dholki/mayun or bridesmaids look with the most amazing luxury deals at LAAM. Choose your preferred colors and styles from the widest range of brands and designers.
When it comes to couture and bridal outfits, LAAM has made sure to provide you all with the amazing deals on bridal outfits by the most famous designers like Haris Shakeel, Umsha, Nilofer Shahid, Meeral, Dastoor and Sanaya – the brands are at 30-40% off at LAAM. You can consult their fashion consultants via whatsApp and grab your favourite outfits with your budgeted range and choice of outfits.
When it comes to your big day, your perfect look is important and you can only get that at LAAM with the amazing discounted price and online consultation without going into the hassle of searching in markets. LAAM would do all the hassle for you and will let you relax and enjoy your big day.
Not only women's collections have been on sale – Men's collections are on sale as well. Brands like Dynasty and BTW are giving 30% off on their collections for the end of season sale. Buying outfits on sale is everyone's favourite and the best chance to avail what you liked at the start of the season but never had the chance to purchase.
So, this is your time – this is your chance to grab the most amazing deals and discounts at Pakistan's biggest fashion platform that is giving you the opportunity to explore sales on more than 30 brands at one place. You are just a click away from adding your favourite pieces to your cart. Happy Shopping!
click here for more interesting articles
About Author