All You Need To Know About Bajaj Qute
3 min read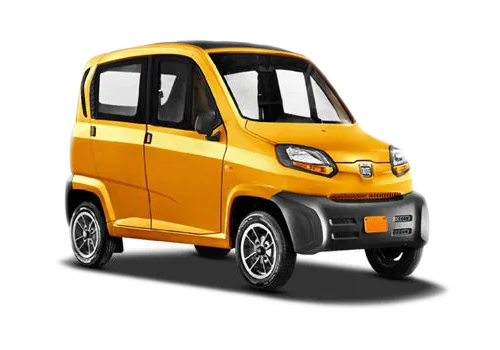 Being established as one of the most trusted three-wheeler brands across many nations, Bajaj is successful in pushing its innovations to produce a compact Quadricycle – Qute. Qute got all boxes ticked. It is fuel-efficient, eco-friendly and it suits best for all distance trips. It is affordable and will employ drivers and fleet owners.
It is also the first Indian made quadricycle to meet the European Quadricycle standards and get certified by European WVTA (Whole Vehicle Type Approval) by RDW Netherland.
The Bajaj Qute is powered by a 217 cc engine. The power equation is 9.9 kW @ 5500 rpm and a torque rate of 4000 rpm. The DTSi 4 valved engine has features like spark-ignition, liquid-cooled and this is a single-cylinder engine.
Qute's features will leave you mesmerized for sure. You can see the detailed description of the features below:-
Performance
DTSi Engine (4 valves)

The amazing fuel efficiency of 36-kilometer per liter

The very low CO2 emission of 66gms/km
Qute is a small vehicle, but its ability to climb and carry small loads is amazing, thanks to its 4 valves DTSi engine. A great piece of engineering work kept it lightweight and helps to increase the fuel efficiency of 36 kmpl. Qute emits 40% CO2 compared to other small cars, which makes it eco-friendly.
Design
Smart and compact design

Cool style

Perfect size
Amazingly Qute weighs just 399 Kg. Its compact and simple design makes it the best fit to travel with ease in traffic and to park in less space. It is designed to provide comfort for both driver and passengers.
Comfort
Very low turning radius of 3.5 m

Tough suspension
Qute has got a good suspension and ergonomic seats to offer a comfortable journey on all types of roads. It has just a 3.5 m turning radius to suit the traffic conditions.
Safety
High strength steel body

Highly resistant plastic closure

Seat belts

Max speed of 70 mph
Qute is made up of a highly durable and strong steel body. It is covered with quality plastic closures. Apart from this, there are many top quality safety measures are implemented in Qute such as hard rooftop, front and back seat belts and a restricted top speed of 70 mph.
Storage
Multiple options for storage

Good space for your luggage
In Qute, you can find plenty of storage space. In precise, there are 191 liters of space, which is divided across all parts. But when you bend rear or back seat you can get up to 850 liters of space, which is so good in this quadricycle.
Specifications of Qute
When it comes to brakes, the brakes in Qute is supported by Hydraulic and H-split type. The brake size is 180 mm. These specifications for brakes are considered as one of the best safety measures.

If we talk about tires, both front and back tires are of size 135/70 R12 tubeless tires.

The headlamps are of dimension 35 x 35W HS1 type to provide sufficient light under the night sky. The side indicators are backed by 10 W power.

The viper motor is supported by 12 volts power and of single-speed type.

Qute is provided with a battery of 12v and 26 AH.

The ground clearance given is 180 mm. The fuel tank can store the fuel up to 8 liters max. It has a good suspension supported by coil spring.
Loan Facility
It is an ideal quadricycle for almost all-purpose. You can also buy this vehicle with the help of a loan. Bajaj Auto Finance is providing vehicle loans at the lowest interest rates. You can make use of that to buy this one.