5 Must-Have Pieces For Spring 2023
4 min read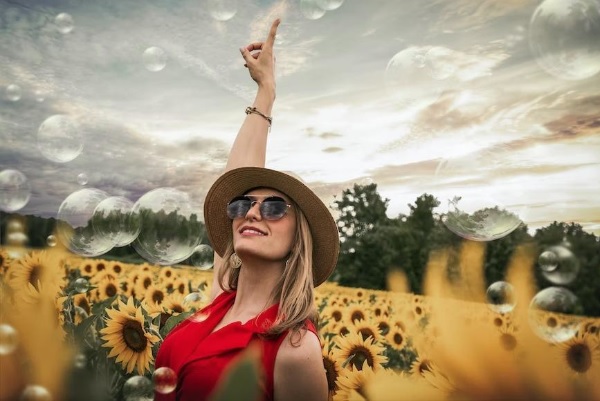 "New year, new me" is a motto many people adopt at the turn of the year. The beginning of a new cycle is usually associated with personal, interpersonal, or professional changes and with setting new goals (which will not always be met).
The new year is also the perfect opportunity to renew your wardrobe. You can simply get rid of what you no longer use, but you can even dare and adopt some fresh ideas on how you will present yourself to the world. And what better time of year to do this than spring? Its transition from colder to warmer days is an excellent opportunity to wear in-between clothing and accessories.
Let's take a look at five must-have wardrobe essentials to make a great impression in the Spring of 2023.
1. Denim Jeans
A pair of jeans is a must-have in any wardrobe. And denim trends have been leaning towards looser and relaxed fits for some time now. Say goodbye to those tighter, skinny jeans and replace them with baggy, more roomy, and wide-legged jeans.
Adopted by celebrities and Hollywood stars, the idea goes with the trend of dressing for comfort. You can choose the style that suits you best: the entire pant leg looser or just on the ankles, reminiscent of those bell-bottom shoes from the 1970s.
2. Understated Eyewear
In addition to protecting your eyes from the sun, a pair of sunglasses is the ultimate expression of coolness at any time of the year. For Spring 2023, trends point to all-black retro sunglasses, which have always been a classic, and oversized glasses with gender-inclusive lines, which adapt and flatter any face shape.
It's a great moment to refresh your eyewear and have a brand-new product to accompany you throughout the new year. Today you can even buy glasses online that deliver the same level of comfort you can expect from a quality designed product, as well as enjoying the access to a wide variety of models and styles, all without leaving your home.
3. Knitwear
Sweaters are winter essentials that often accompany the transition to spring – and could even be worn year-round. Versatile, these pieces of clothing go great with jeans or layers. The type of collar should fit your personality and style: turtlenecks are winter or spring classics that keep your neck warm, while thicker crew neck knits look more stylish with trench coats.
Golden rule: if you want sweaters that last longer than a year, avoid synthetic yarns (acrylic or polyester) and look for products made with natural fibers, such as wool, cashmere, and linen.
4. Trendy Sneakers
No matter how many shoes you own, a new pair of sneakers is essential to step into Spring 2023. You can already see some of the trends for the season on the feet of celebrities and influencers. Some models are more colorful, others more classic.
Famous girls like Kendall Jenner and Bella Hadid were seen wearing retro models with a sporty look, rounded toes, and rubber soles. While some influencers prefer neon colors and tones, the sneaker that never goes out of style is the classic white, which matches every style and every outfit.
When choosing a new pair of sneakers, remember that practicality and comfort are just as important as aesthetics.
5. Leather Jacket
In addition to matching everything, leather jackets bring attitude to any look. The best part is that they are not just fashion statements but also pretty good investments. When you choose high-quality leather jackets, they can last for a long time (from years to decades) and even improve with age.
There are several designs to choose from, and the ones that never go out of style are those models inspired by sports – such as biker, aviator, and racing jackets. You can also opt for leather blazers on less cold nights, as the model has buttons instead of zippers and doesn't keep you as warm as the others.
When buying a new leather jacket, avoid imitation or inferior models. Durable leather is made from the skin of an animal (usually lamb, goat, or cow), and you need to look for full-grain leather for high quality and durability.
Start the New Year With a Bang
The start of a new year is perfect for changes, including your wardrobe. If you haven't already done so at the end of 2022, take advantage of these first few weeks of the new year to put drawers, shelves, and hangers in order, remove the pieces you no longer use from the closet, and find out where exactly you need to renew your wardrobe. 
If you don't have the five must-have pieces for Spring 2023 suggested above, or the items you have are already old and worn out, take advantage of the promotions to stay in fashion with style and comfort.