5 Activities You Must Do If You Are Visiting Bali
4 min read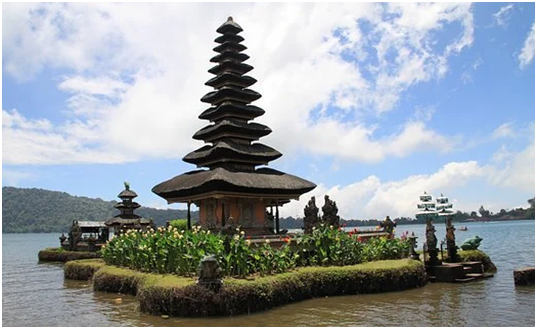 Bali's magical island, also known as "the island of gods," draws tourists to its azure seas, golden beaches, ancient architecture, and rich cultural heritage. Bali offers fun activities to people of all ages and tastes. For the calm minded and elderly, there are numerous temples to visit, like the Tanah Lot Sea Temple, the sacred Desa Temukus, or the floating Tirta Empul Temple. For the young and restless, Bali presents its Safari and Marine Park, Mount Batur trek, Bali Swing, Tegallalang Rice Terraces, Waterbom, Ubud Monkey Forest, and the Banana Boat Ride. With so many exciting experiences on offer, we list down five must-do activities when you visit Bali.
1.   Try Diving At Padang Bai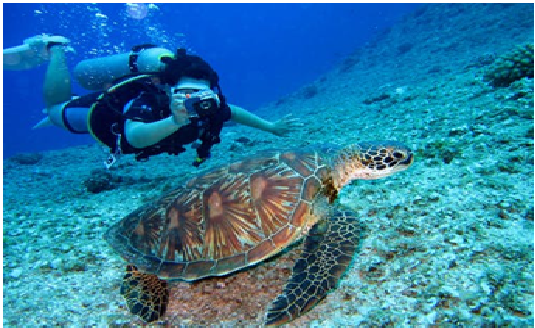 The small port town of Padang Bai is only 90 minutes away from the Ngurah Rai International Airport. Most travelers skip the beautiful town and hurry towards Lombok. Padang Bai is famous for its beaches like the Blue Lagoon beach and Bias Tugal beach.
Blue Lagoon beach is known for snorkeling and scuba diving. You can find the snorkeling gear in the restaurants at the beach. If you are brave enough, you should opt for this once in a lifetime diving experience. The ocean is calm here, and you won't find much difficulty in facing the waves. However, be aware of the abundant submerged rocks and corals.
The Bias Tugal beach is comparatively cleaner and more attractive but also has stronger waves. You'll find many operators catering to diving enthusiasts. Choose one with a reasonable price and know the details of the task before diving into the water.
2.   Tour Bali Safari And Marine Park
'Bali Safari and Marine Park' hosts hundreds of unique animals, including many endangered and rare species. The park combines the Savannah landscape of Africa with Bali's typical cultural ambiance. You will find wildlife exhibits like the Sumatran tiger, Sumatran elephant, white tiger, komodo dragon, leopard in Bali Safari and Marine Park.
The park has a mission to conserve wildlife, and it educates people for the same through its unique Elephant Show. Tourists have the exciting opportunity of riding on an elephant and see the park's creatures up close, day and night. But if you want to explore Bali Safari and Marine Park's orangutans and giraffes with your family, do the safari in a bus or smaller vehicle. Always buy roof racks and fit them on the top of the vehicle to shift your luggage there and experience a comfortable ride.
3.   Party At Bali's Beach Clubs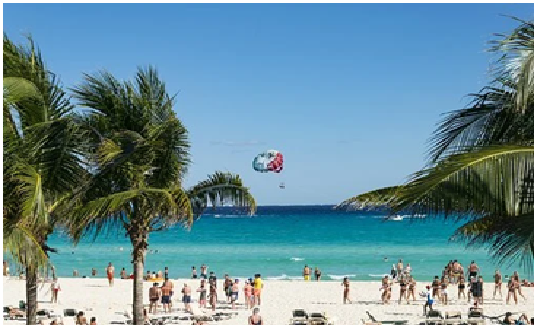 Bali's beaches are not deserted and calm ones where people can just sit with legs spread or face the waves. With their pools, bars, Sushi corners, restaurants, DJs, and music artists, Bali's beach clubs have everything to spice up your time there.
While the intensifying party mood only gathers momentum after sunset, these clubs offer visitors luxurious double or single beds near the lagoon pool or on the sandy beaches to enjoy the sunshine in the daytime.
As night sets in, the beach clubs reveal their authentic flavor with dancing, drinking, and shows of light and sound. These clubs remain open till late at night. So it is an ideal place to party with your friends and even show some of your moves. Bali's famous beach clubs are Finn's beach club, Potato head beach club, and Sunday beach club.
4.   Hike Mount Batur
Also known as the Kintamani Volcano, mount Batur is an active volcano famous among hikers for the breathtaking views. A trek to its peak reveals not only views into its crater but also the spectacle of the clear Lake Batur waters that it surrounds.
The trek usually begins at midnight with night torches and headlamps and ends with the mesmerizing view of Mt. Agung at sunrise. Although it takes only two hours to trek mount Batur, it is a thrilling adventure to walk on the volcanic rocks.
For people wanting some extra adventures on the trek, the adjacent Penelokan village is the best place to observe some panoramic scenes. Batur's rugged hallmarks, like the black melted rocks and dark lava slopes, are visible from the village as well.
Note that during the rainy season (December- March), visibility may be insufficient. Also, watch out for possible volcanic activity before setting out for the trek.
5.   Taste The Bali Swings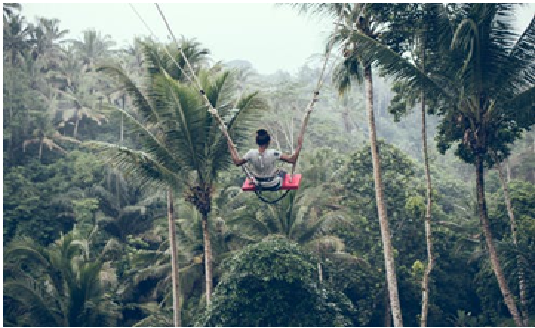 Swings are a recent addition to Bali's list of adventures as it is an activity that will spike up your adrenaline. Capture the mind-boggling views of jungles, farms, rivers from a height of over 25 meters while marveling at the fresh breeze and a closer view of the sky. The peaks of the swings range between 10 and 78 meters. Visiting couples also have the facility to ride the swings together.
Bali's more famous and Instagrammable swing spots are Alas Harum Swing, Aloha Ubud Swing, and the Bali Swing. Other fun swing destinations include LeKaja Bali Swing, Swing Bas De Atayana, and Terrace River Pool Swing. The best time to enjoy the swings is between April and September.
Final Words
It is hard to list the innumerable adventure activities available in Bali. Besides these exciting activities, you can enjoy boat rides, visit the iconic temples and cultural sites, stroll at the green gardens, do jet skiing, or relax at the luxury spas. Always book your tickets before visiting a spot.