Why IPC Recertification Training is Beneficial For Electronic Designers and Connector Manufacturers
4 min read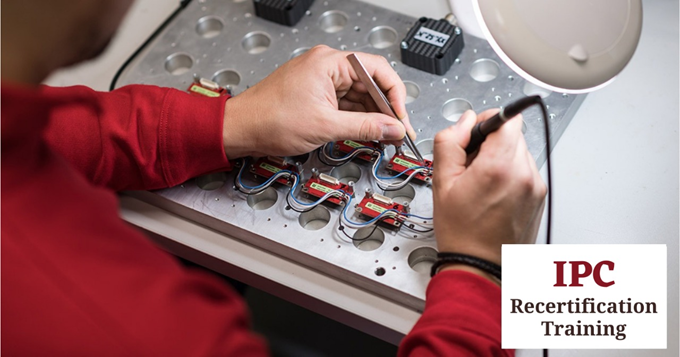 Irrespective of your manufacturing industry type (Whether industrial equipment, telecommunications, medical devices, military, automotive, airlines or others), if electronics is involved in your industry, IPC certification matters a lot. IPC (Institute of Printed Circuits) was founded in 1957, in a nutshell, termed the Institute for Interconnecting and Packaging Electronic Circuits. It is a trade organization that focuses on standardizing the production and assembly of electronic equipment and assemblies worldwide.
Whether it is based in the US; however, IPC standards are accepted worldwide. IPC recertification training center and industries having the involvement in electronics in their operations understand the vitality of IPC training and accreditation.
The IPC training and certification program offers an industry noticeable and profitable career to the aspirants. In addition, it helps you improve product reliability and quality. All people in your industry responsible for electronics should be well trained and aware of using IPC standards. Several organizations worldwide applying IPC standards in manufacturing electronic devices to improve their product quality and customers' trust.
Why do IPC standards matter in electronic manufacturing?
IPC is a member-driven organization. More than 3000 employees are working with IPC globally. Its members include companies working in different domains and board manufacturers, original equipment manufacturers, assembly companies, designers and suppliers.
IPC standards matter when you want to produce high-performing, reliable and safe PCB products. Manufacturing PCB products need dedication, constant attention to details, standards and commitment to quality throughout the manufacturing process. Tending to IPC guidelines and standards throughout the whole production process assist companies to achieve great success and customers' trust.
This is not done yet; even the production process of PCB needs a step-by-step procedure to build a quality and standard product. With several PCB designs, manufacturing, assembly, and inspection, you can implement IPC standards for neat and clean production processes.
To achieve reliable and high-quality products to meet your customers' needs, organizations involved in manufacturing PCBs and other electronic devices must commit quality through the utilization of IPC certifications and standards.
IPC recertification training can enhance and improve your skills with industry knowledge and new techniques. It will help you learn new skills, get updates on electronic standards, and understand the quality assurance methods.
Why IPC accreditation?
The PCB assembly industry and electronics manufacturers are dynamic and highly competitive. So, IPC training and accreditation is one of the best ways of showing that you are known to the standards and manufacturing guidelines set up by IPC. As a result, many organizations are asking for IPC qualifications and certification from people while hiring them.
IPC accreditation elaborates the following:
Your designs are up to IPC standards.
Your experience and skills are officially recommended.
Your knowledge level for electronics is high.
You are a skilled person and employable.
You are knowledgeable and experienced in well-known electronic manufacturing techniques.
For PCB design and electronics manufacturing experts, IPC training and accreditation is the best way to showcase their skills and competence. The benefits of IPC recertification is beyond the expectations.
IPC Recertification Training Can:
Assist you in improving and promoting yourself to new and existing clients.
Enable you effectively deal with more complex circuit designs.
Help you get skills to create quality electronic products every time, improve your knowledge, skills and reduce the rework time.
Getting IPC recertification enables you to communicate with potential organizations easily.
It creates trust about our quality among your employers.
How IPC Recertification Training Improves Manufacturing:
Quality Control
This training and certification program enables manufacturing organizations to make sure that the product they offer to their customers meets the global quality standards. In this way, you can meet your customers' expectations.
Adherence to Industry Standards
ANSI (American National Standards Institute) has accredited IPC as a standard-developing organization. In simple words, IPC standards are termed as recognized acceptability codes used in the assemblies and manufacturing of electronic devices. The organization has set up standards for all manufacturing phases, including design, development assembly, packaging, purchasing and more.
The IPC- 7711/21 CIT training offers you knowledge of standardized and approved methods for the electronic manufacturing industry. You can choose the BEST (Business Electronic Soldering Technologies) training center to get IPC- 7711/21 CIT recertification training just in 2 days.
What do you get after completing IPC 7711/21 instructor recertification class at BEST?
After completing IPC 7711/21, you get a certification that helps get opportunities in big organizations; it also shows that you are skilled and knowledgeable.
Artwork for soldering test boards through EDGE.
An instructor guide via IPC EDGE Platform for IPC 7711/21.
CIT Survival Guide on the IPC EDGE platform.
IPC EDGE access having visuals, handouts, and forms.
So, why wait for more? It is time to join IPC recertification training from industry experts to enhance product quality, customers' trust and a growing future in the industry.