Restore iPhone From Backup: A Comprehensive Guide From The Trustworthy iPhone Repair Services
4 min read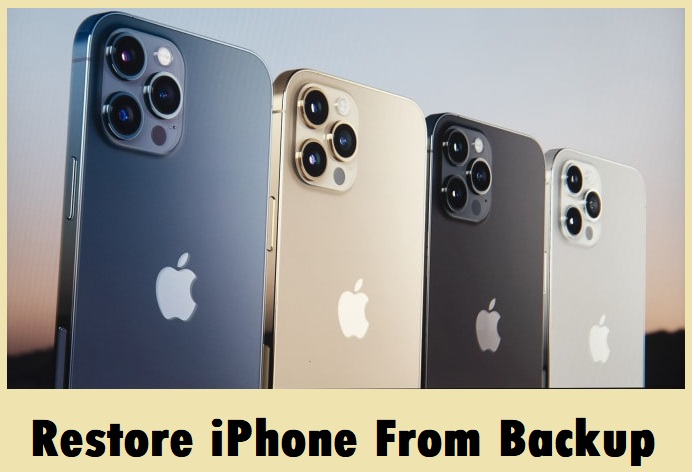 iPhone Restore From Backup
Apple devices are pretty awesome. You get the best user interface and outstanding performance. However, when you set up a new device, you will have to restore the iPhone from backup. So, you might need iPhone repair services in those cases.
Further, like any other technological device, iPhones also show issues from time to time. And, these issues are mostly related to software rather than hardware. Now, among all the common mishaps, backup and data issues are something users often encounter.
Be it an accidental deletion or software glitch, data losses are a common thing. So, if you are also going through the same, you will need to restore the iPhone from backup. Here, we have listed a few ways of restoring your iPhone without iPhone repair services.
How To Restore iPhone From iCloud Backup ?
Using iCloud for restoring the backup is the best way. iCloud is an amazing software that stores all your data once you allow it to do so. And, in case of data loss, you can always restore everything if you have an iCloud backup. To do so, follow the steps –
Restore iPhone From iCloud Backup
Open your iOS device (iPhone or iPad) and navigate to Settings
Now, click on General and then on Software Update respectively
If you find any OS updates, then install them with the help of the on-screen instructions
Now, you can proceed to restore the backup. For that, open Settings again
Then, click on your name
After that, select iCloud, then click on Manage Storage, and lastly Backups
Now, you will see a list of devices under Backups, and tapping on those will show the date and size. Make sure the most recent backup is there.
Restore iPhone Backup Using iCloud
In this regard, you must remember that you can restore the backup using iCloud only through the iOS Setup Assistant. So, you need to erase the iPhone's settings and do it with the help of the setup assistant. To do so, follow these steps –
First, click on Settings and then navigate to General
In there, find the option saying Reset and click on it
Then, click on Erase All Contents and Settings option
Now, as your iPhone powers on, you will find on-screen instructions for setup. You need to follow those
Once you are in the App & Data section, you will see an option saying Restore from iCloud Backup, click on it
Now, sign in with your Apple ID and password in order to complete the restoration
After the restoration is done, you will see all your apps, settings, music, and other content like before.
Set Up A New iPhone From iCloud Backup
In case you are setting up a new iPhone or iPad and already have an iCloud backup, you can use that. This way you do not have to spend much time on the setup and your new device will have all the data and settings as your previous one. The steps of doing so are –
At first, turn on your new iPhone or iPad and make sure it has sufficient charge
Now, follow the on-screen instruction until you are on the Apps & Data screen
Once the Apps & Data section appears, click on Restore from iCloud Backup option
Now, you will have to enter your Apple ID and password for signing in
Lastly, you will see the Choose a backup window. From there, select the latest one from the list of available backups
Wait until the entire procedure is finished. It may take a while so do not lose patience. Once the backup restoration is over you will find your iPhone ready to use.
How To Restore iPhone From Previous Backup ?
Restoration of data backup is possible from your computer as well. So, if you have a Macbook, then you can use that for restoring data backup. Before you begin the procedure, you have to connect your iPhone with Mac and open Finder. Use the lightning cable to do so.
Now, it will show a window asking for your password or showing the "Trust this Computer" option. Enter your password and accept the option to continue. Now, you will be in the Finder window. From there, continue with these steps –
Restore Your iPhone Using The Computer Backup
Click on Restore Backup
Select a backup to continue (choose the most recent one)
Click on Restore and let the Mac take care of the rest
If the window asks for the password, then enter it. Keep your device connected until the back is completely restored. Once the backup restoration procedure completes, the phone will restart automatically. You must not detach it from the Mac during this time. When the iPhone starts, it will sync with the Mac. Once the syncing finishes, disconnect the iPhone.
Also Read: Recover Deleted Voice Memos on iPhone 
Still, Getting Troubles? Get Help From iPhone Repair Services
If none of the above steps work or if you do not have an iCloud backup, then it can be really troublesome. In those cases, your only resort will be iPhone repair services. Now, speaking of iPhone repair services, the best one you will find here is Daily Technician.AE. Here, you will get a variety of iPhone repair services including data restoration. So, get in touch today for details.