What Is The Best Screen Capture Tool For Recording A Tutorial Video?
4 min read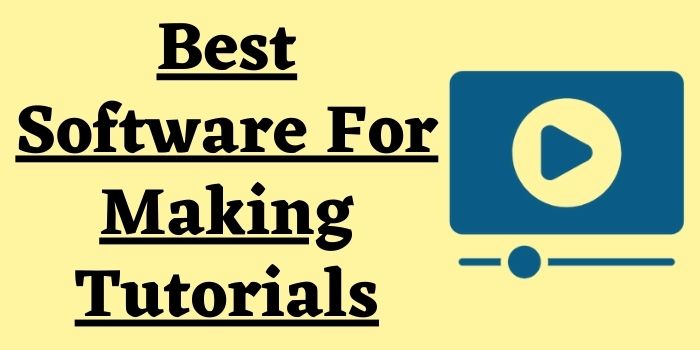 The Best Screen Capture Tool 2021
If you are engaged in the field of education then you may definitely require software for making video tutorials. There are lots of screen capturing tools in the market, but finding the best one out of them is a bit tough. Here are the 5 best screen capturing tools for recording a tutorial video.
TechSmith Camtasia
Camtasia is a simple screen recorder with advanced video editing features. Camtasia includes a comprehensive variety of animation and visual effects, including green-screen technology. Users can add their own music or choose a track from Camtasia's royalty-free audio library to make a video session more realistic. Users can also include quizzes and interactivity in their tutorials to engage students.
Features of Camtasia
Over 75 new transitions have been added to make users' videos more engaging and smoother.
Users can instantly make effects and movements feel presentable.
You can sharp corners on your media to make it smoother.
It also allows you to get a visual representation of their audio volume settings.
It automatically changes the level when you drag it onto the clip whose audio they wish to highlight.
Price of Camtasia
There isn't any subscription-based plan for Camtasia. For using this software, you have to purchase its lifetime license by spending $249. Through Camtasia Discount Code, you can also make savings on it.
iSpring Suite
iSpring Suite is a full-featured authoring package that lets you record your on-screen activities. Besides, it also allows you to record videos and audio from the webcam and mic. This software comes with all of the functions that you'll need to make tutorial videos professionally. You can also add interactive quizzes to your tutorials for making them interactive.
Features of iSpring Suite
Users can combine different files and can also add audio tracks to their videos. You can display multiple videos at once.
Transition effects can be tweaked to make images ripple into videos, and videos flow back into images effortlessly.
Users may concurrently capture video from your screen and webcam to create a screencast with live stream comments.
You can use slow-mo effects to highlight details or they can speed up the video to display a lengthy process.
Price
As compared to other software, iSpring Suite is priced a bit high. For using this software, you have to spend $770 per year.
TechSmith Snagit
Snagit is a screen capture tool that you can use for taking both screenshots and screen recording. This software doesn't support long video creation. However, by using it, you can create short video tutorials.
Features of TechSmith Snagit
You can take a screenshot of your whole desktop screen, a window, or any specific region of Window.
It allows you to easily grab vertical and horizontal scrolls. Endless scrolling webpages, extended chat messages, and anything in between.
With this software, you can extract the text of the screenshots and paste it into a new document for editing.
You can use a microphone to record and add audio to your videos.
Price
Like Camtasia, Snagit is a product of TechSmith and you have to purchase its lifetime license. Its lifetime license costs around $49 for the lifetime license.
Filmora Scrn
Filmora Scrn is a digital lecture software package that allows you to record your on-screen activities. By using this software, you can also produce picture-in-picture videos by simultaneously recording from their pc and webcams.
Features of Filmora Scrn
Filmora scrn is a productivity program that allows you to change the size, color, and shape of your cursor to make it even more attractive.
This software comes with a variety of inbuilt tools that you can use for quickly and easily editing video clips.
It gives users the freedom to create their own work of art by allowing them to customize its features.
To make users' work more effective and clear, Filmora Scrn allows you to add text and other symbols and so other such.
Price
Filmora Scrn is one of the most affordable software. The lifetime cost of this software is $29.99
Joyoshare screen recorder is one of the best software for making tutorials. With the help of this software, you can record both videos and audio. This tool also allows users to take screenshots at any time during the recording process.
Features Joyoshare Screen Recorder
Provide as many cutting options as possible to meet a user's demands.
It erases recording easily when the recording is silent or the duration is less than the specified seconds.
Users can try a sound effect or equalization, remove any noisy or unneeded tracks from a final recorded file and enhance it.
Price
For using this powerful software, you have to spend around $55.95 for its lifetime license. The annual usage cost of this software is $39.99.
What is the best software for making video tutorials?
All the software programs that we have mentioned here are very nice and support the creation of video tutorials. You can use any of these without any worry for making professional-looking tutorials. So, if you are looking for tutorials making software then you can choose any of the software that we have mentioned above.