Top-Tier SEO Services From First-Rate Companies Are Worthy Investment
3 min read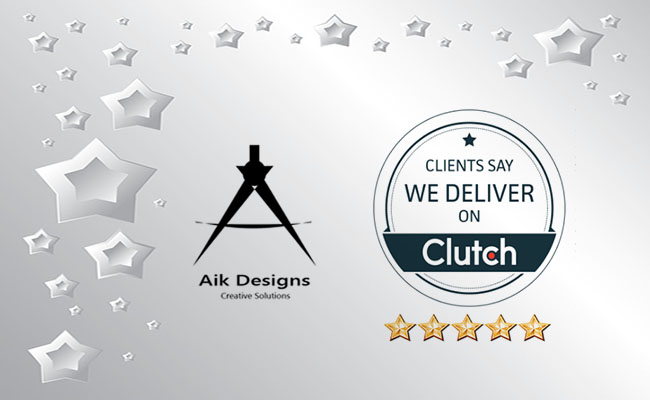 Did you know that organic search brings in 53.3% of all website traffic? While paid ads and more aggressive digital marketing and advertising methods are effective when done correctly, SEO remains to be one of the focus areas of many marketers.
SEO offers many advantages, especially in the long-term. However, that doesn't mean you can just learn it overnight and start applying the best practices you read online to your SEO strategy, then you'll achieve your desired results. If only it was that easy!
But no — SEO takes a lot of time and patience to learn, and while you can do so, it's best not to underestimate this digital marketing channel if you want to achieve the best results at the quickest time possible. By partnering with an experienced and highly capable agency, you won't have to struggle to identify the best strategies for your digital presence. Additionally, this can also be your best opportunity to learn the ropes of SEO. 
Here at Aik Designs, we're committed to delivering award-winning, high-quality services to our clients. We want you to experience a professional marketing campaign through optimization while still getting the answers to your questions. More importantly, we want you to gain ROI as quickly as possible. The more you grow, the more we grow too.
Luckily, we're not just all talk; we have proof to show! Just recently, we received a perfect 5-star review on Clutch. 
Aik Designs Wins Clutch's Recognition As A Top 2021 SEO Company In Pakistan
Now, if you're not familiar with it, Clutch is a B2B ratings and reviews platform based in Washington, DC. They evaluate technology service and solutions companies based on the quality of work, thought leadership, and client reviews. A rapidly expanding startup, Clutch has become the go to resource in the agency space. Their review process is reliable and transparent, and we're grateful to those of our clients who have taken the time to provide feedback.
Below is the review we received from one of our long-term clients on Clutch: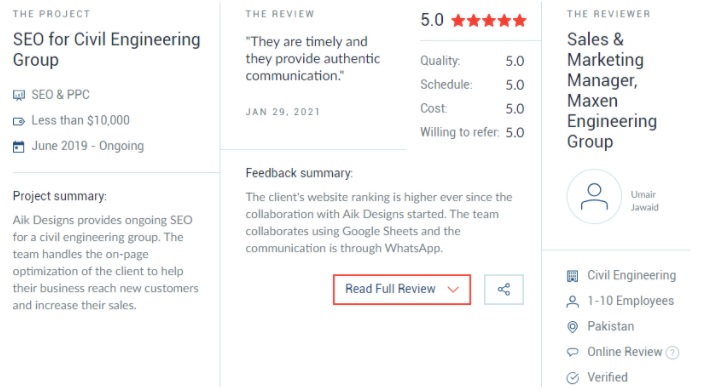 To summarize the review, we were engaged by an engineering group to handle their SEO front in order to improve their search engine presence, consequently, reaching more potential clients and increasing product sales.
"Our prime goal was to improve the reach of our business to new customers and thereby increase product sales. Aik Designs assisted us in achieving these goals through search engine optimization of our website."
— Umair Jawaid, Sales & Marketing Manager, Maxen Engineering Group
To date, we have a strong ongoing relationship with Maxen Engineering Group, and we're continuing to see growth from both of our sides.
Check out the full review by visiting our Clutch page. While you're at it, you can explore our services on The Manifest, Clutch's sister site, where there's an abundance of valuable information about service providers that can help your business grow.
Lastly, you can contact us directly to find out how our first-rate SEO services can help your business achieve digital freedom.