Top Reasons To Hire A Commercial Interior Painting Service
4 min read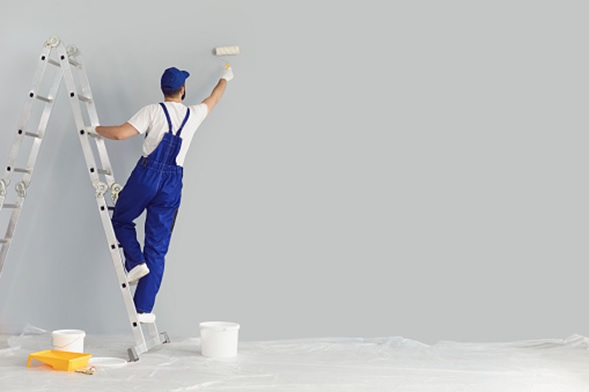 Many businesses in Arizona and all over the Phoenix metro area must be planning or working on interior upgrades for their buildings as the cold weather sets in and the fall colors pour in over the city; projects ranging from painting the exterior to re-painting interiors are already underway. If a business is planning an interior paint job to improve the look of their business property or industrial facility, now is a good time to start planning and completing it.
Hiring a reputable commercial interior painting service company for one's buildings inside painting is the only way to ensure that the projects are finished to the best possible standards, no matter how big or small the interior project list may be.
Although one might think that a painting project appears simple enough to complete with an in-house team, however, there are numerous advantages to hiring a professional commercial interior painting service to complete one's commercial building's interior painting needs.
If a business has any doubts about the need for hiring a commercial painter or isn't sure what services they offer, here are seven reasons to hire a professional painting contractor to paint the interior of any commercial facility.
1. Proper Insurance and Accreditation
Insurance and certifications are a benefit that a reputable commercial painting company will bring to one's interior painting project as an extension of safety measures. The advantage is that one's project location, as well as everyone engaged, will be safe.
In the event of any damage caused to property or personnel due to an accident or otherwise, a professional and insured commercial painting company is essential; those who choose not to hire such a company run the danger of taking on more work than they can handle due to the liability they face.
The ideal commercial painters have their own insurance for their employees and the job site, so if someone is hurt on the job or one's commercial building is damaged, the medical bills and repairs will be covered. Many building owners value this feature since it relieves them of accountability throughout the painting project.
2. A Safe Service 
When it comes to interior projects, a reputable commercial painting company will have the necessary skills, training, and ability to keep up with the safety requirements.
Commercial painters use the right tools and information to bring all of the necessary equipment to their project site and ensure a safe working environment.
A professional painting contractor's knowledge of safe paints for a specific commercial building's needs is a vital aspect of their experience. High-quality paint with zero or low Volatile Organic Compounds will be required in buildings that require clean air, such as hospitals and childcare centers. These are gases that are emitted by some paints and leave an odor behind. They can be dangerous to people who have breathing problems such as asthma or allergies.
A reputable commercial painter maintains a connection with organizations like OSHA in addition to education and safety precautions on the job. They should also have certificates in safety practices and procedures to demonstrate their commitment to safety (As discussed earlier.)
3. A Quick and Efficient Service
The bottom line for any successful business is to make more money by gaining customers, and closing one's business for any length of time can have an adverse impact on how much money the facility takes in. Hiring a professional painting company can save one's business time and money by reducing the time it takes to finish a project while still providing a high-quality paint job, which is the intended outcome.
During the meeting, the painting company will provide a price quote and will give an estimate of how long the project will take to finish, which will all be mentioned in the service contract, which must be agreed upon by both the buyer and the service provider. This ensures that the commercial building will not be used for purposes other than those already agreed upon.
The best commercial painting companies provide services such as working off-peak hours to complete the project quietly so that the building can continue to operate normally.
4. Expert Advice on Color Selection
When it comes to how a commercial structure performs its purpose, a smart color scheme can make all the difference. One of the most interesting aspects of an interior design project is selecting colors and patterns. Despite the enthusiasm, the possibilities may appear to be endless. A qualified commercial painting company can assist a business in achieving the ideal appearance for their structure.
Color experts are on hand at commercial painters who know which colors will work best on which building type.
The above-mentioned points should help one understand the benefits of hiring a reputable commercial painting company.