Top EHR Systems For Small Practices In 2021
4 min read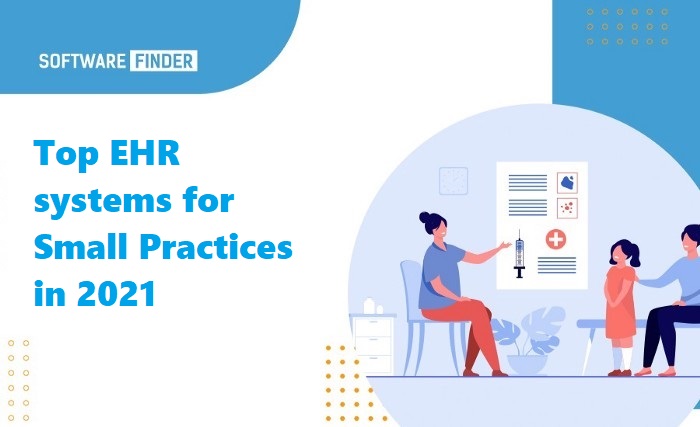 What is an EHR Software?
Electronic Health Records (EHR) are taking over the medical practices by storm. Every medical practice, be it a small one or a big one, requires good EHR software to run their practice. Since there are many options available out there, it is very hard to find the right EHR for your practice.
Top EHR Systems For Small Practices
Finding the right EHR software can be a very hectic and time-consuming process which is why this article is going to be about the Top EHR systems for small practices. To understand which software is best for small practices, we need to first look at the EHR features small practices require.
EHR Features For Small Practices
There are many different features that small practices require but there are some features that they can not do without and those features are as follows:
HIPAA Compliance And Security:
It is very important for EHR software to meet HIPAA requirements. Patient information is a very sensitive topic which is why patient privacy and security should be any software's top priority.
Customizable Templates:
Having a customizable templates feature is very important for small practices. The templates may include medical charts, prescriptions, diagnosis tables, etc.
Electronic Prescriptions:
Electronic prescriptions are a pretty important feature for small practices. It helps in speeding up the process and improving efficiency majorly.
Billing Features:
Since billing is a very complex process, doing it can consume a lot of time which is why small practices require billing tools to get the task done for them.
Top EHR Software for Small Practices 2021
There are several different EHR software out there that are offering their services to small practices but the top EHR software for small practices is as follows:
Practice Fusion EHR  
Practice Fusion EHR  is a cloud-based Electronic Health Records provider that focuses on creating integrative environments for treatment teams and care professionals. The software Practice Fusion, includes modules for patient management, e-prescribing, scheduling, billing, etc. It is quite well-known EHR software and it has some excellent features to offer.
Practice Fusion is an excellent choice for small practices as it is equipped with all the tools that are needed to manage small practices.
DrChrono
DrChrono was founded in 2009 to get rid of problems in the healthcare system. It was founded to make sure that the quality of care improves. DrChrono is serving thousands and thousands of physicians along with millions of patients. It was the first EHR to build an app for IPad and iPhones.
When you talk about the best EHR software for a small practice, DrChrono is one software that we can not avoid talking about. It has everything that is required by small practices and it can cater to them in the best way possible.
Kareo
Kareo is a cloud-based EHR software that was developed 16 years ago. Kareo EHR is famous for offering very specific features for different medical practices. Kareo is considered one of the best EMR for many medical specialties as users are always praising its outstanding features.
Kareo is quite known for its billing features. It has everything that small practices require while managing their practice.
Chartlogic
Chartlogic is an EHR software that offers a full ambulatory EHR suite, including electronic medical record, practice management, revenue cycle management, e-prescribing, patient portal, and more. Chartlogic is catering to several specialties including Dermatology, Chiropractic, Cardiology, General Surgery, etc.
It has all the right tools to help manage small practices. Many Chartlogic EHR reviews talk about how this software has contributed to their growth.
If you want to know more about the mentioned EHR software, you can book a demo for any of them on Software Finder.
Which Software Is The Best EHR Software For Small Practices?
We have listed down the top EHR systems for small practices but which is the best among them or which will suit your practice more depends on the kind of practice you have. All the EHR software we have mentioned is quite known for small practices. You can book a demo for each one of them to understand them more before you make a final decision. If you are finding EHR software, the mentioned EHR software would be great for you.