Sushi With Mango
2 min read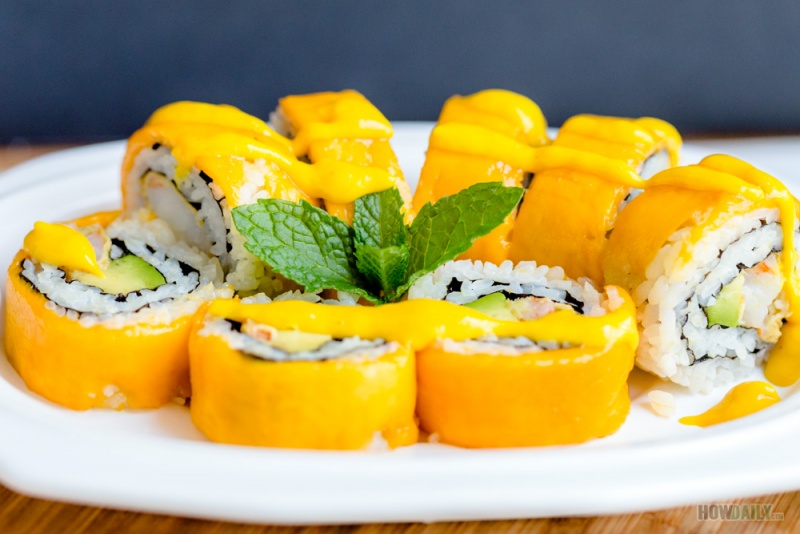 Step-By-Step Preparation Sushi With Mango
Rinse the rice several times with cold water. Top up with 500 ml of clean water and leave to stand for half an hour. Then bring to the boil and boil for 2 minutes. Wrap the pot in a towel and snuggle in the covers for at least half an hour. Meanwhile, prepare the brine by boiling the salt, sugar, water and vinegar. Pour this brine over the prepared rice. Mix thoroughly and leave to cool.
Scrape the carrots and boil them in salted water until almost tender. Once cooled, cut into long fries. Cut the seedless cucumber, peeled mango, and leek into long strips.
Taste also: Thai Sweet Sticky Rice With Mango
Prepare the sushimatka, which is a mat that will help us wrap the sushi rolls. Place the Nori seaweed on it, shiny side down. Prepare a bowl of water, a spoon, and a cooking pot. We'll dip the spoon and spoon into the water before scooping and layering the rice each time.
Place the rice on the near side of the seaweed slice, about halfway up the seaweed, and layer it into a long mound. Lay strips of garnish along the length of the rice and dip them into the rice. Moisten the far edge of the seaweed with water so that the end sticks easily. Then grab the nearer edge of the sushi mat including the seaweed with the filling and try to wrap the roll (continuously tightening). When it succeeds, we roll it in the sushimatka for a while.
Leave to stand and then cut into logs with a sharp knife. Serve with pickled ginger, wasabi paste and soy sauce.