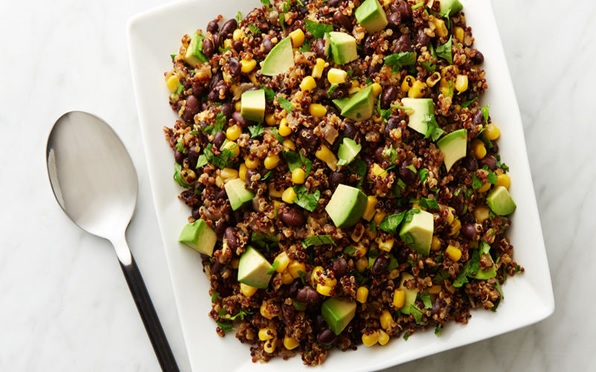 Ragi porridge is made by cooking ragi flour or ragi malt with milk or water along with some fat and sugar.Its smooth creamy texture and chocolate brown colour makes it also visually appealing. Not just its sensory qualities but its varied health benefits make Ragi Porridge a complementary food of choice for your baby. In South India ragi porridge has been traditionally given as a first solid food to babies.
Introducing Ragi Porridge
WHO recommends that at six months of age complementary foods should be introduced in a baby's diet as breast milk alone is not enough to meet the growing nutritional needs of your baby. Six months age,what is often called as Stage 1,is the right time to introduce ragi porridge. In fact, not just at 6 months but even at 8, 10 months or even later ragi porridge can be an integral part of the baby's diet.
Benefits of Ragi Porridge
Here are the top reasons why Ragi Porridge is beneficial for your baby:
Ragi being an organic baby food is free of pesticides and chemicals which can harm the baby's delicate body.
Ragi has three times more calcium than milk and is a clear favourite for its calcium content. Calcium, as we know, is needed for strong and healthy bones and teeth of babies.
Ragi porridge is high in fibre which helps baby pass stools easily and prevents constipation.
Ragi porridge is gluten free unlike wheat, rye and barley, and so is safe for babies who have gluten sensitivity and cannot digest it.
Ragi porridge is nutrient dense as it has milk, fat and sugar added to the ragi powder, and is a meal in a dish for your baby.
The addition of milk increases the protein quantity as well as the quality of the porridge which is essential for your baby's growth and development. 
You can either use ragi powder or ragi malt to make ragi porridge.
Ragi Powder:
Ingredients
1 cup ragi
Method
In a thick bottomed pan put a cupful of ragi.
Roast the ragi stirring constantly until the aroma wafts out.
Remove from flame and cool.
Grind into a fine powder in a grinder.
Store in an airtight container.
Ragi Malt:
Ingredients
1 cup ragi
2 cups of water
Method
Take one cup ragi and wash.
Soak the ragi in water overnight.
Drain the water and tie the ragi in a muslin cloth.
Allow to germinate for 8-10 hours.
After germination roast, the ragi in a thick bottomed pan till aroma wafts out.
Allow to cool.
Grind the germinated ragi into a fine powder.
Store the ragi malt powder in an airtight container.
Ragi Porridge:
Ingredients
2 tspragi/ragi malt powder
1 cup of water
½ cup milk
1 tsp ghee
1 tsp sugar/jaggery powder/ mashed banana or chickoo
Method
Take a spoonful of ragi powder or ragi malt powder and roast it with a dollop of fat/ghee in a pan.
Next add water, sugar/jaggery(optional) and mix so that no lumps are formed, and creamy consistency is obtained.
Remove from the flame in a bowl and add milk and mix well.
Instead of sugar/jaggery, you can add add mashed fruit like banana or chickoo to the porridge to make it nutrient dense.
Delicious and wholesome ragi porridge is now ready to serve your little one.
Initially, start with a spoonful and gradually increase the quantity. Watch for any signs of allergy or rash. If no symptoms appear it means your baby can tolerate ragi well. Start with 2-3 tablespoons at 6 months of age and then increase it to half a cup by 8 months of age. The consistency can be thicker as the baby gets older.
Advantage of ragi malt versus ragi powder.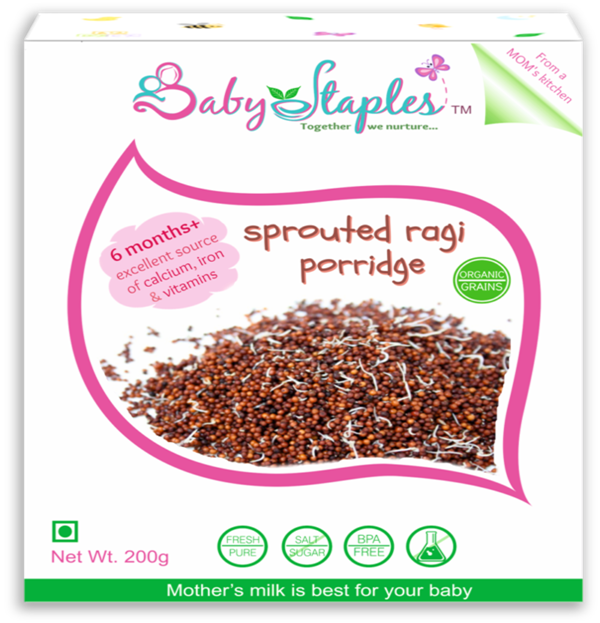 Ragi malt is better than ragi powder as during germination phytates, which prevent absorption of calcium, are reduced so more calcium is now absorbed from ragi by the body. Since your baby has a small stomach (240 ml at six months) and cannot eat a lot at a time it is better to use malted ragi which is denser and has more nutrients per teaspoon.
A word of caution: This ragi porridge is so delicious and sumptious that we warn that moms will not be able to resist eating some of it too. Eating Ragi Porridge is beneficial for both baby and mom's health! Enjoy.