Marketing Services Guru.Com: Find & Hire Expert Freelancers
5 min read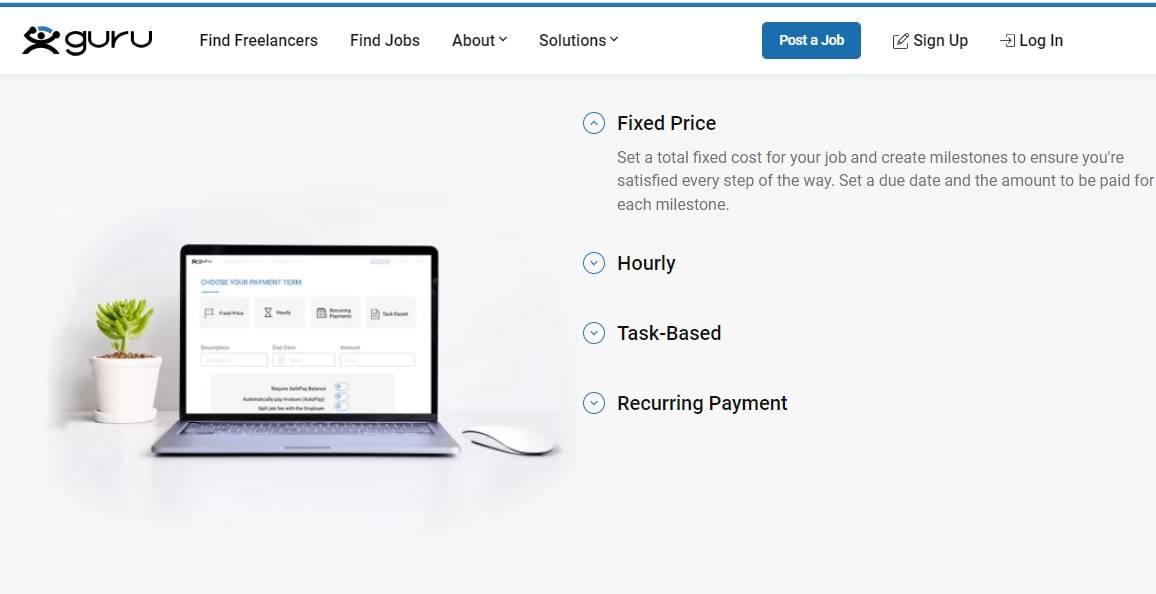 Marketing Services Guru.Com The Best Marketing Services For Business
The best marketing services for your business will depend on your specific needs, goals, and budget. There is no one-size-fits-all solution, but here are some popular and effective marketing services and strategies that you can consider:
Guru.com Marketing Services is a platform that connects businesses with freelancers and agencies offering various services, including marketing. The quality and suitability of marketing services Guru.com can vary widely based on individual freelancers or agencies' expertise and reputation. When looking for marketing services on Guru.com, consider the following popular Marketing Services Guru.Com categories and the types of services you can find within them:
Guru.com Guru.com Marketing Services Online Marketplace And Platform
Guru.com Marketing Services is a well-known online marketplace and platform that connects freelancers and businesses seeking various services. It facilitates the hiring of freelancers in a wide range of fields, including web development, graphic design, writing, marketing, and more. The platform serves as a marketplace where employers can post job listings, and freelancers can bid on those jobs.
Key Features Of Guru.com Marketing Services Include:
Job Postings: Employers can post job listings, outlining their project requirements and budget constraints. They can also specify the type of freelancer they're looking for.
Freelancer Profiles:
Freelancers create detailed profiles showcasing their skills, experience, portfolio, and reviews from previous clients.
Bidding System:
Freelancers can browse job listings and submit proposals, including their proposed pricing and project details. Employers can review these proposals and select the most suitable candidate for their project.
Escrow Payment System:
Guru.com offers an escrow payment system to ensure both parties are protected. Employers deposit funds into an escrow account, and payments are released to the freelancer upon project milestones or completion.
Work Rooms:
The platform provides workrooms where employers and freelancers can communicate, collaborate, and share project files securely.
SafePay:
Guru.com offers SafePay, a feature that helps protect both employers and freelancers by ensuring that payments are only released when both parties are satisfied with the work.
Feedback and Ratings:
Clients can leave feedback and ratings for freelancers, helping build their reputation on the platform.
Milestone Payments:
Employers and freelancers can break larger projects into smaller milestones, with payments released upon the successful completion of each milestone.
Project Management Tools:
The platform includes tools for managing projects, tracking time, and organizing work efficiently.
Guru.com has been a popular choice for both freelancers looking for work and businesses seeking talented professionals to complete various projects. It provides a platform for remote work opportunities and allows individuals and companies to collaborate across geographical boundaries.
The List Of Marketing Services Guru.Com
Digital Marketing:

Pay-Per-Click (PPC) Advertising
Social Media Marketing
Email Marketing
Content Marketing
Influencer Marketing
Affiliate Marketing

Graphic Design:

Logo Design
Banner and Ad Design
Infographics
Social Media Graphics

Content Writing:

Blog Posts
Website Content
Press Releases

Web Development:

E-commerce Website Development
Landing Page Design

Video Production:

Video Editing
Animation
Explainer Videos

Market Research and Analysis:

Competitor Analysis
Customer Surveys
Market Trends Research

Marketing Strategy and Consulting:

Marketing Plans
Campaign Strategy
Marketing Audits

Email Marketing Services:

Newsletter Creation
Email Campaign Management
Automation Setup

Social Media Management:

Daily Posting and Engagement
Social Media Strategy Development
Social Media Advertising

PR and Outreach:

Press Release Writing and Distribution

Analytics and Reporting:

Marketing Performance Analytics
Conversion Rate Optimization (CRO)

Marketing Automation:

Setup and Management of Marketing Automation Tools
Marketing Services Guru.Com Tips To Hire Freelancer Or Agency For Your Project
When searching for marketing services on Guru.com, you can filter results based on your specific needs, preferred budget, and location preferences. To ensure you choose the best freelancer or agency for your project, consider the following tips:
Check Reviews and Ratings: Review the feedback and ratings left by previous clients to gauge the freelancer's or agency's reputation and quality of work.
Portfolio: Examine their portfolio to see examples of their previous marketing projects and ensure their style aligns with your brand.
Communication: Initiate communication with potential candidates to discuss your project requirements and gauge their responsiveness and professionalism.
Ask for Proposals: Request proposals or quotes from multiple freelancers or agencies to compare their offerings and pricing.
Verify Expertise: Ensure the freelancer or agency has the necessary expertise in the specific marketing service you require.
Payment Terms: Discuss payment terms and milestones to protect both parties' interests.
The List Of Best Marketing Services On Guru.com
Ultimately, the best marketing services Guru.com will depend on your specific project requirements, budget, and the expertise of the freelancers or agencies available on the platform. Conduct thorough research and due diligence to find the right fit for your marketing needs.
Digital Marketing Services Guru.Com
Google Ads:
Effective for reaching people actively searching for your products or services.
Facebook Ads:
Great for targeting specific demographics and interests.
Instagram Ads:
Ideal for businesses with visually appealing products or services.
LinkedIn Ads:
Useful for B2B marketing and professional networking.
Search Engine Optimization (SEO):
Optimize your website to rank higher on search engine results pages (SERPs).
Content Marketing:
Create high-quality blog posts, articles, videos, or infographics to engage and educate your audience.
Email Marketing:
Send personalized and targeted email campaigns to nurture leads and retain customers.
Social Media Marketing:
Build a strong presence with Social Media Marketing on platforms like Facebook, Instagram, Twitter, and LinkedIn.
Influencer Marketing:
Partner with influencers in your niche to reach a wider audience.
Affiliate Marketing:
Collaborate with affiliates who promote your products or services in exchange for a commission.
Video Marketing:
Utilize YouTube and other video-sharing platforms to create engaging content.
Content Syndication:
Share your content on reputable websites to expand your reach.
Public Relations (PR):
Get media coverage through press releases, interviews, and news articles.
Pay-Per-Click (PPC) Management:
Optimize your PPC campaigns for better ROI.
Marketing Automation:
Use tools like HubSpot, Marketo, or Mailchimp to automate marketing tasks and nurture leads.
Analytics and Data Analysis:
Monitor and analyze data to make data-driven marketing decisions.
Conversion Rate Optimization (CRO):
Optimize your website and landing pages to increase conversions.
Customer Relationship Management (CRM):
Implement a CRM system to manage customer interactions and improve customer retention.
Local SEO:
Target a local audience by optimizing your website for local SEO.
Mobile Marketing:
Create mobile-responsive content and utilize mobile advertising strategies.
SMS Marketing:
Send targeted text messages to engage with customers.
Referral Marketing:
Encourage your customers to refer others to your business.
Guerrilla Marketing:
Use unconventional and creative marketing tactics to grab attention.
It's essential to assess your business goals, target audience, and available resources before selecting the best Marketing Services Guru.Com for your needs. Many businesses benefit from a combination of these strategies to create a comprehensive and effective marketing plan. Additionally, consider consulting with a marketing professional or agency to help tailor a strategy that suits your unique situation.
About Author