Make your Summer Vacations Memorable with an ideal Kaftan
3 min read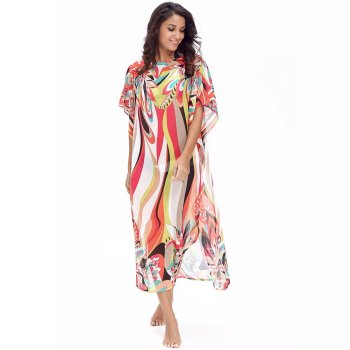 Many women like to go to the beaches during the summer holidays. Who does not want to relax on the seaside by taking a little time out for himself from the daily headaches or busy life? In such a situation, sunbathing is a good and comfortable option. Most of the women are worried about their figure and take great care of their bodies. And they know well how to take good advantage of these holidays, showing their curves, joining photo shoots, wearing wholesale pareos and sarongs and feel like a model.  But still, it is important to keep some things in mind, it is very important to prepare well before going on summer vacation.
You have to take good care of what kind of clothes will be perfect for your summer holidays and which ones are not. A beachwear cover-up is something important for your vacations on the beach because it helps to protect from the highly intense sun rays and keep your modesty safe as well.
How important a Beachwear Cover-up is?
The cover-up is something that a lot of people forget about until the last minute and this should not be the case. Every woman knows that the most important accessory in summer is the summer kaftan, which can have us look wonderful while lying in the sun and swimming in the sea.
A beautiful kaftan is a product that is ideal to invest for every woman for summer vacations. Moreover, every girl knows that there is a perfect piece out there, which will show her best assets and hide her flaws. It's also important to choose a kaftan in a color that suits you. If you already have rather dark skin, a kaftan with vibrant colors will show your tan off efficiently, at the same time as a dark-colored dress will suit superior on people without a tan. If you are slender, a summer kaftan with full patterned prints can look great.
Don't forget to add a beautiful kaftan to your Luggage
If you are about to pack your luggage to spend your holidays on the beach then don't forget to have a nice kaftan already. Kaftan proves to be cute and beautiful. Its latest styles and designs beautify and glorify your beauty. Buying kaftans from a good online store can make your summer vacation memorable. English Creations Crease is known for providing products to its customers manufactured with good quality and modern fashion.
The Best place to find one for your
There's no way that you can deny or unlike the product you receive from the web store. They are manufactured under the professionals and modern designers, perfectly designed to be available for women for every shape and size. No matter how much you scale on the weight, here is something for everyone. Fashion doesn't ask for age as well, an extensive range of modern kaftans wholesale, beachwear kimonos and silk scarves are available for women of every age. You just need to have a good eye on the product you want otherwise you can customize your product by mentioning your personalization while placing an order for your best pick. Happy Shopping!