Make Your Home Beautiful With Asphalt Driveway
4 min read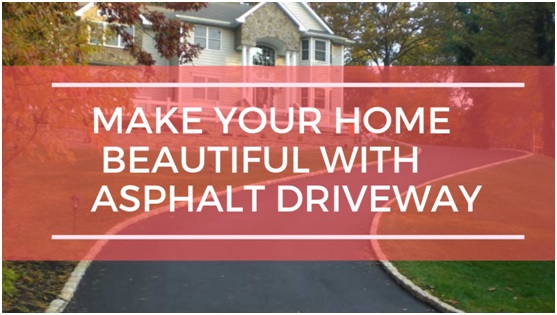 Are you ready to construct your home? Do you want to give an aesthetic look to your home? But I have seen that there are some of the homeowners who neglect the small things while building a new home or remodel it with the latest trend.
So it is advisable that whenever you want to construct or remodel your home well then you should not ignore the things that add the value to your home. I hope you understand well what I want to say here.
Yes, I mean the beautiful driveway that you should focus while you construct a home or remodel it as well.On the other hand, you should focus on the other homeimprovement projects such as you can upgrade the latest design of doors and windows.
You can decorate your garden with the pine trees, different colors of flowers and more organic vegetables and fruits too. You can also upgrade the new energy appliances system at your home.
In that energy appliances, you can save a huge amount of money throughout the year. By doing this improvement in your home you will make sure that it gives the different look, appeal, and value. But at the same time, you should not deny the work of the driveway that gives the standard value to your home.
If you make a beautiful, strong and stunning driveway at your home then it gives you the best and first impression to your visitors and guests. As you know well that a beautifully constructed driveway or pavement can leads to your visitors and guests to the front of your home and can impress them with a grandiosity of the house even before entering to the home.
Therefore you cannot deny this beautiful improvement. If the outdoor structure is well beautified and gives the aesthetic appealing then it helps to reflect your lifestyle too. These are the perfect symbol of whatever inside the home is. Due to that, it helps to reflect your warm personality and your attitude. A beautiful driveway plays an important role as it influences the property appeal as well.
Here in this article, I will tell you some of the reasons why you should make your driveway with the asphalt. These reasons are as follows:
You can save a lot of money:
When you think about to build the driveway then there is a number of methods and number of things you have to focus on. Making a driveway is not a simple thing.
If you do it well then you can add the value to your home. You can use different material to build a driveway. The material like you can make with concrete, pave stone, bricks, and asphalt.
If you cannot decide well then you can take the help from the professionals of Residential Asphalt Driveways In Sydney as they will guide you well.
But when you take the decision to make the driveway with the asphalt then it is durable and fit into your budget too. Because asphalt material is economical and easy to consume.
It is very much affordable as compare to concrete, stones and other materials. Moreover it more convenient to maintain it well. Nowadays this is an ideal solution for today's lifestyle as people do not have that much time to replacement and repairs.
Asphalt driveway construction is very fast as compare to other materials. During the construction time, it saves your precious time as well. Even on the same day construction, it dries soon as you can park your vehicles and walk over there.
Asphalt is very easy to maintain as you can easily do it by yourself without the need for any equipment. You can fill the cracks if there is any by yourself. For the repairment, technical tools and equipments are not required.
Anyhow asphalt needs to repair very rarely. These type of driveways needs very low maintenance. You can clean it with small efforts. Moreover, you can relayer your asphalt driveway in a very short time.
If you have decided that you have to make your driveway with the asphalt then you should know that along with its durability it is highly extremes in the weather conditions too.
It cannot be affected by the weather if you do the proper drainage of water on the driveway. An asphalt driveway is a great choice for the changing of climate too.
Asphalt has long lifespan:
When you pave your driveway then you do not have to worry about it for the log time or years. It gives you the efficiency if you maintain it well.
If you know the benefits of asphalt driveway then you must hire the contractors to build it according to your own demands. After all the driveway is the first appearance of your home that will keep the eyes of your guests and visitors!