How To Wear A Hoodie With Style
5 min read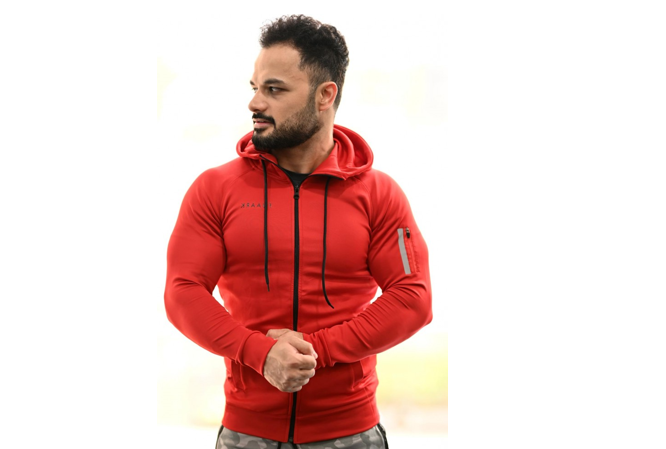 Hoodies are always the right choice that gives a perfect fusion of style and condolence. It can be your weekend outfit or a casual wear attire that gives a warm feel to the wearer. This loose garment makes a perfect match with different tracks and denim jeans that assist you to bestow a perfect style statement. So if you can't decide what to choose for the night out or what to wear at the gym then you can definitely choose a hoodie and a jogger for an ideal appeal.
History of Hoodie
The origin of hoodies are found back from the Medieval Europe period that was inspired from the clothing of monks that included a hood which was known as a cowl attached to tunics or robes. The appearance of hoodie was known in England as early as the 12th century. The first proper hooded pullover originated in the 1930s that was made for the US workers to efficiently work in the cold New York warehouses.
Later on in the 1970s the hoodies became immensely popular due to the comfort that they provide you and the best styling. Different cultures such as hip hop culture, sports culture and even school uniforms included hoodies for a drastic appeal. Today the hoodies are popular among each and every one because of its style and classy appearance.
Hoodie as a Stylish Wear
If you are not willing to compromise with your style then you can choose a hoodie and style it with different bottoms and tops that gives you a stunner look. You can wear something casual and still look stylish with a hoodie. The look is never going to disappoint you and it is suitable for every occasion and climate as well. You just need to choose the right hoodie with the right fit. It is the immediate comfort to your boring day.
 Wearing a Hoodie with Style
One best thing about hoodie is that it can be paired with different types of bottoms and t-shirts giving an exquisite appeal to the wearer. Here are some of the ways to wear your hoodie with style that will give you an ultimate look.
Hoodie with a Leather Jacket
The combination of a hoodie and a leather jacket worn above the jeans or a tailored trouser is one of the best ways to get an exceptional look. Layering a hoodie underneath a smooth and shiny leather jacket with ripped denim jeans is eligible to provide you a complimenting appeal. A black biker leather jacket paired with a classic grey hoodie and a black jeans is what one can get for a dignified style.
Hoodie with Bomber Jacket 
A bomber jacket is a perfect contemporary outfit that keeps you warm in the cold weather. Wearing a hoodie and adding a shiny bomber jacket on it looks super amazing. The jacket looks exemplary with cotton joggers, narrow track pants or jeans whichever you like. You can add it depending upon the styling tips that you want to adopt. A black bomber jacket and matching jeans is what you require for the faultless appeal and all day long comfort.
Hoodie and a Shirt
The basic collared checkered shirt and a fabulous hoodie worn above it gives a formal touch that is a perfect office wear. This smart look is highly admired by men as it is easy to manage and gives optimum class. It is one of the best picks for a slaying look that must be in the wardrobe so that you can choose it any time. Pairing a customized ankle-length pant with it and a pair of right footwear gives extraordinary appeal.
Coat with a Hoodie
Usually a long coat is preferred to wear above the hoodie that is eligible to wear at places with freezing temperatures. These long coats help you get a smooth and sophisticated appearance. It can be a long woolen coat or a cotton coat that is paired with a full sleeves hoodie for a drastic change in the simple look. A fluorescent hoodie and a pastel color coat with blue or black denim jeans makes a delightful combination.
Denim Jacket and Hoodie
Denims are always the best pick when it comes to style and fashion. The fancy denim jackets with full sleeves and buttons in front is an excellent way to get a casual yet fashionable look. Combine it with skinny jeans and a pair of sneakers to complete the entire look with elegance. This denim jacket will add an exceptional appeal to your overall look. The blue denim jacket works exceptionally well with a hoodie.
Hoodie for Athleisure
Apart from style and fashion the hoodie and gym zipper jacket is the great pick for athleisure and workout sessions. They give a high level of comfort to the wearer and make it easier to do the exercises as the loose hoodies give a free and easy movement while doing exercise and performing different types of workouts. It can be a zipper hoodie or a pullover that can be worn with style along a track pants or a jogger for providing a stylish appeal.
You can opt for any style as each one of them are just flawless for every occasion. Choose the appropriate fabric and wear it according to the occasion and climate that will make the most effective combinations and give the right appearance.
You can choose any colored hoodie and pair it with your favorite coat or jacket even if you are going to the office or are willing to attend a party, your hoodie look is going to rock the floor. So choose your dashing attire and get a magnificent look that will make you the center of attraction wherever you will go. Match the right pair of shoes and a watch with the attire to complete the overall classy and trendy hoodie look that is eligible for both men and women.