How to Repair Excel Not Responding And Recover Unsaved Document
3 min read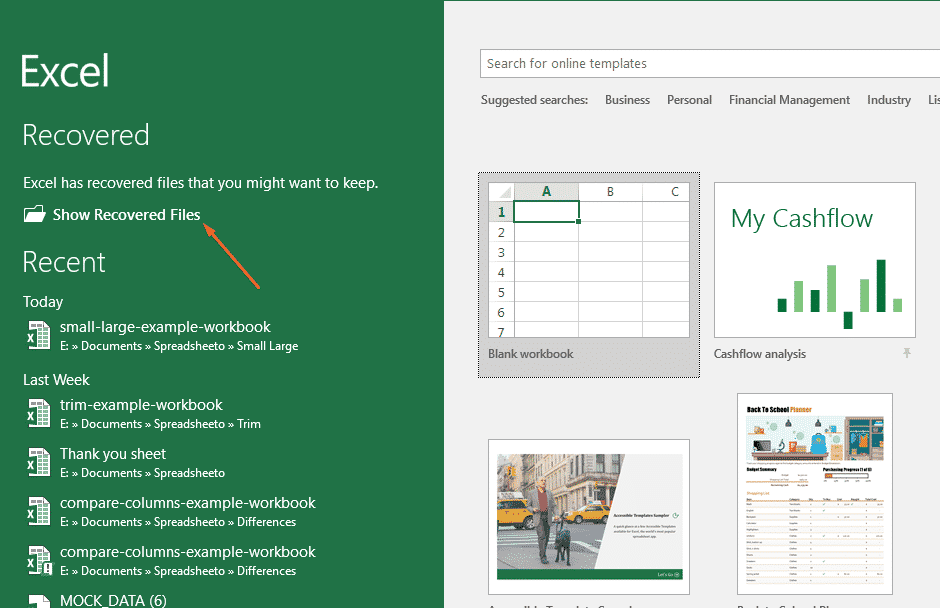 As a widely used office tool, excel spreadsheet is consisted of critical graphs, chartsand more. Like other programs, Microsoft Excel may also fail work.When you launch Excel on computer, you may come across Microsoft Excel not responding, hangs or stops working issue. Usually, you may get some error messages.
Microsoft Excel is not responding: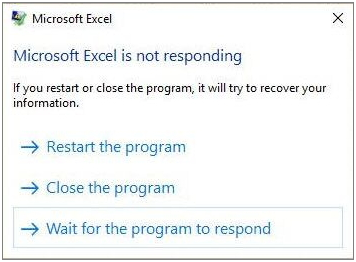 Microsoft Excel has stopped working: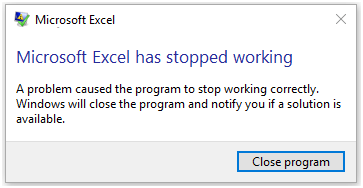 In this article,we will show you some methods to fix Microsoft Excel not responding issue, and these methods can also be applied to other excel versions, like Excel 2019/2016/2013/2010/2007.
How to Recover Lost When EncounteringExcel not Responding
If your Excel freezes, hangs or stops working, which may lead toExcel files loss, you may consider using a professional data recovery tool to rescue lost Excel files before fixing this problem. MiniTool Power Data Recovery is a perfect choice.
It is a free data recovery tool, with which you can restore lost and deleted data from most data storage devices. Of course, Excel file is a supported file type. By using this software, you can recoverlost Excel files within just 3 simple steps.
Here follows the detailed demonstration:
Open the software and launch This PCmodule.
2. Select the drive (from which the Excel files get lost) to scan by hitting Scan to begin the scanning process.
3. When the scanning process comes to an end, you will see the scanning results displayed by path. You can unfold each path to find the wanted Excel files. 70 types of files are allowed to be previewed.
If there are too many files to view, you can use press the Typeoptionfind the specified items by type. Then you are able to find the needed Excel files quicker. Additionally, you can use the Findoption to locate the Excel file directly if you remember its file name.
4. When selecting what you need to recover, you may click Save to appoint another drive to hold the files. After finishing these steps, you can check and use the recovered Excel files immediately.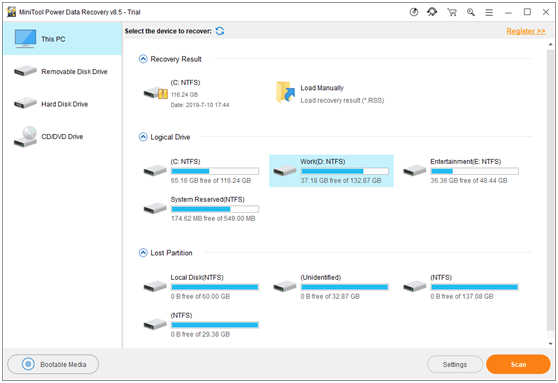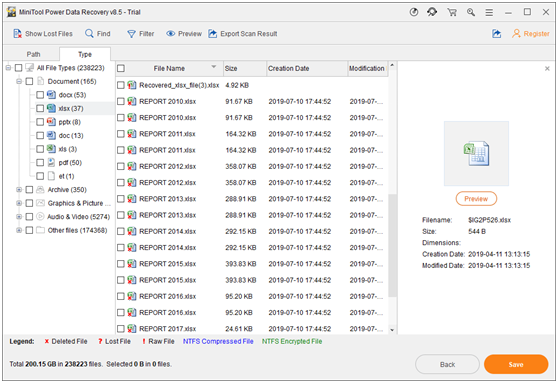 Note: Do not save the selected Excel files to the original drive for fear that the lost files would be overwritten and unrecoverable.
Way to Recover Unsaved Excel Documents: Try AutoRecovery
Open Microsoft Excel application. Hit File >Info.Check the recent saved Excel documents and find the exact on. To keep the Excel files better, you can set the autorecover time to every 1 minute in the Excel Options. (The working Excel files will be saved automatically in every 1 minute.)
How to Fix Excel not RespondingProblem
Way1: Repair Office Programs
It has been found that repairing Office programs is helpfulfor dealing with Excel hangs, crashesor stops responding.
Way 2.Check Whether the Excel Is in Use by Another Process or not
If the Excel file you intend to open is being used by another process, the Excel not responding error message will pop out. To avoid this case, you need to complete the task before taking the Excel file to another operation.
Way 3: Check Details and Contentsof the Excel File
All Excel files can exist on computer for a long time. During that period, the details and contents of these files would be updated.More often, when you get an Excel file from another person, you don't know what are included.
The following reasons can lead to Excel not responding, hanging or freezing issues: formulas referencing entire columns; Array formulas;Excessive, and invalid defined names, etc.
Way 4: Check Installations to Latest Updates
Excel may not work normally if the Excel-related installations are not up-to-date with the Microsoft Excel. Excel not responding is just a kind of case. Thus, you may set to automatically download and install the Windows recommended software to ensure all the programs can work in a normal state.