How To Choose Best Team For Ultimate Sketch To WordPress Conversion?
4 min read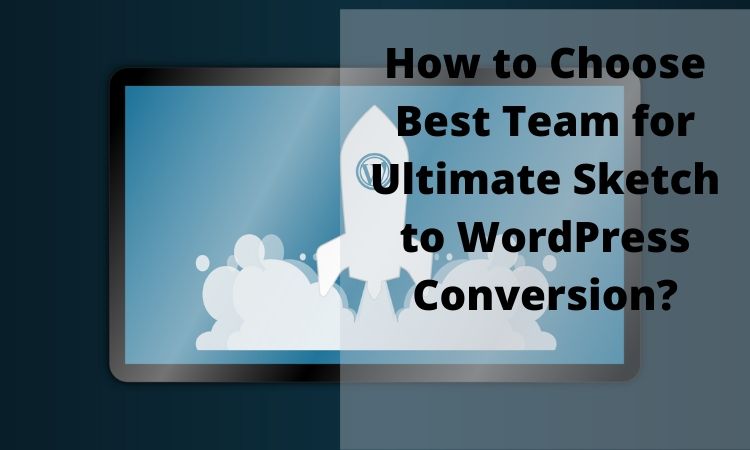 This isn't the first time when you are actually trying to change Sketch to WordPress. Most importantly, the market houses so many companies who are actually trying to help you cover the entire Sketch to WordPress conversion with ease. Now the biggest concern is how.
With so many companies claiming to offer the best conversion services, how can you possibly choose the best firm among the lot? Checking out their features and then finalizing on the right deal will serve the purpose well. You need to see what these companies can offer you with. Accordingly, you can just check in with the best names in town.
Fully functional and responsive:
You should always head for those firms which are authorized to help turn the Sketch design into responsive, fully functional and fast website. These team members are well-trained to turn designs into fully functional and well coded WordPress themes, which can be easily used for any website.
Always look in for the companies with lot of experience in converting the Sketch designs into the functional sites. These firms are well-aware of the roadblocks, common shortfalls and errors any inexperienced person might face. So, they ensure to keep those tracked down.
Such agencies will have diversified group of people with unique strengths and skillsets. So, they are well-aware of the right steps to work with HTML and then craft a perfect website in the end. You get the chance to create CSS code, which seems compatible with major browsers and turning them mobile friendly too.
Delegation remains the prime paradigm of this modern world and it is neither viable economically to rely on yourself not it is good sense. Delegation and specialization are the future paradigms and the reputed agencies will focus on that while trying to Convert Sketch file to WordPress So, their services will cost you less and help you save money.
Easy and intuitive:
Once you have the best team by your side for converting Sketch into WP, you don't have to bother about the positive benefits involved with it. These teams are more than happy to work on your project as they have covered hundreds of similar cases before.
Furthermore, they use advanced form of customized fields, which will make editing on every site intuitive and simple. The result is made pixel perfect and tested out on device and cross-browser. If you already have a design in mind, send it over and leave the rest of coding on the team.
On the other hand, if you just have desktop designs then no problem with that as well. Clients trust these firms to make their websites pretty responsive for them. The in-house designers will join hands with the developers to scale site to the smaller screens and presenting some of the awesome responsive experiences you want.
Turning from sketch to WooCommerce as well:
Not just the basic Sketch to WP change, but some of the noteworthy firms can change from Sketch to WooCommerce as well. These teams have coded everything, right from some simple installations to some of the customized e-commerce apps.
After combining WooCommerce with the Sketch to WP module, the end result will be just incredible. Before letting the team work on your project, don't forget to ask for some sample!
Expertise and features:
The developers' team working on Sketch to WordPress conversion will do the same with their higher expertise and skill sets. The developers will not just have the ability to work on the WP plug-in development, but can focus on WooCommerce theme customization and set-up too.
On the other hand, you can get the team to work on shopping cart plug-ins as well and commercial plug-in implementations too.
Similarly, reputed WordPress development agency won't think twice before presenting you with screen and display compatibility and schema with the load page speed optimization, as part of their services.
The next time you are making plans to create one professional like WP website within a limited time, the experts from reputed centers won't waste time to cut Sketch into HTML and then code a WP theme for next project. You can always expect to get guaranteed satisfaction from the teams.
So, the next time you are trying to turn the basic designs into cross-browser compatible, flexible, optimized and appealing website, this feature is the ultimate one for you to consider. All you have to do is contact the team first and let them help you acquire the best outcomes. Right from following industrial standard complaint code to cordial user interface, they have it all for you!