How does a PPC work?
3 min read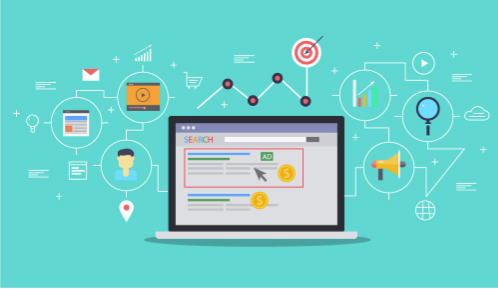 Pay per click or PPC work model is not too complex altogether. Just a few methods and you can get some easy results. But many times it gets too complex when especially you are not serious with your content. After increasing your budget for pay per click in the Google search engine if you are getting the proper results or top then that is the problem. You have to work on several aspects if you want to get the top rank in the google search engine. And this is the same for other social media platforms such as Facebook, Instagram, etc. In this article, we will try to explain how pay per click system works and how you can improve yourself to get better results.
How to get the top rank in Google with PPC
With the help of SEO getting a top rank on Google is one of the toughest tasks on the internet. But with the help of pay-per-click or paying google itself to rank your page can help you a little bit. Here you have to find out some keywords on which you want to rank your website. As well as you have to choose some synonyms for your ads. But there is some problem here where many people are using the pay per click for the same keywords. And google only recommends 4 ads on the top of the search engine results page. And if you want to rank at the top then you have to follow some rules. 
First rule: Your landing page speed should be fast. Because nobody wants to wait at least for 3 or 4 seconds. So try to reduce your page loading speed.
Second rule: Your title should be appealing. If your title is something that people are searching for then they would surely click your website. You can use your targeted keywords in your title.
Third rule: Next rule is you have to focus on your ad copy. Once a visitor comes into your website he should be informed that he visited the right place. Without distracting a user with too many unnecessary words you can directly introduce him to what you are selling.
These all rules have the same purpose to increase your click-through rate. Because if you succeed in increasing your CTR then you can easily get a top rank in google. Once your website gets high ctr your ad will automatically rank on the top. And you can increase the leads and reduce your advertising cost.
How Facebook ads work:
The same system works here as well. Here you can not find the right keywords but find the right platform to target. You have to gain detailed information about your targeted audience. Only on the behalf of your research, you can run your Facebook ads effectively. Otherwise, Facebook ads will not give you any benefits. With engaging and appealing creativity for your Facebook ads, you can increase your reach of Facebook ads. And at the last, you can increase your leads and reduce the prices. 
Conclusion: 
The PPC ads are very beneficial and if you want to get the benefit of this service then you have to follow all the rules. We hope all these rules will help you get the best results from social media. And in case you need any help means if you want to outsource your pay-per-click or PPC work. You can hire our digital marketing agency in Delhi for getting the best service at a very affordable price. And we can ensure you that your revenue will increase once you join us. So feel free to visit our website.