Designing Your Room? Here Is Why Rugs Should Be Your First Choice
5 min read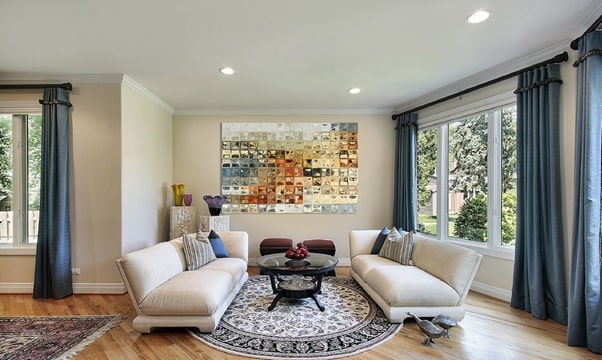 When it comes to choosing a rug for your home, there are many things to consider. Consider whether you want a bright and colorful rug or a neutral one in a neutral tone. If you want to go with a neutral rug, you should pick one that has the same undertone as the room's main color. For example, a light-colored rug that has a gray undertone will look better in a room with brushed nickel fixtures than one that has a yellow undertone.
The size and placement of a rug can be tricky. It is best to start small and work around existing HVAC vents. Make sure to measure the legs of all furniture before purchasing a rug. Make sure to buy a rug that extends four feet underneath the legs of the sofas. Also, take stock of your color scheme, since it is important to choose a rug that complements the main colors in your room. Therefore, you should spend on the ideal rug.
Why Rugs Should Be Your First Choice When Designing A Room
The rugs you choose should be an extension of your design scheme. Rugs that match the elements of your design scheme make a room look more cohesive. They also act as anchors for furniture, zone out a space, and absorb sound. Read on to discover some reasons why rugs should be your first choice when designing a room. And while the choices may seem endless, here are five of the best reasons to buy a rug.
Area Rugs Are A Work Of Art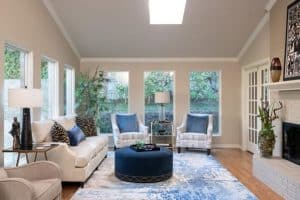 Many people think that area rugs are only decorative, but that couldn't be further from the truth. These pieces of artwork can add a lot of visual interest to any room. They can have bold colors, and intricate designs, and even come in different sizes. If you're looking to buy a new area rug for your home, learning about the art value of an area rug can help you make a good decision. Rugs are a work of art just like your pillows and bedsheets are. There are different pillow sizes for your bed and for your sofa. And the same way there are different types of rugs for the different corners of the room.
Choose a central object in your room as your focal point. This may be a piece of art, a painting, or a vase. Regardless of what you choose to use as your centerpiece, the rug should match the artwork. If the artwork is on a wall, make sure that the colors of the rugs match the piece of art. If you don't have a focal point, you can use a rug to magnify secondary colors on the wall art.
They Add Color, Texture, And Pattern
Adding a rug is a great way to introduce color and pattern into a room that is otherwise quite neutral. Rugs can also be used to highlight the style and add warmth to the room. Here are some tips to help you choose the right rug for your room:
Select a rug that enhances the room's focal point. This can be a feature of the room, such as a boldly colored backsplash, or a teal shag rug. Consider the textures of the rug when choosing one. Rugs with intricate patterns are a great way to make a room seem more extravagant. Also, consider the size and shape of the rug before buying one like the way you consider the size and type of the beds you sleep on before buying.
They Absorb Sound
Carpets and rugs can absorb sound. The quality of sound-absorbing properties will vary depending on the fabric and thickness of the rug. Wool rugs have the best sound-absorbing properties, thanks to their higher density and wool fibers that have a unique diameter, crimp, and spirality. As a result, they absorb a wide range of sounds. Depending on the type of room you're designing, you can choose an area rug that will absorb the sound that you want to avoid.
If you're trying to keep a room quiet, consider installing a rug over your carpet. Rugs absorb sound more effectively than bare floors, so they're a great option for rooms with high-volume sounds. But if your budget is limited, you can also choose to cover your floors with thin curtains. These will still help with noise reduction, but a carpet may be more practical than a sheer curtain or blinds.
They Are An Investment
If you're decorating a room on a budget, you can still find a beautiful rug to complement your decor. But you can spend more money on a designer rug if you want a durable one. But buying a custom rug can cost a fortune, so you should be careful to choose the perfect one for your space. Factory-made rugs are less expensive, but they may not last as long as designer rugs.
Before buying a rug, take into consideration the room's circulation patterns. For instance, if your living room is large, you may want to buy a smaller rug to cover the entire entryway. Similarly, a large rug may be more practical for a small room, but you should pay close attention to the amount of foot traffic the room receives. Buying a rug that can withstand high-traffic areas can extend the life of your rug.
They Are Expensive
Rugs anchor rooms. But they are also expensive. Choosing the right one is critical for a successful design. Interior stylist Lisa Koehler suggests choosing the color, texture and feel of the rug. This will ensure that it fits in with the rest of the room. But the decision should not be based only on aesthetics. Consider the function of the rug. In a room that has a lot of light, a dark rug can be a good choice.
A bedroom should frame the bed. Choose a rug of approximately 8×10 feet for a queen-size bed. A king-sized bed requires a 9×12-inch rug. It should also be big enough for the front feet of bedside tables to sit on it. Smaller rugs can be layered to make a larger one. Two tight-weave sisal and jute are popular choices. You can purchase both of them at IKEA.
Finally
The shape of a rug will also influence the rest of the room's decor. Rugs are the perfect way to introduce patterns into neutral rooms. They also help anchor your furniture, absorb sound and create a more cohesive look. You can choose a round rug or a rectangular one depending on the shape of your furniture and the room's overall design. Once you have chosen a shape and size, you can proceed to find the perfect rug for your room.