7 Ingenious Ways to Use Outdoor Rugs Indoors!
5 min read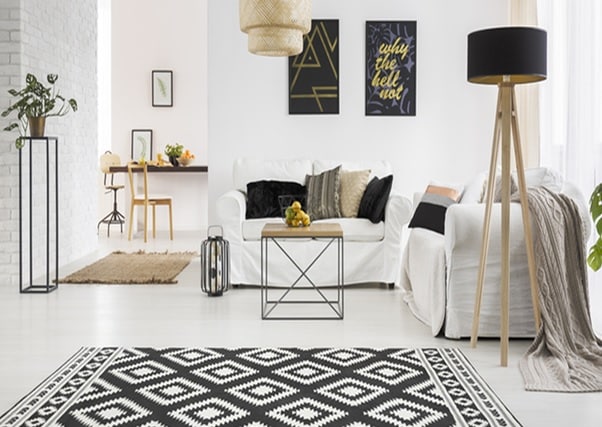 If you've been considering adding a rug to your outdoor space, you've probably been wondering how to choose one. After all, you want to make sure it complements your furniture. In addition, you need to make sure the rug matches the color theme of your patio or porch. You'll also want to consider the materials used to make rugs, and whether you'd prefer to buy one made of natural fiber or synthetic materials.
Indoor Uses For Outdoor Rugs!
If you have kids or pets, you'll love the ease of cleaning these rugs. Spills and messes are easy to clean up with a damp cloth, and they are durable enough to withstand dog or cat accidents. Plus, they are relatively inexpensive, making them a great choice for budget-conscious homeowners who don't want to commit to a single look. And if you're too cheap to buy a new rug every season, indoor-outdoor rugs are a good option.
The geometric pattern on this rug is durable and can handle the wear and tear of a high-traffic area. It's made of polypropylene, which is a type of plastic and withstands staining. Because it's so durable, you can place it both indoors and outdoors, without worrying about it damaging your floors or your furniture. In addition, this durable material can stand up to a child's playtime. You can also make use of your outdoor rugs for narrow verandas.
When selecting an outdoor rug, be sure to select one large enough to cover the table and seating setup. You'll also want to leave a few inches of space around it, which will make moving around the furniture safer and easier. Also, keep in mind that you'll be entertaining your friends outside, so it's important to consider the size of your rug. If you're going to be sitting outdoors, choose one that's large enough to cover the outdoor table and chairs. You can also add pillows of different sizes there for a beautiful look.
Consider putting rugs on concrete floors. While it's an excellent choice for the outdoors, it can also be difficult to protect the floor underneath. Outdoor rugs that aren't breathable can harbor mildew and other unwanted odors. Because of this, choosing a breathable type of rug will be beneficial. If you have concrete floors, choose a rug that's designed to breathe. If the floor isn't sealed, it will be much easier to keep the rugs looking newer for longer.
How to Use an Outdoor Rug Indoors?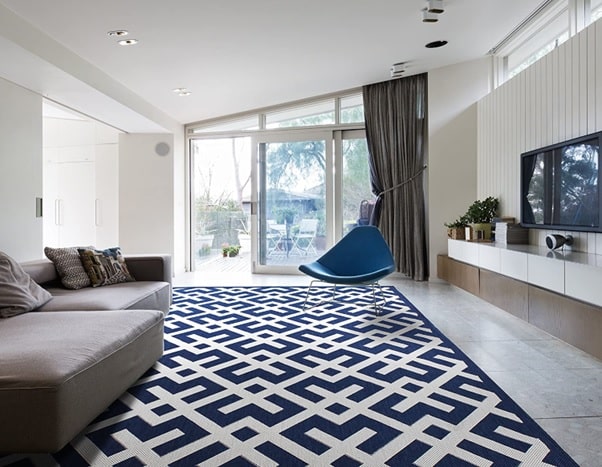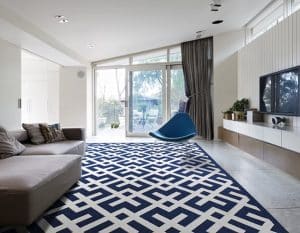 An outdoor rug can be placed indoors in areas where foot traffic is high. A hallway, laundry room, or bathroom are all examples of high-footfall areas. A reversible outdoor rug may be used in these areas, as well. Depending on your budget and aesthetics, you can use an indoor outdoor rug in several different locations, but most of these rooms get little foot traffic.
1. Synthetic Outdoor Rugs
If you are not in the market for a new rug for your patio or deck, consider a synthetic outdoor rug. These rugs are available in many vibrant colors and patterns and are perfect for any area in your home. Synthetic outdoor rugs are ideal for busy rooms in the home, such as kids' rooms or kitchens. Most are easy to clean, although you may need to do a little more than spot cleaning if you have kids or pets. In this case, a synthetic or blended outdoor rug may be the best choice. Unlike natural fiber rugs, synthetic or blended rugs are kid and pet friendly, so they will withstand a lot of rough treatment and foot traffic.
2. Natural Fibers
Unlike traditional rugs made of man-made materials, natural fiber rugs can be used indoors. If used in the correct way, natural fibers can add a rustic and stylish touch to any space. Some of the most popular natural fibers for outdoor rugs are sisal and jute. Because of their rugged texture, these natural fibers are popular with interior designers. Natural fibers have many advantages and are great for both indoor and outdoor spaces.
3. Human-Made
When choosing an outdoor rug for your home, consider the materials that make it best suited for the outdoors. Synthetic materials such as polyester and nylon are both durable and resistant to weather elements. They can withstand constant exposure to sunlight and rain, but may need special care to retain their color and look their best. Natural fiber rugs are also good choices for indoor spaces, as they create texture and enhance the appearance of a room. However, natural fiber rugs are prone to water damage, and you may find them susceptible to mold and mildew. Rugs made of viscose rayon have a lustrous vibes that makes it soft to touch.
4. Reversible Rugs
Reversible outdoor rugs come in many styles and designs. The Burgos Rug anchors your living room and patio area with its elegant pattern. You can use it indoors and outdoors, depending on the time of year. Designed for high traffic areas, Burgos is also durable and UV-protected. While handmade rugs may vary slightly in color and size, the pattern will always be the same.
5. Bright Colors
Outdoor rugs can be purchased in a wide variety of bright colors. These rugs are often made of cotton, pvc, or polypropylene. Coastal designs feature bright colors that make them a great addition to any home. Some are made of recycled water bottles. Some are made of wool. Here are a few tips to help you choose the right one for your home. Bright colors can add style and personality to your home, while staying in the budget.
6. Higher Foot Traffic Areas
If you want to avoid the potential for stains and rips from children's muddy paws, choose an outdoor rug that's designed for high-traffic areas. These rugs are usually made of durable materials and will resist staining, fading, and moisture. They're perfect for busy rooms and high-traffic areas in your home. Choose a neutral color to create a warm and inviting look.
7. Storage
You should know the proper ways to store your outdoor rugs indoors during winter months. You can store them in plastic or rolled up in a roll, or even under tarps. However, if you don't want to take the hassle of storing them indoors, you can store them under your house in a closet or basement. Here are some tips to help you store your outdoor rugs properly.
Conclusion
The kitchen is probably one of the most loved rooms in the house, but it can also get messy, with heavy traffic, food spills, and falling objects. Luckily, there are many ways to use outdoor rugs in the kitchen, including placing them under the sink, dishwasher, and island. These rugs are great for high-traffic areas, and they are easy to clean.
About Author