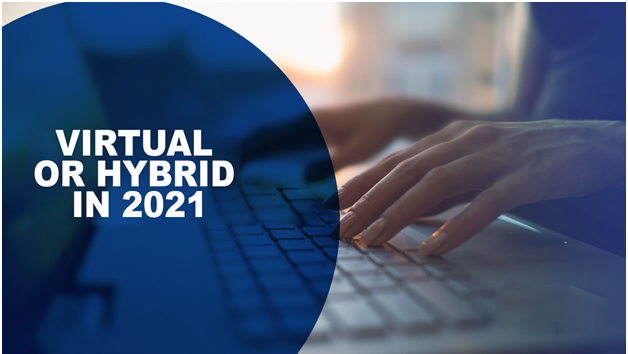 An organisation incorporates a countless number of events that create its foundation. For a healthy working environment, it is important to uplift the entire dynamics of a business enterprise. Therefore, organisations strive hard to deliver quality content in corporate events. Be it a trade show, conference, product launch, or an award show, they make sure to combine the key elements.
An engaging, as well as an enthusiastic corporate event, is extremely important. This is so because an organisation must focus on its workforce. Every employee should feel appreciated in a business enterprise. But, the coronavirus pandemic came in as a long pause on all such events. It not only depreciated the productivity levels of a business but also reduced the team spirit among employees. Organisations were left with a tedious situation. Fortunately, this baffling hurdle was soon overcome with the help of virtual and hybrid events. Learn some essential tips from GSE AV when it comes to hosting your virtual trade show
Types Of Corporate Events
Corporate events basically refer to the numerous functions organised by a company. These types of events include participation from all the workforce along with the shareholders, employees, managers, directors, and so forth. The main motive behind corporate events is to promote effective communication or spread some important information within the organisation.
With that being said, let us have a look at all the various types of virtual events.
1) MOST COMMON EVENTS TARGETED FOR A LARGER AUDIENCE:
Virtual Summits or conferences
This is one of the most vital virtual events for any organisation. It empowers the workforce to interact effectively with each other. It enables each candidate to share their ideologies without facing any hindrances. Virtual conferences are designed with the intention of offering a real-time encounter. Talking about the type of features utilised here, we can surely observe networking roundtables along with live chat as well as audio features. They elevate the entire ambience and amplify the effectiveness of virtual conferences.
Virtual Seminars
These can be considered as small conceptualising sessions that empower all the workforce to brainstorm together. These virtual seminars usually last for a shorter duration that is mostly around 30 minutes to 1 hour. These type of seminars are held when there is an important announcement in the organisation or an effective discussion about the upcoming changes
Webinars
We can refer to these events as a type of online course which is presented to the audience in a form of a virtual workshop. Organisations usually offer webinars when they want to host a demo, talk or even a lecture regarding a specific topic. It is one of the most appropriate alternatives for targeting bigger crowds. We can observe features like live polls as well as live surveys in these webinars.
2) PRODUCT RELATED TO CORPORATE EVENTS
Virtual exhibitions
These type of events have gained significant popularity in the corporate industry. Virtual exhibition empowers organisers to reach a global audience and showcase their specialities. It also facilitates the brand sponsored as well as exhibitors to customise their very own exhibition booth. This means they can amalgamate each and every aspect that suits their brand image. It is also an effective way to host educational sessions virtually.
Product Launches
Due to the coronavirus pandemic, a lot of organisations have shifted their product launches to a virtual platform. It empowers all the participants to host informative product launches virtually. These types of virtual events allow organisations to reach a global market and effortlessly flaunt their new product launch.
3) OTHER CORPORATE EVENTS IN AN ORGANIZATION
Trade Shows
Organisations have been hosting immersive trade shows ever since. These are specialised events that focus on showcasing a brand's products and services. It includes numerous exhibitors that curate their customised exhibition booths in order to showcase their brand's facilities. Trade shows also provide a great opportunity to expand your networking strategies and boost your visibility effortlessly.
Career Expos
Career expos have been around the corner for quite a while now. They are popularly known as job fairs. These types of events are utilised by organisations in order to facilitate interested job candidates. Numerous brands and organisations come together in order to meet their requirements and recruit new employees.
Workshops
A workshop is an incredible method that facilitates you to teach a large segment of audience. The organisation can host different educational workshops related to the various topics.
While most active workshops take place face to face, it can totally be transferred into a virtual environment.
Onboarding/Oriental Events
These are dedicated events hosted for new employees in an organisation. It facilitates the employees by introducing them to various members, departments, roles as well as responsibilities and so forth in an organisation
Corporate Events And The Virtual World
Until last year, corporate events took place physically. The in-person meetings and conferences were a huge success for any organisation. But, the covid-19 pandemic changed the entire perspective of the world.
Now, corporate events are shifting toward virtual and hybrid event platforms. Prominent organisations from every corner of the globe have realised their utmost potential. Individuals are now promoting their brand via virtual launches, award shows, summits, and a lot more with the help of virtual platforms. Individuals have also started to incorporate hybrid events as they are a perfect fusion of virtual as well as physical elements.
The main reason behind this major inclination towards virtual and hybrid events is their cost-efficiency. Virtual and hybrid events are extremely budget-oriented. Therefore, they are suitable for even small startups. Moreover, they are quite effective as compared to in-person events. Wait, that's not all. The most exciting element is that these events do not come with a participation limit! Yes, you read that absolutely right. Any number of individuals can partake in these activities even from the comfort of their bed!
If you're someone who is wondering how to take the corporate events to an immersive virtual or hybrid platform. Don't worry, because we have got your back. Here are the key elements that will help you shift your events to a virtual and a hybrid platform. So, sit back, relax, and continue reading further to gain valuable information.
1. Set Up Small Online Sessions
If you're planning to take your corporate events to a virtual level, you must plan out strategically. This implies that you must understand the current scenario of your virtual attendees. Since a large population has been introduced to the work-from-home dynamic recently, the possibilities of distractions are inevitable. Therefore, you must try to deliver small conceptualising sessions with quality content. Targeting the audience for small-time limits will allow you to attract all their attention. It will also help them in effectively rendering crucial information. This effective data retention will fulfil the main motive behind your virtual or a hybrid event.
2. Favor Your Virtual Attendees
As mentioned above, the possibility of being distracted during a work-from-home session is extremely high. Thus, you must favour all your virtual attendees at all costs. You must plan out your virtual or hybrid event in such a way that it delivers the essential information. Try to cut short the entire session into valuable points. This will make it simpler for your participants to understand and comprehend the information. It will also empower them to remember the information for a longer duration.
3.  Facilitate Your Team
Undeniably, your virtual attendees are extremely important but you should never compromise with your teammates. All your teammates must work together in a healthy environment. Assign a specific role to all your companions, this will eliminate the chaos in an organisation. Important participants like the speakers, hosts, exhibitors, etc.  must be aware of the numerous aspects of a virtual or hybrid event. This will make them familiar with the virtual space. Furthermore, it will facilitate you to host an immersive event.
4. Boost Audience Interaction
If you want to deliver a virtual or hybrid event, your rationale must be to spread authentic information. To facilitate this, you must boost the audience interaction. You can incorporate engaging features like a social wall, live polls, live surveys and a lot more. This will engage your virtual attendees effortlessly. It will also boost up the audience interaction as they will be empowered to communicate easily.
5. Curate a Customised Environment
If you're planning to host a virtual or hybrid event make sure to customise the entire platform. This will create an immersive as well as holistic ambience for your virtual attendees. You can utilise features like dynamic banners, animated lightings, DIY booth builders, and a lot more. This environment will instantly be appreciated by your virtual participants. A customised environment boosts up audience engagement as well as interaction. Thus, make sure to incorporate your unique elements as much as possible.
Conclusion
Virtual events have been gaining extensive popularity. They allow individuals to virtually partake in effective brainstorming sessions. With the covid-19 pandemic, there was a drastic inclination towards the virtual world. This also boosted hybrid event platforms. Hybrid events are the perfect fusion of physical as well as virtual events. They allow individuals to enjoy an immersive environment whilst maintaining their utmost solace.
Numerous renowned organisations have utilised the potential of the virtual world and found it to be extremely beneficial. After running through research, we have scrutinized our entire information in the above-mentioned article. This article talks about all the corporate events that can be taken online.