Blinds and Curtains Top Decorating Tips for your Home Décor
3 min read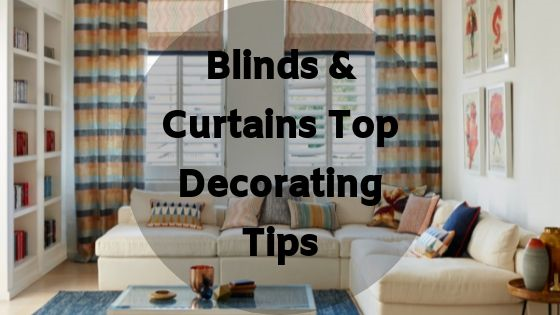 Choosing the perfect type of blinds for your home is really a tough choice, you have to think of different factors before making the final decision.
The process of choosing the blind itself is tricky, so here we come to help you in making the right decision according to your need and choice. If you're searching for sheer functionality, striking visual appeal or modern blend in your blinds then there are various choices available for your home.
What Should Be The Concern?
Before looking at blinds first try to identify the condition and consideration at your home, the blind has an important role at home space, it changes the aura and makes the whole impression. Therefore contemplate about all the scenarios, existing decors and things at your home.
Here are Some of the Important Factor for Consideration Before Blind Installation:
•             Do you want privacy at your home?
•             Does your home have a standard color scheme?
•             Which parts of the house you're going to install blinds?
•             Do you want a more sophisticated aura at home or vibrant colors?
If you have a vivid idea about the blind installation then the process will be easier and you also have a high chance of getting an expected result.
Some Suggestion of Blinds Which Might Suit to your House:
Here are a few types of blinds which look good in a home, you can choose the best one from various design and pattern.
Venetian Blinds
Venetian blinds are the most durable and excellent type of blinds available in the market, this blind is really good and has become a popular choice. If you want to add significant privacy at your bedroom, hall or study room then Venetian blind installation would be the right choice for your house.
You can do the Venetian blind installation throughout your house, from the bedroom to windows facing the street. Usually, aluminium is the best choice, but you can also choose wooden Venetian blinds to give your home a more homely feeling. These blinds will filter even the jarring sunlight coming through the windows.
Vertical Blinds
Vertical blinds are a combination of function, aesthetics and privacy, thus a perfect combo blinds for any house. Its vertical slat design makes it opaque which will add privacy in your house and prevent outsiders to look inside your house, also it's unique design makes it look beautiful.
The slats are available in different colours schemes and patterns, you can choose the best one according to your taste. Moreover, these blinds will give your home a refreshing look, the guest will surely have a nice impression. So, what are you waiting for? Go for vertical blinds installation and give your home a new and refreshing look.
Roller Blinds
Roller blinds make their own statement, these blinds don't have slats, instead, these blinds are rolled in a cover which is installed on the wall. There is plenty of colour option available of these blinds, also, there are creative designs comes in this category. This makes the home look good and fresh, roller blind installation is also a valid option, which you can look for.
Moreover, roller blind installation is a compact & contemporary solution, it's available in every size and fits on any windows. You can look for the different varieties and type for the one which suits you, you can also go for a roller blackout blind.
Find the Best Blinds in Melbourne
If you're looking for the best blinds, you can look for one in Melbourne, you'll find various vendors who endorse these types of blinds and can provide you with the best one. You will find the best supplier of blinds Melbourne, so what are you waiting for go purchase your favourite one.