Benefits of Infographics That Will Amaze You
5 min read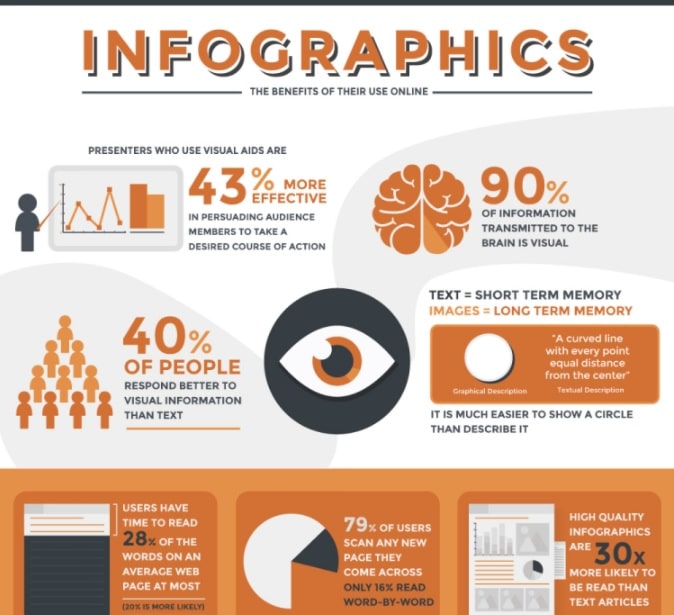 You are seriously missing out if you are not taking any advantage of the power of infographics these days. Trust me, they play a significant role in reaching a goal when it comes to content marketing strategies. According to a survey conducted, since 2012, it has been reported that the search volumes for the infographics have significantly risen by over 800 percent- 800! Yes, you heard that right! 
Infographics are visually appealing to look at, and not only that, they are an amazingly effective marketing tool. 
Infographics basically do the magic by taking the factual connection of data and marrying it with different design aspects of the graphics. The data which was originally dry, all of a sudden, jumps to something extremely interesting, has images, and metaphors, as if it has been brought to life by adding colors. This  website provides the best infographic creation and submission services online. All you have to do is to carry out wide research and get your work done in no time. 
Below are some benefits of infographics which should definitely be given a look. 
They Prove You As The Expert
Some of us are impressed with numbers while the others are impressed with graphics, however, when both of them are put together, it's just like a marriage made in heaven! Your brand's credibility increases significantly when you share your knowledge through infographics. Moreover, it also makes you look more professional. There is no denying the fact that to create an infographic, you need to carry out wide research, gain knowledge and experience, search for the right images, or sometimes have to create yourself, but trust me, once it's done, the compelling infographic is surely going to catch your audience's eyes. It's something that your readers won't have access to until you give them. 
The readers would definitely appreciate the knowledge you provided them with, and the next time any related subject comes up, your readers will turn to you as an expert. Infographics allow you to visually represent the vast research you did on your own and the material you collected from the internet. The best part is that your prospects will then connect your ability to interpret a story with visual data, and this further helps them to trust your company and know you better. When your prospects finally develop a relationship of trust with you and feel safe, it is more likely that they move their sales cycle and must move faster and close even more often. 
Persuasive and Eye-Catching
People generally are more attracted to information that displays numbers, figures, and statistics. If you provide people with two sets of information, one with visuals, and statistics, and the other one with just the information written, there is a 99% chance that they will find the colorful visual information more persuasive than the other. Infographics are, no doubt, the perfect way to compile a lot of data into a simple and precise format that is easy to get along with. Your audience will surely find your data credible and would appreciate its flawless format. 
Another reason why most people find infographics compelling is because of their ability to be understood easily. It is an excellent way to help people in synthesizing data. What that basically means is, your infographic helps them in no time to get all the insights they require, which in turn adds more value to your content. People always remember the content that provides them with quick insights, thus making the content memorable, and this in return increases their chances of coming back to your content, or even sharing it across their and other organizations. This will help bring success to your career in no time. 
Generate More Visitors 
If you are someone who has amazingly persuasive, compelling, and beautiful infographics, people will automatically start coming to your website. People nowadays are more into sharing visual content, and every click or share on your website basically means more people seeing your content. This is the reason why infographics are a great way to drive more traffic to your website. But like the other marketing ways, it's kind of more about what you actually do with it, how you interpret your knowledge, and which platform you use to socialize it, all these things impact the infographic's ability to generate more traffic to your website. 
When creating an infographic, just be sure to use the right combination of keywords, just be sure what you are actually creating by having an idea in mind. Without any idea or proper research, you wouldn't be able to create a visually appealing infographic. Moreover, you also have to make sure that you have gathered all important points to properly represent the knowledge because incomplete or too precise information is not understood by the people. Therefore, just be sure that you know all the in-depth details about your specific personas and the proper planning. Below are some questions that you might want to ask yourself when creating an infographic. 
Will you be using your infographic on different referral sites?

Will you promote it on social media? 

If it's a yes to the above question, which sites? 

Do you have any plans of emailing it to specific customers or prospects etc? 
If you have the right answers to all these questions, then your final infographic will be a masterpiece once it is done. 
Great For SEO
As repeatedly mentioned before, people share visuals more because they consider them more worthy to be shared than the traditional content that just involves text. The way an infographic is by nature, makes people click it more, like, and share, as a result of which, Google indexes your website. So, not only will people be liking and sharing your content more, but Google will also see it as share-worthy content and will give a higher ranking to your content. This means that when people will search for any related content on Google, your visual content will be higher up in their search results. However, this puts a little pressure on you as you now have to carefully select the right keywords, keyword phrases, and various questions. Afterall, who wants to have an asset that ranks high on Google but unfortunately drives the wrong audience. You should also consider doing some strategy work that is offsite as well. Consider thinking about your alt tag, tagging, and also the meta descriptions that are behind your infographics. This will ensure that Google has trouble finding your content, and even fixing it.