Beginners Guide To Embroidery Digitizing
4 min read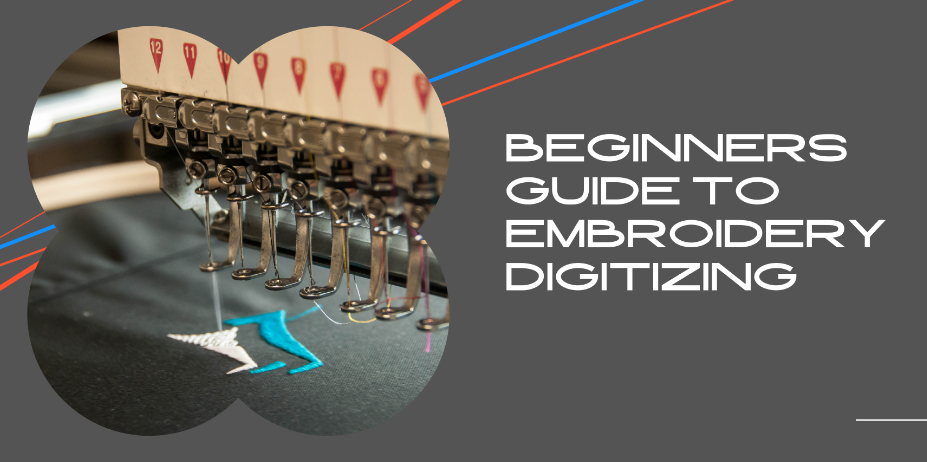 Machine Embroidered towels, hats, shirts are beautiful and attractive,there is no denying that it gives everyone a sense of ownership while branding  and marketing for your company and just like many art forms, The results are astonishingly great when you work with the suitable fabric and efficient process. The process of changing the logo to digital artwork might seem like a click job, but it's much more complex than that. Running digitizing software smoothly needs hours of hands-on practice and years of practice. This article today will be walking you through the step-by-step guide to working on digitizing software. Often while working for a client, they will ask you to deliver the file in a specific format first, let us get ourselves familiar with the types of files.
What Files Can An Embroidery Machine Read
While there are mainly three types of file formats: expanded, Machine, and native file format.
When it comes to digitization, we will only be talking about the different types of file formats and how to get those conversions right. There are mainly 12 various kinds, and the other forms are due to multiple machines manufacturers use to get their stitches done on the fabric. Unfortunately, Various machine embroidery brands at one's disposal do not exactly go hand in hand with each other. Each provider wants to be unique, hence a particular file format. These files formats include the following.
Janome uses JEF.
Bernina  accepts and delivers in ART format.
Husqvarna / Viking delivers in HUS. & VP3. & VIP formats.
Brother / Babylock / Deco accepts PES / PEC.
Singer uses XXX.
Pfaff allows PCD / PCM / PCS.
Tajima prefers DST.
Melco / Bravo work on EXP.
Which software to opt for?
Once you get yourself familiar with the type of Machinery, you would be embroidering your logo for. You will need to get the right software to get the job done. There are lots of softwares available for it. Once you decide on which software to use, we can get started with the actual digitizing work. However, most of the software's outlay is the same so Without further ado, let's dig into it.
Step 1:
Upload the logo to your preferred software and crop out the unnecessary image or part of the symbols you or your client does not want to digitize.
Step 2:
Enter the design dimensions, the exact width, and length depending on the client's orders; For example, the usual width for a left chest logo is 5 inches. This measurement will be the actual size that is going to be embroidered by the Machine. Once you have entered the correct dimensions, do not forget to lock the image before heading towards the next step.
Step 3:
Selecting the right stitch type can be a difficult task. There are various stitch types available on the software to help you achieve the desired texture and dimension. Especially when you are looking to sew a 3d puff. Every stitch type has a maximum number of stitches taken into account while digitizing a particular image. The quality and texture of fabric should also be taken into account while digitizing the logo.
The most commonly used stitch types are Satin, Fill, and Straight, each with their individuality and used to deliver different features.
Step 4:
Step 4 is to set the right stitch direction. It is essentially creating a map for your embroidery machine to follow. You will be commanding the machinery by giving step by step instructions in which direction to stitch. Overlooking this step can result in ugly outcomes of the logo. On the contrary, doing this step will save you time as well as a thread.
Step 5 :
Select your embroidery colors and match them against the Pantone colors.
Step 6:
All that is left now in regards to digitizing is converting the digitized file into an appropriate file that is accepted by your Machine (such as dst, pxf etc)
Step 7:
This step is totally about how to use the file that you digitized on the embroidery machine. You will need to give it specific instructions by selecting the appropriate needle size, threads, orientation, and sequence. Fit your fabric (shirts, hat, towels etc) on the embroidery frames and run them down. Do not forget to make sure that it has the required colors for your logo.
Step 8:
All that is left for you is to sit back and wait for the sew-out of your design. This should only take several minutes. Once the output is produced, closely inspect the sample to see if you are required to make any adjustments to the design before you put in several products to be sewn. If you are satisfied with the result, then you are ready to weave your design on the products.
Final thoughts.
With this article, I hope you have enough information to run down various designs of your own through the Machine. But If you are still stuck or looking to skip all the machine steps, Feel free to reach us at Threads and arts Logo embroidery digitizing and let our well-trained and experienced staff take care of your digitizing needs.