Ananda in the Himalayas – Best place for traditional Indian Ayurveda
3 min read
Ananda is the best Spa place in India with luxurious presence and nature surrounding. It was located on Maharaj Palace in Tehri covered by Sal forests and Ganges river valley. It is the best place for spa therapies and available spa treatments are fitness, detox, de-stress, weight loss. The atmosphere around Ananda is so pleasant because of it is located on foothills of Himalayas. You can enjoy the water streams of Ganges River from Ananda. Here various spa and wellness treatments will be held such as weight management, Ayurvedic rejuvenation, and stress management.
The room facilities of Ananda are well-maintained with a satellite TV, comfortable seating, and tea or coffee making facilities etc. Free WiFi is accessible here in all areas. You can do workouts in fitness centers or in Yoga classes. The rooms around Ananda are rounded by foothills of Himalayas and water streams of Ganges. You can relax in a good surrounding environment. The outdoor garden here is good looking and filled with blossoms of flowers.
The facilities available at Ananda in the Himalayas resort swimming pool, fitness classes, yoga classes etc. There are different spa and ayurveda packages are available. You can have good Yoga classes here for relaxation and pleasant mind. Here beauty services also available and Body wrap, Body scrub, etc. Massage facilities also available but additional charges are applied. Local and international food can be enjoyed here.
Services available here 24-hour front desk, Currency exchange, ticket services etc. There was an availability of Luggage storage to tourists and ticket services to different destinations. Currency exchange of different countries into local currency is available here. Car rental services also available and these are some of the services available here. Cards accepted here American Express, Visa, and Master. Spoken languages here are Hindi and English.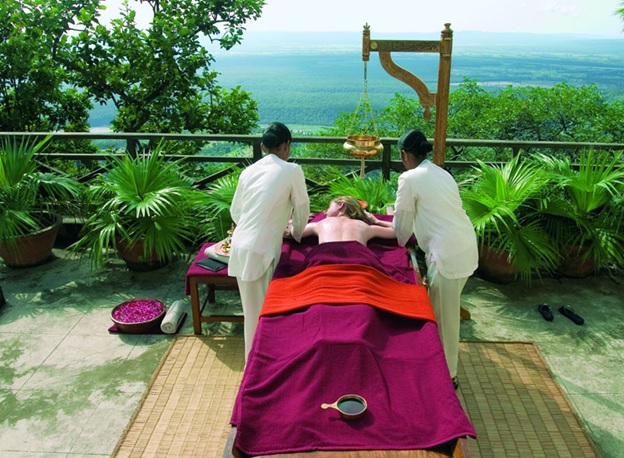 Totally three different rooms are available in Ananda. They are:
Deluxe Palace View Room with 1 extra-large double bed.
Deluxe Valley View Room-Premium floors and Deluxe Valley View Room with 2 single beds and 1 double bed.
Nearby places to be visited here Himalayan Yoga Ashram, Ram Jhula, Patanjali International Yoga Foundation etc. Tourist can reach her by Rishikesh Bus stand 18 kms away, Haridwar Railway station 48kms away and Jolly Grant Airport 35kms away.
Ananda is the best place to relax near the Himalayas. You can visit many places nearby Ananda and it best for a refreshing vacation.
History Facts
The Maharaja of Tehri Garhwal added in 1910 to your existing summer palace of the 19th century in Narendra Nagar, a new construction, which would serve as a residence for the visit of the Viceroy of the British Raj. Although this visit never became a reality, the brand new building, the Palace of the Viceroy, welcomed for decades to heads of state and great personalities: Isabel II, Lord Mountbatten, and Mahatma Gandhi. In India there are so many different and best luxury spa and ayurvedic resorts are available which attracts various number of travelers from across the world.
Greet the sun each morning and bid him farewell at the end of the day is one of the many privileges that will reach the wise.
How to Reach Here
Address to reach Ananda is The Palace Estate, Narendra Nagar Tehri, and Uttarakhand.  Ananda Spa located in 260 km North from New Delhi in the state of Uttarakhand.
The company King Fisher has two daily flights an hour from the capital city of India to the domestic airport of Jolly Grand, in Dehradun.
It is also possible to arrive by train from Delhi to Haridwar. The journey time is 4 and half hours. The transfer from the train station of Haridwar to Ananda by road takes about an hour.
You can download the brochure of Ananda: http://www.anandaspa.com/wp-content/uploads/2016/08/Ananda-brochure_new.pdf