8 Types of Kurtis that your Wardrobe Needs Right Now
5 min read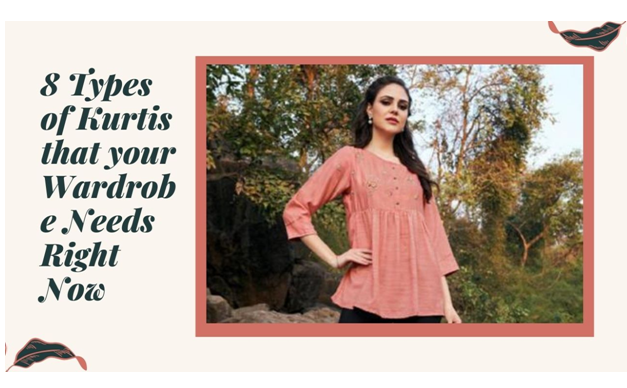 8 Types of Kurtis
When it comes to wearing something ethnic than the first attire that comes to your mind is a kurti. And what else can be more likely and comfortable rather than a kurti. They are the best companion to a lady for each and every occasion and festivals. The reason behind its immense popularity is that it is an outfit that gives you a number of options regarding patterns and designs and suits to every body type.
You should keep a collection of kurtis in your wardrobe so that it will be an easy choice to pick them when you are willing to wear something ethnic. Usually college and office going girls prefer for printed kurtis as they find it comfortable and stylish at the same time. They are also worn at auspicious events and festivals where wearing something traditional or ethnic is essential.
Kurtis have always been one of the most desired picks for every lady. The outfit is not only famous in India but also has its significance in foreign countries. Printed kurtis in fabrics such as cotton and georgette are best suited for summers. Here are some of the Kurtis that your wardrobe needs right now for the upcoming festive season. 
Long Anarkali Kurti with Jacket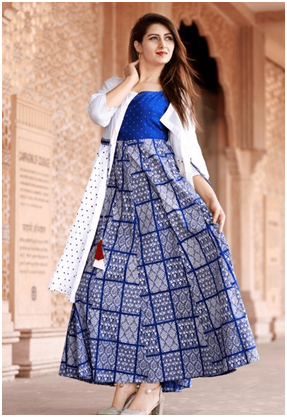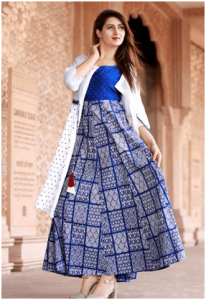 Anarkalis are the most favorable pattern of kurtis and the evergreen ones. They can be worn as casual wear or can be selected to wear at parties. This one with printed patterns and a medium-length jacket is just too adoring. Having it in your wardrobe will give you an option to wear it at parties or festivals.
Block Printed Off-white Kurti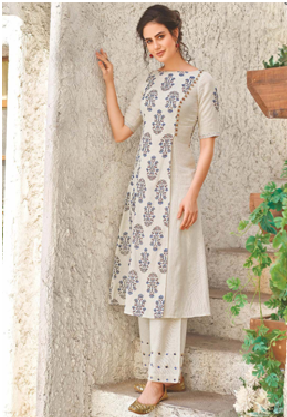 Block prints are the most fabulous and attractive ones. This one with an overlapping pattern and block prints is making up a stunning kurti. Buttons at the front are giving it a more glorifying look. This knee-length kurti is making a perfect pair with the flared matching palazzo that is giving a tremendous look. Prints at the ankle is giving the palazzo a more dignified look.
Something Simple and Elegant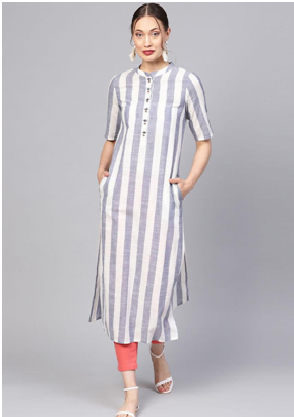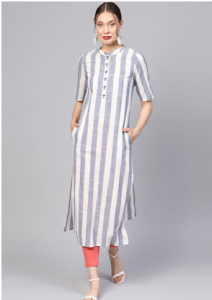 Having this one in the list can help you out with some ethnic vibes in summers. Made up of pure cotton and linings gives you a simple and sober look. Pairing it with a contrast color pants will give you a cool and stylish look. You can also choose to wear it with denim jeans. PAiring some oxidised jewelry with this one will complete your overall look.
Try Something Colorful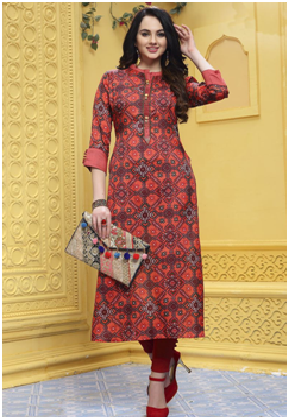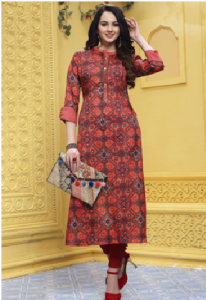 This one will be the perfect choice for get-togethers and festivals. Intricate prints and stylish sleeves are just perfect. The straight pattern and simple neck is making the kurti look adorable. Wearing it in proper fitting will give you a gorgeous look. Pair it with a matching legging or match a cigarette pant having some fancy buttons at the ankle for a perfect look.
Multicolor Kurti for Extremely Stunning Look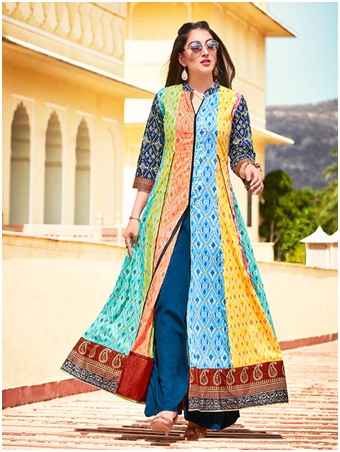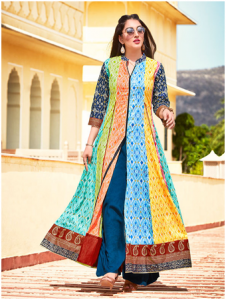 When you are confused between colors then just choose a multicolor outfit for a playful vibe. It will definitely give you an extremely stunning look. This multicolor slit kurti with a collar neck having v-notch will give you an exclusive look. Wearing it at any pre-wedding function or photoshoots will make you the center of attraction. This one is never gonna disappoint you regarding the looks.
Half and Half Printed Kurti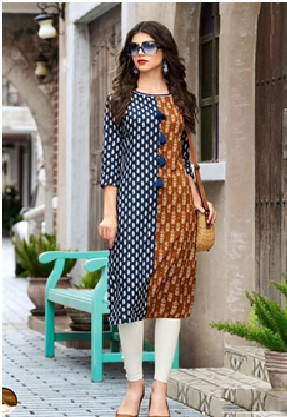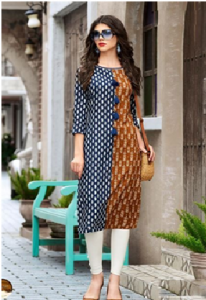 This beautiful cotton printed kurti is one of the noticeable outfits that will make you look unique between the crowd. Detailed with different prints and two-color tone gives the wearer a stylish and adorable look. Simple round neck and long sleeves are the perfect combination for this straight kurti. Pairing it with a white legging or jeans is a great idea for professional meets.
Indo-western Kurti to Look Modish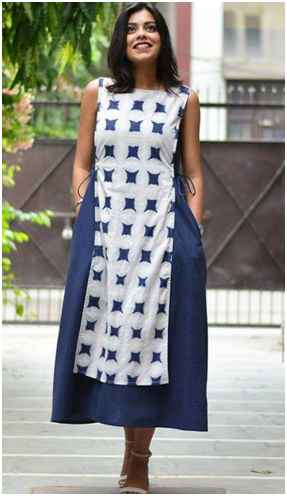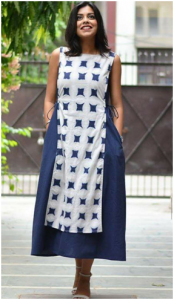 Get a dazzling look by choosing this two layered indo-western kurti. It is simple yet too adoring. A plain flare at the bottom and straight pattern as the upper layer is making a ravishing kurti. The tie-ups at the waist can be used to adjust the fitting of the attire. If you love simple prints then this one will be the best pick. Match a legging with this kurti and complete your ethnic look.
Some Unique Choices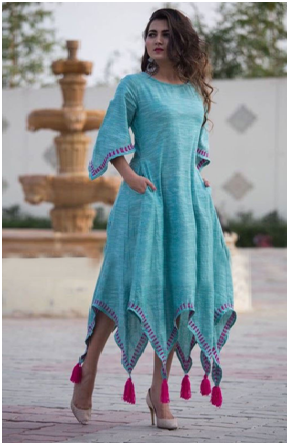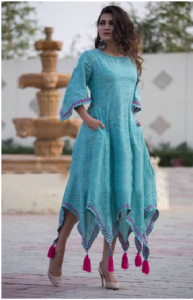 This asymmetrical kurti with tassels at the end and fancy sleeves is a fashionista pick. Flared from bottom and fitted at the upper body is making a petty and attractive kurti. You can choose it for a unique and voguish look. Big thread tassels in pink are increasing the beauty of the outfit. It can be the perfect one to wear at events or lunch. If you like to try something out of the box then this one will surely help you.
These were some of the latest and trending kurtis that must be a part of your wardrobe so that you can flaunt your ethnic look whenever you like. Be a lady with class by pairing some accessories and a pair of matching shoes with this outfit. Wearing it in proper fitting and with perfect style drags a lot of attention towards the wearer.
Due to its worldwide popularity, the demand for kurtis never declines. There are many online stores that offer wholesale kurtis that can be easily purchased in a variety of colors and designs. The outfit is available in almost every fabric, some of them are light in weight and some are heavy. They can be chosen according to the type of occasion in which you are willing to wear the outfit.
Those who wear kurtis on a daily basis usually choose cotton, linen, muslin and georgette that are light in weight and a breathable fabric. These fabrics have the ability to control sweat and moisture, therefore they are widely chosen for casual purpose. Silk, chiffon and jacquard are heavy fabrics that are preferred for festivals and special functions.