8 Bathroom Design Decisions You'll Never Turn Your Back On
4 min read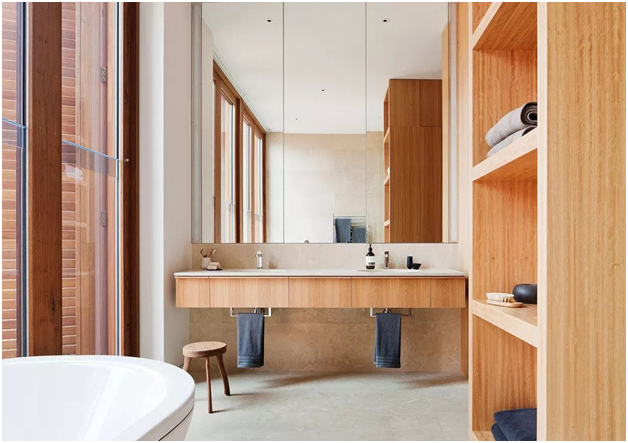 Bathrooms are a personal refuge for many individuals. It is a place where they let all their worries wash away with a simple hot shower and step out rejuvenated and refreshed. If you want your piece of personal heaven to reflect your character and personality then it is time to give it a makeover it truly deserves.
This year has started with a bang and you will find an array of fantastic bathroom designs in 2019 that will take your breath away and will leave you mesmerized and overwhelmed.Sinks, tiles, fixtures, paint, bathtubs, and vanity dresser everything has revolutionized this year and has taken bathroom industry by storm.
Listed below are some of the beautiful and luxurious bathroom designs that you will never turn your back on.
Design#1: Hi-Tech Fixtures
With advancing technology, it is time that you give your bathroom a high technology upgrade. Now a day, you will find many-tech bathroom accessories like hand dryers, the wall inbuilt air fresheners, smart showers with built-in blue tooth speakers, toilet seat warmers and many more.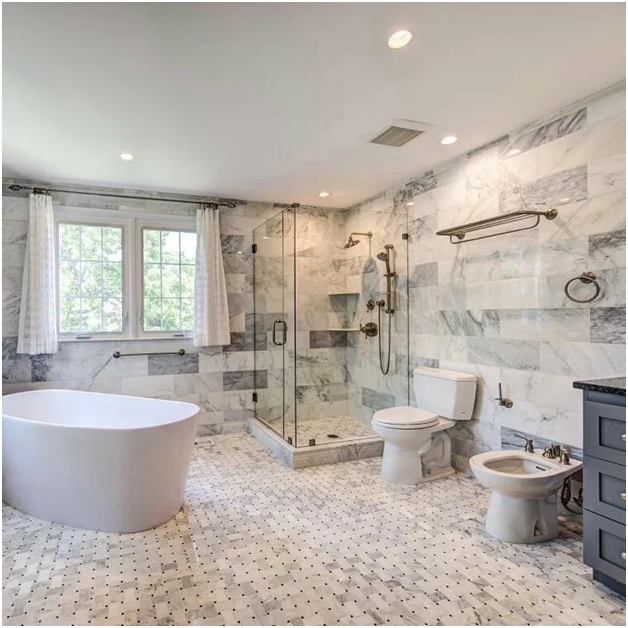 You can even install TV in your personal slice of paradise and enjoy your personal time to the fullest. Now you can even turn on your bathroom lights by the latest voice-activated feature. Just tell your budget to your bathroom remodeling contractors and they will guide you as to what hi-tech features you can install in your bathroom without digging a hole in your pocket.
Design#2: Grey Interiors
Grey interiors are the latest bathroom trend this season. From ceiling to floors, from mirrors to vanity sink, you will find the soft satin finish of this beautiful color. Grey not only makes your washroom look bigger, brighter and spacious but also give it a classic, timeless aura and character.
It will no doubt brighten up your mood after a tiring day at work.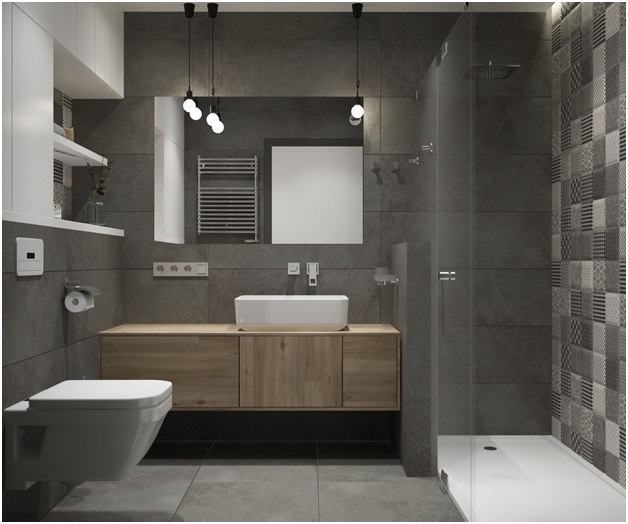 Also Read : Bathroom Remodeling Contractor
Design#3: Sleek Sinks and Vanities
Vanities that are sleek, modern and edgy are trending in bathroom design this year. Their modern and simplistic look has people drooling over it and now more and more individuals are incorporating it in their master, hallway and guest bathrooms. People usually mix and match it with the rich color of gold and black for lasting impression and emphasis.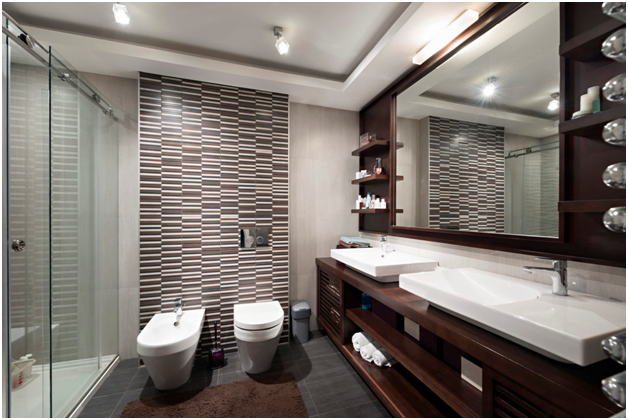 Design#4: Vintage Touch of Gold
Gold and brass fixtures are dominant in bathroom design this season. Gold and brass bathroom faucet, railing, lighting fixtures, door knob, and towel racks are making their classic presence known in today's bathroom ideas and designs. They are extremely practical for each day wear and tear as they will not rust with time or show fingerprints or watermarks like other materials.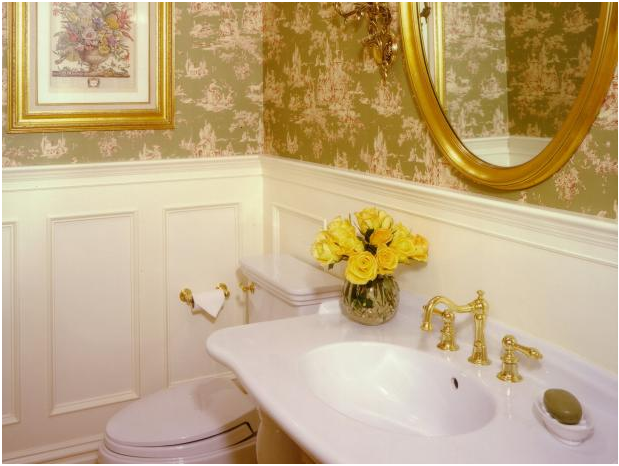 Design#5: Innovative Tiles and Paint Amalgamation
Tiles are making a comeback in bathroom designsyou can choose from an array of tile designs and textures from Pentagon to hexagon to honeycomb to diamond shape for your bathroom walls, floors, and showers. This trend will not only uplift the look of your washroom, but it will give a distinct character and personality to it. You can easily play with tiles and wall paint in your bathroom area. On one wall you can lay tiles and have the same color paint on another wall to give it a rhythm and theme.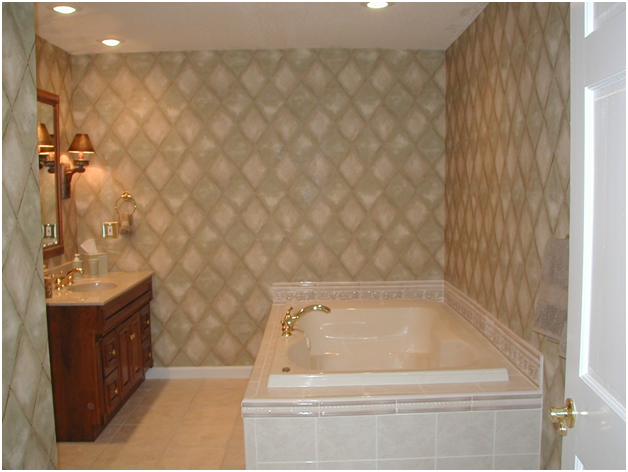 Design#6: Extra Storage Place
Storage, cabinet shelves in bathroomsarebecoming an extremely popular trend. Now you can utilize your bathroom walls and spaces to build shelves and place your necessities in it. This makes your room and bathroom less cluttered and your stuff more organized.
Now you don't need to rush to your room to take out your office attire or make a wild run to your dressing room to apply your daily work make up. Simply add modern cabinets and storage in your washroom and keep your daily use stuff in it. From your clothes to makeup, from your toiletries to your sunscreen, everything now can be stored in these compact cabinets.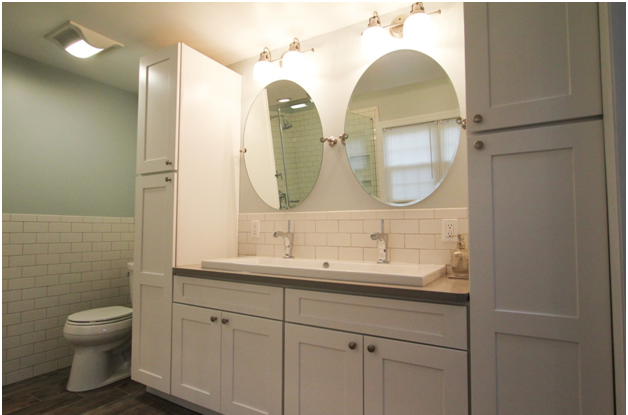 Design#7: Latest Bathtubs and Showers
It is time to take out your flavored, scented bath bubbles and soak in the massive bathtub to relax and refresh. Latest spa-inspired bathrooms are making people spend more time in their washrooms nowadays. Latest shower designs like frameless shower doors are becoming the public's favorite due to its contemporary look and style. They scream luxury, class, and elegance. Latest frameless and semi-frameless glass doors not only occupy less space but looks visually spectacularin your personal heaven.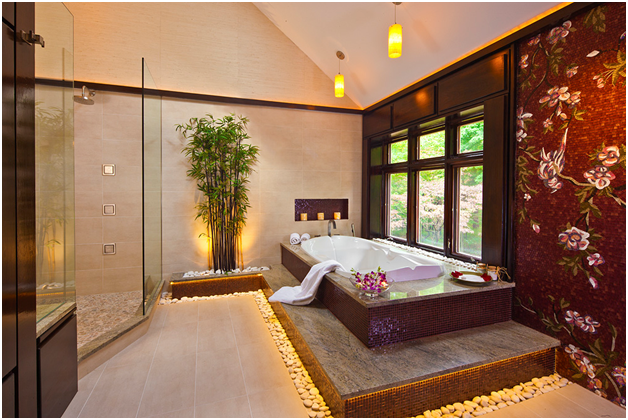 Design#8: Floor Heating.
The concept of floor heating is gradually becoming popular among masses and can work with any type of flooring including wood, tile, vinyl, and concrete. Floor heating have numerous benefits apart from reducing noise pollution, protecting from an allergic reaction to dirt and dust and providing heat. They work best for homes in a colder region.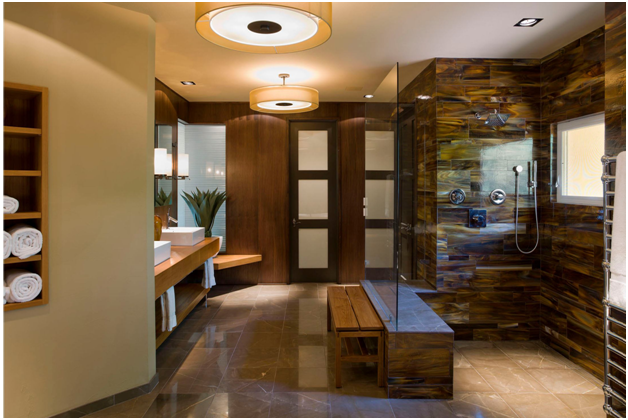 This year has totally revolutionary'sbathroom décor, ideas, and trends. From hi-tech features to unimaginable stunning tile designs, from gold and brass fixtures to latest bathtubs, latest bathroom design encompasses all and provides its buyers with endless varieties to choose from.