7 Agonizing but Significant Steps To Take After Losing Your Job
4 min read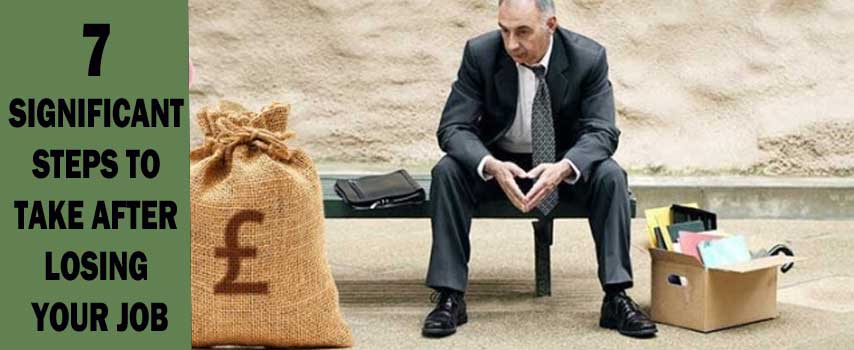 One of the most terrible things that can happen to you is losing a job, it is more painful when it is unexpected. It hurts you a lot not because you will not get paid but you lose something that you love a lot. Sometimes, people totally breakdown from inside to thinking about how they will manage their expenses in future.
Losing a job does not mean losing a life, whatever happens, happens for good. You have to see the other side of losing a job too. Now you have the opportunity to find something bigger than the previous job. Though, it will take time to get a new job. If you saved enough money to manage your expenses then it is ok or in case you need more cash to solve the financial issues then you can apply for loans for unemployed.
If you still regret losing your last job then you are doing a big mistake. The fast you move on, the quicker you will get the job. If you have not any idea what you should do for finding a new job then you are in the right place. Here, we mentioned 7 hurting but crucial steps to take after losing your job.
Embrace the Situation
You read earlier that if you still stick to your loss then you will never able to achieve new things. The first thing you have to do is to accept the situation. Utilise this time efficiently and get ready for the new opportunities.
If you forget the past and ready to move on then you can see there are hundreds of other door opens for you. No matters what! You have to rise again.
Many people think that sharing their problems with others can be a topic of embarrassment. But in the real world, it is not. Suppose you attended a party where hundreds of other people are present and one of them asks you what you do? If you tell them about your condition then it may happen they can help you to find a better job.
Never hesitate to approach someone. This one is the best way to get a new and better job. But while discussing your problem with a stranger always focus on what you want to do next.
Check Your Financial Condition
Until you get the next job you have to strictly look at your financial aspects. Means, you have to cut down your expenses. The best way to track your regular spending is to make a budget like you can do regular exercise in the park rather than attending any institute or borrow books from the library instead of buying them.
Doing this not only helps you to control the financial situation but motivate you to get a better job.
Invest In Your Development
Nowadays, an interviewer prefers those candidates with excellent skills. It means the more skills you have the more you deserve. After losing the job, you have plenty of time to join the programme which can help you boost your skills.
Always remember one thing, the more you spend on yourself the more you will get. There are many such short term courses available where you can invest.
An attractive resume can increase your chances of selection. Your resume should be attractive and up to date. Mention your skills and education in it. It should be in the proper format. If you are not able to make an attractive one then you can check the format on Google. Many experienced people have shared their resume format over there.
In today's world, if your contacts are strong then it will help you to get many things easily.
You can register yourself on various social media platforms like LinkedIn or join the Facebook group. Here, you can directly contact those who are currently into the job. Don't hesitate to talk to them. Make a healthy relationship with every contact.
You can share your resume and tell your expectations. If they find your resume attractive then they will share with their HR.
Always wear an interview outfit
The most important thing that you should consider is 'DRESSING'. This plays an important role to create a positive impact over interviewers. If they like the way you talk and your dressing sense then this will boost your chances to get in.
You read many things you can do after losing your job. The only thing matter is your patience and takes your time and develops yourself by adding important skills. Follow the above mention points strictly and you will definitely get a better job.
Description: You can do many things after losing a job like enhance your skills. If you need financial help then you can ask the online lender for loans for employed.