5 Tips for Choosing a Good Tablet
4 min read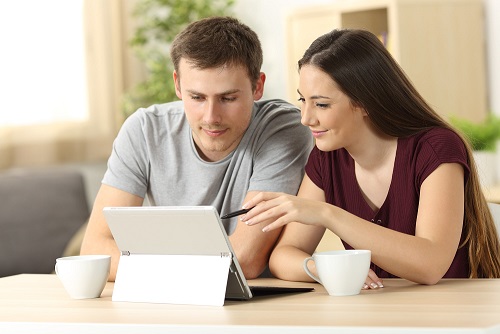 A tablet is a device that combines the functionality of a smartphone and a laptop. Modern tablets are as good as both gadgets in terms of performance, while they fit in a bag or even in a jeans pocket. They are useful on the street, at home, on the road and at work. Each tablet has dozens of characteristics, how to choose the perfect one? Many will say that the device should be compact, powerful and functional. We will figure out what these epithets really mean and go through the main characteristics.
1.  Android, Windows or iOS?
Operating system is a utility software environment through which you can use the available functions of the tablet. The most popular operating systems these days are Android, Windows and iOS. The choice between these three systems depends on the purpose of buying a tablet, because each has its pros and cons:
Android devices are inexpensive devices with good performance and quality materials. Thousands of applications and games from the Android store are available to users. You can buy such a tablet for home and work, as well as customize the capabilities for yourself. A good choice would be to buy Huawei pad which is an ultimate tablet for android. However, Android devices are rarely updated, as a result, modern functions come with a delay, and many remain unavailable at all.
Windows is considered the easiest OS to use; even a child can figure out its settings. Many tablets based on it are inexpensive, all scanners, printers and other equipment support this OS, which is useful for work. However, there is also a known problem – vulnerability to viruses, so you have to buy antivirus software, although this does not guarantee complete data security.
iOS is considered a premium system with unique features, design and applications. The manufacturer regularly releases updates and improvements, such a tablet will remain relevant 2-3 years after purchase. However, the price for the device is too high. In addition, the iOS code is closed, changing the functions of the tablet will not work, plus the system is limited in the ability to exchange data with other users.
2.  Scope of application
Manufacturers divide tablets into categories, focusing on several characteristics depending on the needs of the buyer:
For home and internet: The convenience of finding information on a tablet directly depends on its display. The larger the diagonal, the easier the small print will be to read. Such a device is also suitable for work, for example, for reading mail and editing text documents. Performance is not very important, the main thing is support for Wi-Fi, 3G and 4G. The operating system does not matter, an inexpensive model is fine.
For drawing and creativity: The operating system is of paramount importance here. Windows has many applications for creative people (creating pictures, banners, logos, etc.). In this case, the tablet must be powerful enough to run Photoshop and other programs. IOS has its own digital creativity apps, but not all extensions (PNG, jpeg, etc.) are supported. Android is more powerful than Windows, but not as well optimized for graphic design and painting.
3. Manufacturer
Most tablet buyers have probably heard of manufacturers such as Asus, Google, Apple, and Samsung who have popular models with great features and better specs. However, almost all devices from these companies are in the middle or high price range.
There are dozens of tablet manufacturers in the budget segment, mainly from Asia. They often release new models at very attractive prices. The difficulty of the choice is that it is not easy to understand such firms, and the quality of the products is unstable. It happens that for one customer the device fails in a week, while for another it works for years.
4.  Screen diagonal
Even those users who do not understand the characteristics of the tablet will notice the difference in the display size. There are 3 standard aspect ratios in inches, which affect not only the image quality, but also the cost:
7-8 inches: Small and inexpensive tablets are suitable for work or study and can be easily thrown into a briefcase or bag. It is convenient to read books, watch movies and listen to music from them. Despite the low cost, 7–8-inch tablets are made of quality materials and can run undemanding applications. They are suitable for children, weigh a little and hold the battery well. However, 7-8 inches is not enough for games, painting and any kind of creativity.
10 inches: These screens are considered the best for the home. Despite the large diagonal, the tablet remains light and thin, it is comfortable to hold in your hands and leave it on the stand. A powerful battery and a good speaker system are placed inside the device. At the same time, tablets with more functionality and a high-quality display are much more expensive, which is why some buyers note the graininess of the image in inexpensive models, especially those based on Windows.
5.  Display
Modern technologies will not save a tablet that produces poor quality images. The end result directly depends on the type of matrix chosen by the manufacturer:
IPS: This matrix can be found in modern tablets of any price category. It offers rich hues, excellent color reproduction and a viewing angle of almost 180 degrees. There is a simple way how to choose a high-quality display with this matrix: check the contrast of the image, the picture should be matte, without gray and purple reflections.
Amoled: Unlike IPS, where the entire display area is highlighted, here each pixel gives its own color independently, regardless of the neighboring ones. This makes some colors appear more colorful, especially in black. However, Amoled's LEDs burn out faster, and dead pixels appear. The display consumes more battery power in order to produce a better picture.