Things You Should Know Before Using Magento As An Enterprise eCommerce Platform
8 min read
If you are looking to build an ecommerce website and want to choose the best Ecommerce platform for your store then read this article, as we are going to discuss about these things in detail here. Here you will get to know about Magento ecommerce platforms, its wide range of features and why to choose it to build your ecommerce website.
What is Magento?
Magento is an open-source e-commerce platform developed use PHP programming language. It was first released in 2008 and later purchased by eBay in 2011 for just $180 million and finally acquired by Adode in 2018 for almost $1.7 Billion. Now Magento is an Adobe company. This was a big news and if you want you can read it here.
Magento framework has been developed in all these years by the collective efforts of Magento community volunteers and developers.
In 2015, Magento 2.0 was released with lots of new features and upgradations. Now let's know about Magento framework architecture. Actually, Magento employs the MySQL database management system, the PHP programming language and elements of the Zend Framework. It also applies the conventions of object-oriented programming and model-view-controller architecture.
Magento offers all the features and perfect tools required to build amazing Ecommerce websites. That's why online merchants prefer Magento over OpenCart, Shopify, and WooCommerce when it comes to building their Ecommerce websites. When you will Hire Magento Developer then you can learn more why everyone prefers the Magento platform.
Let's look at the market share of top e-commerce software platforms worldwide in 2017. Magento is at third position with about 7.9% market share
.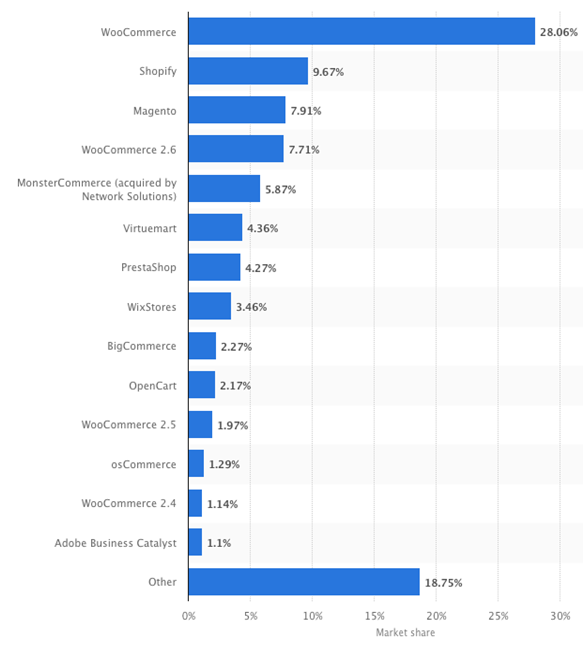 Magento is free to use and fully customizable and scalable.
Sellers have an ownership and full access to hosting services.
Magento has almost all the required features i.e. B2C, B2B, digital transportation, Omnichannel, and Global expansion.
Magento has released many different versions containing new enhancements or bug fixes which are mostly grouped under Magento 1 and Magento 2. Each version includes two different editions: Community (CE) and Enterprise (EE), so-called Open Source and Commerce. Magento CE is free to download with all basic features and is good for small to midsize businesses while Magento EE is paid, has lots of advanced features and comes with 24*7 premium technical support.
Therefore, when you will check about Magento ecommerce reviews from the users on the internet, you will find them to be very positive and encouraging as most of the users have been highly benefited from using Magento.
Large Number of Ecommerce Websites Based on Magento
According to Magento event at Las Vegas, it was announced that approximately 240,000 websites are running a business based on Magento. In 2018, this figure increased to more than 250,000 websites which proves the continuous growth of the best and the biggest E-commerce platform in the world. The latest figure is 274,649 Magento based websites in the world.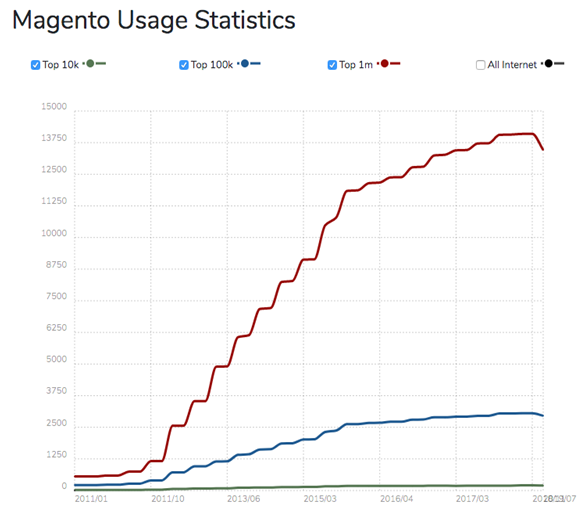 You can visit this page for a more detailed analysis of Magento based ecommerce websites with per country data.
Why should you choose Magento?
So many big businesses world over have chosen Magento to build their Ecommerce websites. These businesses belong to various industries like Electronics, Food, Fashion and more but everyone chooses Magento to be the platform for their ecommerce store.
Below are the biggest reasons why most of the businesses choose Magento when they want to build their ecommerce websites.
Magento is an Open Source Platform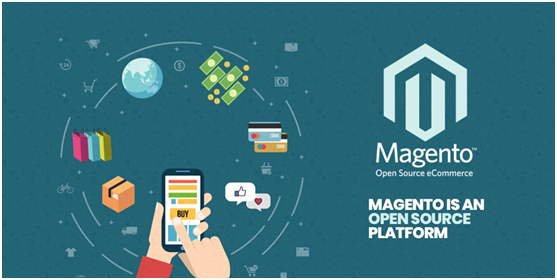 Magento is actually an open-source platform with a free community version and annually paid enterprise version. Magento allows the developers and users to customize, modify and extend the source code if they want to add more features and advanced functions into it. Magento also encourages writing more extensions which can be incorporated into Magento source code without interfering the previous stable code.
That means, Magento users or administrators have full control over what they want their ecommerce website to do or how to optimize or customize it as per the requirements.
Magento Provides Rich Set of Features
Magento provides a rich set of features in the ecommerce website which has been developed using it. This gives lots of power to the eStore owners as they can manage their whole business from adding products to checkout to editing content/images to even promotions and marketing easily.
Magento features provide the capability to organize and manage the whole business from the ecommerce store as all of the processes are fully organized. If the eStore owner takes full advantage of these features then he can immensely improve the business efficiency and productivity of his ecommerce store.
Some of the top features provided by Magento are: –
Catalog Management
Site Management
Mobile Commerce
Customer Account
Order Management
Product browsing
Search Engine Optimization
Tools for marketing, promotion, and Conversion
Checkout Payment and Shipping
Analytics & Reporting
Magento Provides High Level of Scalability
Magento provides high level of scalability in the ecommerce websites. Magento can support all kinds and sizes of businesses i.e. from small to medium to large enterprise. This gives the businesses an advantage as they can start their ecommerce store on a small scale and later on when it becomes a success or gets good response then they can extend their store and add a large number of products into it.
That means Magento based ecommerce websites are highly scalable. That's why Magento is equally popular among small stores as well as among large enterprise stores.
Magento Provides High Level of Security
In today's age, website security has become one of the most prime concerns for modern businesses and website owners as hackers are using the latest knowledge and technique to attack websites. If you are also planning an ecommerce website, then you should try your best to make your ecommerce website safe and secure. For this, you should use Magento platform as it is famous for providing foolproof security to the ecommerce stores which are developed using it.
Magento development team constantly provides users the latest security updates, security patches, and safe practices as well as quick technical support to make your ecommerce website fully secure. Using Magento you can easily make your ecommerce website PCI compliant and implement SSL certificate into it. Hence, your Magento website will be protected against hacking attacks.
Magento is SEO Friendly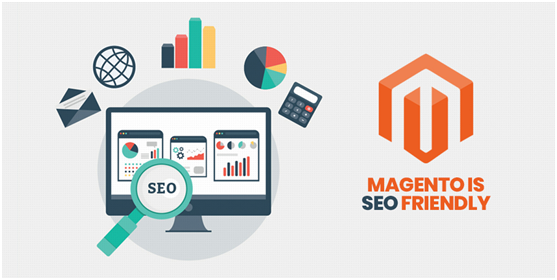 Magento ecommerce platform is great for improving SEO. This platform has its own modules and extensions which make an ecommerce website rank high in Google search engine. Its SEO friendly features and the fact that Google identifies it as a trusted platform increases its credibility very much.
Magento has inbuilt features for SEO which enhance the website ranking on SERPs. It offers out-of-the-box tools to increase SEO friendliness. When you compare Magento with other ecommerce platforms, you will find that Magento has the best SEO friendly features. Owners can also install additional extensions to enhance the SEO friendliness of the ecommerce store.
Magento Offers Higher Performance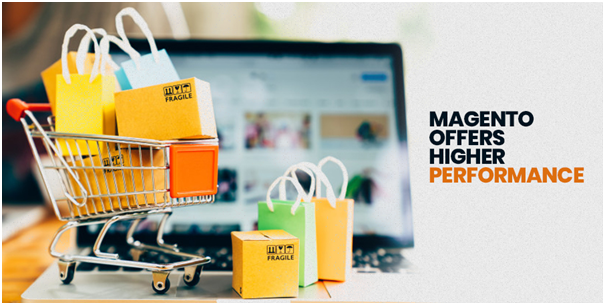 Magento is known to offer the best performance and enhanced user experience in the ecommerce website which is built using it. Magento offers fast page loading along with faster query processing time which makes the website perform better when it comes in the hands of customers. High performing ecommerce website further motivates the customers to explore more the contents and products on the web page. The faster website also reduces the page abandonment rate immensely which is usually very high in the case of ecommerce websites. Ultimately, the Magento based ecommerce website will get a higher conversion rate.
As Magento is an open-source platform hence the store owners can further optimize their ecommerce site performance by directly editing its source code or by installing some third-party tools or extensions.
Magento Has More than 5000 Extensions
Magento is open-source hence the users can modify its source code as per their requirements. But there are more than 5000 Magento extensions already available in the Magento marketplace some of which are must-have to build a perfect ecommerce website. eStore owners can easily install any of these Magento extensions to their websites mostly for free to fulfill their custom requirements.
These highly useful Magento extensions have been developed by different expert Magento developers and presented on Magento marketplace – the official store of Magento. Using these extensions, Magento users can customize their eStores and add more advanced features and functionalities into it for best results.
Magento is Mobile Friendly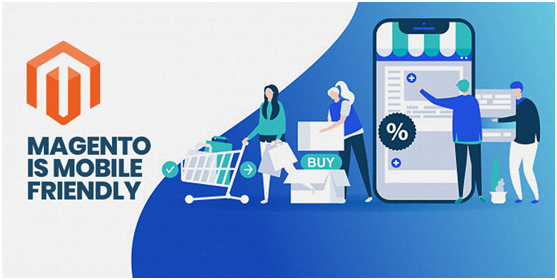 Today more than 50% of internet traffic originates from mobile devices. Hence, in order to keep up with this trend, Magento has provided many inbuilt features to make Magento based ecommerce website highly mobile-friendly. That is, the websites built on Magento are fully responsive and work perfectly well on all displays and devices like mobile phones, smartphones, tablets, notebooks, desktops, etc. 
Hence, customers can conveniently do shopping from a Magento based ecommerce website using their mobile phones without facing any issue of display or screen size as these websites are properly customized and optimized to work perfectly on mobile devices. As the modern generation prefers mobile shopping, Magento based websites provide the best customer experience by providing multi-responsive websites which work well on all devices.
Magento Provides Multiple payment gateways and delivery options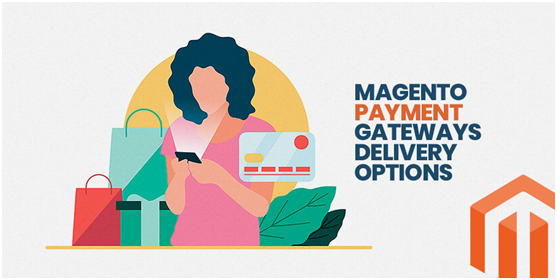 Magento based online stores can be integrated with multiple payment gateways. This is an inbuilt feature of Magento. PayPal, E-bay, QuickBooks are some of the inbuilt integrated payment gateways in the Magento based eStore which customers can use from any part of the world to buy products on the store. Other than these options, the user can also add a payment method by installing Magento extensions during the development of Magento based ecommerce store.
Some of the Most Useful Magento Channels for Users
When you search for Magento in Google Search then you will see millions of results displayed in a fraction of a second. But you don't know which one is best so that you can open it, read it and enhance your knowledge and solve your query. To help you out, I am providing you the following channels so that you can get reliable knowledge and information about Magento: –
This is the official channel or website of Magento where you can find information related to Magento products, solutions, partners, community, resources, etc.
Magento Extension Marketplace
This is the official marketplace for thousands of Magento extensions which you can use to easily increase the functionality of your Magento ecommerce website.
You can join this global community of online Magento developers, contributors and online merchants to contribute and learn a lot.
Magento Forum is extremely helpful if you are a developer and about to start a Magento project. You can also use it if you are a merchant and looking for the best solutions to improve your ecommerce site. Here you can search or create any topic to resolve your query.
Conclusion
We have just discussed what is Magento, its introduction and why you should choose Magento to build your ecommerce website. Magento offers really cool features and interesting experience along with many benefits for your business. If now you are convinced that you are going to use Magento for your ecommerce website, then now it is time to hire Magento Developerwho is highly skilled and experienced and knows about the latest updates of Magento.
Else you can also hire a reputed Offshore Software & Web Development Company which provides many development services including Magento ecommerce development. Some of these companies are really good and provides high-quality software development services at the fraction of the cost. 
If you are successful in choosing the right website development company and you plan and execute well then rest assure your Magento based ecommerce website will be a success and it will generate lots of business for you.
Visit : Ecommerce Seo Company