Why Is Data So Valuable To A Digital Marketing Plan?
5 min read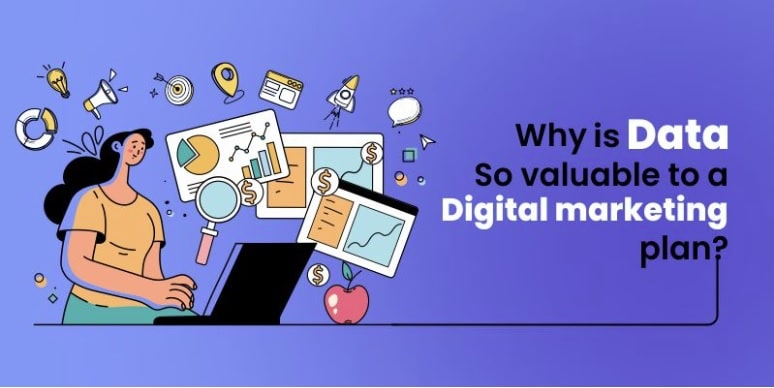 Data plays a major role in almost every sector. Nothing works without data. Therefore it is rightly said "Data data everywhere!". This is due to the fact that data is used in every industry and is readily available. Digital Marketing also has a role to play in Digital Marketing. And digital marketing strategies can not exist without the usage and creation of data. 
Alt-Text: Why Is Data So Valuable To A Digital Marketing Plan?
Here we will discuss why and how data is important for digital marketing. But before that let me introduce you to the best online digital marketing courses that will help you become a master in digital marketing. 
It is now time to discuss how data and digital marketing are related and how data is used in making a digital marketing strategy. 
Let's first discuss a very basic question, What is Data? 
You must have definitely seen the word "data" multiple times—in class, on the news, in your day-to-day work or profession, when browsing the Internet or elsewhere—and if you're a data scientist, your whole line of work depends on it.
Although data is unbounded and pervasive across the cosmos, using the phrase can occasionally be unclear because almost everyone has a different interpretation of what it implies.
Data can take the form of words, files, photos, audio, and video on computers. Data is really just a collection of zeros and ones.
Data is defined in statistics as information from which inferences can be made.
Now let's see what is a Digital Marketing strategy. 
Your plan of action to accomplish a company objective using online marketing channels is your digital marketing strategy. It concentrates on outlining what and the reasons for what you're attempting to do. You should try considering the following issues while processing your digital marketing strategy:
What are we aiming for?

What do we want to achieve?

What Key Performance Indicators (KPIs) do we use?

How much time do I have?

How much time do I have?
Let me now ask you a question. How will you apply data-driven marketing to your company and begin to see results?
Wondering how to do that right? Let me help you with the answer. Here are 5 measures you should take to make sure your marketing plan is properly driven by data.
Identify Your Objectives
Understanding what data is worthwhile to collect is the last step before you can begin data collection. Determine the data kinds that can benefit your marketing approach. Focus on obtaining data around important KPIs that can actually make a difference and leave behind data that won't be used to increase the efficacy of your approach.
Modify Your Content Marketing Approach
You may already be using content marketing to draw in and keep the attention of your audience. However, you may lack a clear plan for your content or know exactly who you're attempting to target. However, you're well on the way to success if you have the information necessary to make wise selections. To increase sales, you may even effortlessly connect your content marketing and sales methods.
Investigate other marketing avenues
Have you found that not all of your company's ideal clients are being reached? Your business is unlikely to succeed if your homepage is the sole platform you utilize to advertise your goods or services. You can look into alternative channels and formats using your data. You could wish to explore co-marketing options with companies that sell unrelated items or launch an affiliate program where your most valuable customers promote your brand in return for concessions or other perks. You'll start to comprehend which channels may be effective for you by studying your data.
Now we will discuss a few reasons why data is important for any digital marketing company and strategy.
Learn what works and what doesn't
A precise, unbiased evaluation of the effectiveness of your marketing approaches, plans, and campaigns may be provided through data-driven marketing. Knowing which components of your digital advertising strategy are effective and which ones require improvement may help you save time and money. You won't have to spend money on marketing strategies that don't work anymore. Additionally, you'll be able to make better use of your resources by knowing which aspects of your advertising have high conversion rates.
Recognize the Customer Journey
You must get a solid grasp of your target audience as a brand. You need to understand where they're coming from, what motivates them to act, what information speaks to them, and how long a typical purchase cycle lasts for your business. This may be accomplished by monitoring registrations, email collecting, landing page views, and many other things. Customers may arrive from anywhere, including your most recent blog article, a Facebook post, Instagram's discovery page, or search advertisements.
Divide Up Your Market
You understand as a marketer that not all potential customers can understand the same messaging or gain from the same marketing methods. Each and every one of your clients will be at a different point in the buying process. As a result, they will require unique marketing messages and materials to aid in their progress. You may more easily target your marketing efforts by segmenting your prospects based on their actions, lifestyles, and demographics.
The Proper Keywords to Target
In order to target these keywords and increase traffic to your channels, you may use data to identify the search terms your audience uses to find your service or product. You may choose your possible keywords by using information from programs like the Google Keyword Tool or SEMrush. This tool may be used to find out which keywords your rivals are paying for and what ones they could be missing. From there, you can decide which are worth competing against.
By including these keywords in social media postings, website content, and other digital properties in addition to ad targeting, you may advance your business and properly address your SEO goals. Along with consistently addressing the keywords you may optimize in your plan, you also need to track and evaluate the results.