What Are Flavoured Cream Chargers?
4 min read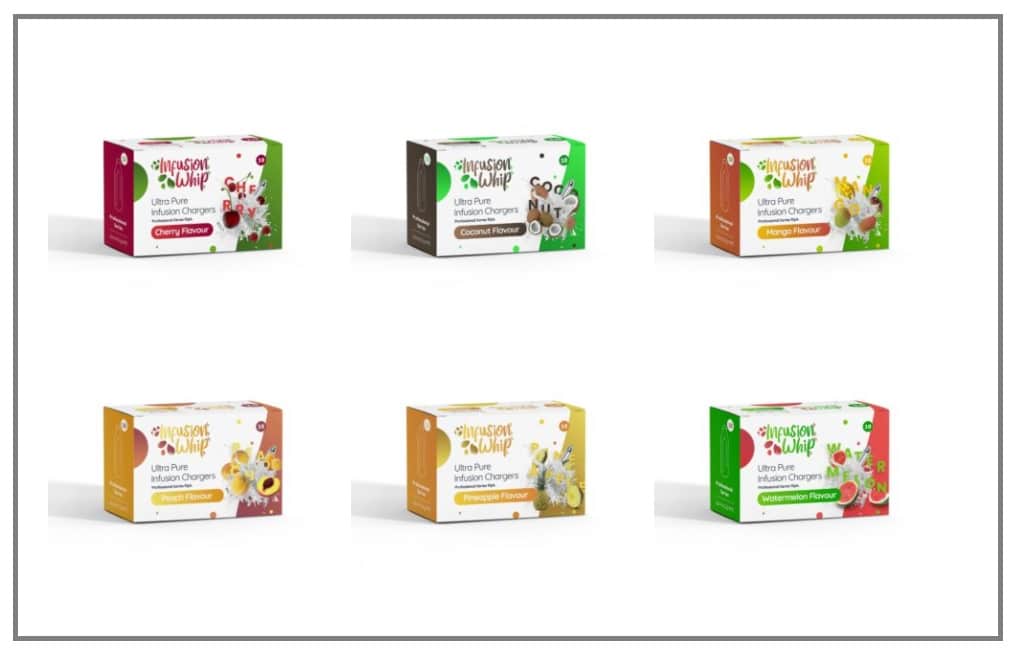 As we know the cream charger can be used by making whipped cream, also the charger gives your whipped cream a sweet-taste flavor since nitrous oxide is sweet. But did you know that there is a flavored cream charger that can give your whipped cream more variety to its taste?
Yes, as I said, there are flavored cream chargers and they are mostly sold on the internet. You can search for it if you want to add flavor to your whipped cream. Now it's easy to make different types of delicacies with the help of the flavored cream charger, now you can make Hollandaise, chocolate mousse with a different touch than with your old and simple cream charger. Very convenient, isn't it?
Some Uncommon Flavors To Enjoy
Anyways many flavors are available online for cream chargers, here is the list of the flavored cream charger:
Pleasure Passion Fruit – It has a sweet and sour flavor to it. Whether you mix it with sorbet or barbeque salad sauce, it'll be delicious.
Wavey Watermelon – equally exquisite and has a refreshingly sweet taste. Whether you serve it with something sweet, sour, or bitter, it will be a fantastic match. It can be used to generate foam for drinks like fruit gazpacho, watermelon-mint-vodka cocktails, and designer Pina Coladas.
Pineapple – So, as you add this last flavor to your whipped cream, foam, or sauce, it will take your culinary creation to the next level.
With these flavor charges, you'll have a whole new experience. Not only will you be able to get whipped cream, but the taste will also be more refreshing.
When it comes to taste, when you buy flavored cream chargers from a reputable retailer, you can be sure that the whipped cream you make with it will not have any chemical aftertaste because the cylinder has no seams and that when the nitrous oxide is released, it will not carry any other flavor than the one you've chosen. So, if you use a whipped cream dispenser regularly, try out these flavored cream charges to make your whipped cream even more delightful.
Then if you're looking for an idea of what to cook with your flavored or non-flavored cream charger here are some ideas that you can try.
Hollandaise
Hollandaise sauce is renowned for being one of the richest and most delectable sauces available… but it can also be very hefty.
Because it's almost entirely constituted of fat (egg yolks and clarified butter), fluffing it up with Nitrous Oxide can be a wonderful delight! By aerating this sauce, you not only lower the calories in half, but you also add a wonderful lightness and mouthfeel to it. The sweet equivalent of hollandaise sauce, Sabayon sauce, can be used in the same way.
Mousse de Chocolat
What delicious delight is better than a fluffy chocolate mousse for a late-night snack. Why not add a scoop of whipped cream to the top? Please, yes! This irresistibly creamy cream charger recipe is without a doubt one of our favorites.
A rich, dark chocolate mousse is traditionally made by combining dark chocolate with a cream foundation and allowing it to solidify. The result is luscious, creamy, and rich. See what you've been missing out on by adding Nitrous Oxide to that recipe (as Chef Rui Mota does with this Tempered Chocolate Mousse). This mousse is not only rich and indulgent, but it will also feel as light as air on your tongue.
Pia Colada (Pia Colada)
When it comes to classic cocktails, the Pia Colada is unquestionably the best. It honors a long-standing friendship between two exotic companions, the pineapple and the coconut.
Iced Coffee
To get it through the summer, you'll need a cold cream charger recipe. What better drink to keep you fresh and alert throughout the hottest season than iced coffee?
Foam Cheese
Remember the spray-on cheese you used to make as a kid? The can with all the odd ingredients on the label, the neon cheese that blasted out and left your tongue feeling waxy? Consider making the "adult" version of that cheese sauce with melted cheese of your choice (maybe a fine-aged cheddar) and Nitrous Oxide.
The result is a lovely, frothy, delectable cheese sauce that can be used anywhere melted cheese is used, such as on nachos, spaghetti, or even popcorn!
As you can see, if you want to experiment with your cream charger, you can attempt the ideas described above, but flavored cream chargers are also utilized in the medical profession, such as in dentistry.
Because nitrous oxide, often known as laughing gas, when mixed with oxygen and inhaled through a tiny mask that goes over your nose, is both safe and effective. Mint, vanilla, and strawberry scents are among the mask's options. These sweet-smelling tastes provide a pleasant aroma that can help patients cope with the clinical environment, unpleasant sounds, and anxious sentiments they may have during dental procedures. When you're feeling anxious about your dental procedure, talk to your dentist about nitrous oxide sedation. They can provide you with a comfortable treatment by administering nitrous oxide sedation to help you relax and be calm throughout your procedure.
About Author