Traditional Offices vs Coworking Spaces
3 min read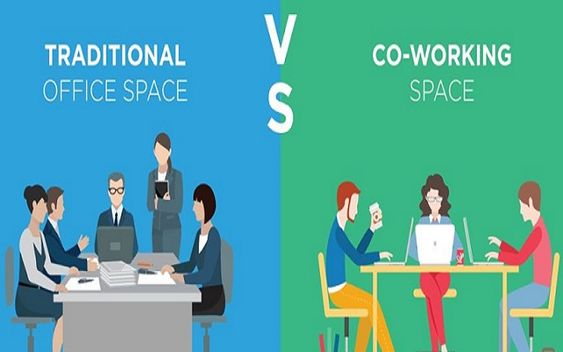 When you're deciding between a traditional and coworking space, a lot of factors come into play. From your team size to your particular requirements, you need to look into them carefully and make the right decision. Here are the 5 major differences one can consider in-
1. The Meaning
Traditional Offices
A traditional office is completely dedicated to you. Only employees of one organization can use the entire office as per their own terms. Each member/team of members is given a private cubicle to work in. In these offices, the organization needs to set up from A to Z- internet connection, pantry, office manager, security system, daily equipment, and much more.
Coworking Spaces
The literal meaning of coworking is an arrangement in which employees of various companies share an office space, permitting cost savings and convenience through common infrastructure and utilities. Hence, a coworking office lets you share space with other companies. i.e. that area is not only dedicated to one company but a lot many others. These spaces offer advantages like cost-cutting, flexibility, and provision of a host of facilities. From quirky interiors to a cafe, these workspaces fulfill every requirement.
2. The Design
Traditional Offices
A traditional office will always have mundane walls, lit rooms, and a work environment. Such spaces sometimes affect the productivity of an employee and further the company members.
Coworking Spaces
A coworking space is much regarded for its vibrant interiors and the energy it offers. Colors at every corner, large windows, creatively designed furniture, every nook is designed according to the millennial generation. Hence, a lot of the current working population chooses coworking spaces over traditional offices.
3. The Financial Figures
Traditional Offices
These kinds of offices demand not just financially but also in other aspects. From the smallest kind of effort to taking big decisions, everything comes under the company. All troubles and expenses of maintenance, renewal and expenditure has to be dealt with by the company. This leads to a lot of time getting wasted which otherwise could be saved by outsourcing such services.
Coworking Spaces
One of the main reasons why coworking spaces are in much demand is the economic benefits they offer. Working from such a space is budget-friendly and doesn't burn the pockets. All facilities like wifi connection, refreshments, pantry, CCTV surveillance, regular housekeeping, frequent sanitization, and others come in the fee. i.e. everything is included in the fee. One doesn't have to hit its head for every small thing.
4. The Lease
Traditional Offices
A traditional office doesn't offer much flexibility as compared to its counterpart. Once the office contract gets signed, there is no other option than to use the space for 2 to 3 years. It gets tough if one wishes to change the agreement in the middle of operations.
Coworking Spaces
There is no such lease concept in a coworking space. One gets a membership according to their specific requirements. Whether one needs a desk for a week or month or even a day, these spaces offer the best of alternatives.
5. Networking Activities
Traditional Offices
The office cubicles in a traditional office setup act like a barrier between employees. This disrupts the much-needed communication and keeps them confined to their spaces. As a result, employees interact less with each other and create rare networking opportunities.
Coworking Spaces
The main reason why the millennial generation flocks to coworking spaces in Hyderabad is their capacity to create a lot of networking opportunities. Like-minded people get to connect with their colleagues from a diversity of fields. From an artist, painter, singer to entrepreneur, there's everyone in a coworking space.
Choosing between a coworking and traditional office space can get tough sometimes. So, make your choice wisely as it will have long-term effects on your team members and their productivity.