Top 6 Best Vegan Restaurants in Toronto
6 min read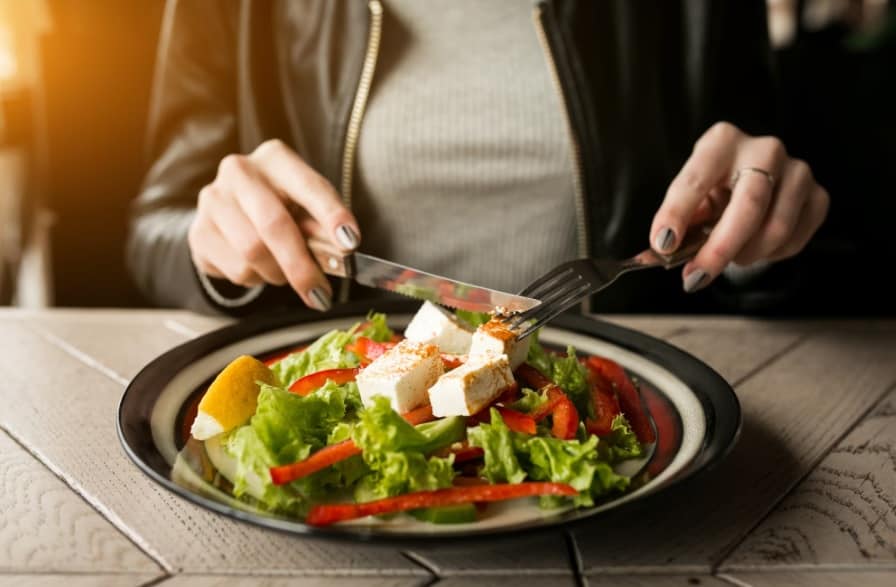 Veganism has undergone a significant transformation in recent times. Renowned chefs are taking plant-based cuisine to new heights, proving that vegan food can be as appealing, vibrant, and flavourful as any other. The options are expanding, from vegan pasta and pizza to vegan sushi and much more. The absence of meat doesn't mean sacrificing taste. Some of the must-visit best vegan restaurants in Toronto cater to all food lovers, not just vegans. Even if you're a non-vegan, visiting these places will satisfy your taste buds. So why not take a break from meat for a night and explore these eateries?
Best Vegan Restaurants
Let's discuss them in detail:
Veggie D'Light
Veggie D'Light has earned its reputation as one of the best vegan restaurants in Toronto, boasting an almost perfect rating of 4.9 out of 5 based on more than 300 Google Reviews. What makes it stand out and why it made it to our list are two compelling reasons:
Firstly, Veggie D'Light specializes in serving vegan, organic, and gluten-free Caribbean dishes, setting it apart as one of the few places in Toronto offering primarily Caribbean cuisine with a vegan twist. By infusing traditional meat-heavy fusion dishes with plant-based alternatives, they've created a unique and flavorful dining experience.
Secondly, the restaurant boasts the expertise of Peter McKenzie, an accomplished international chef renowned for his mastery of Caribbean and vegan cuisine. With a personal commitment to the plant-based lifestyle, Chef Peter understands the desires of vegan customers like no other.
What's more, Veggie D'Light caters well to both solo diners and groups. If you're dining alone, their rice bowl and soup meals, which change regularly, come in perfectly portioned servings for one.
For larger gatherings, their bulk food trays are a hit, capable of feeding families or groups of friends. The best part is that you get to tailor the tray to your liking, choosing from a variety of proteins, carbs, and organic veggies.
Regardless of your dietary preferences, this vegan restaurant in Toronto promises an unforgettable dining experience.
Whether you're a dedicated vegan or simply intrigued by the Caribbean flavors with a plant-based twist, Veggie D'Light promises an unforgettable culinary journey. With its stellar ratings and delectable offerings, it's a must-visit destination for anyone seeking an extraordinary vegan dining experience in Toronto.
Parka Food Co
Parka Food Co. stands out as a vegan haven, transforming traditional comfort foods into nourishing plant-based delights without compromising on indulgence. One of Toronto's premier vegan eateries, Parka is dedicated to making nutritious eating a pleasure rather than a chore. Their menu features inventive twists on classics, like creamy Mac 'n' cheese made with cashews and optional truffle mushrooms or broccoli pesto. A standout choice is the portobello mushroom burger smothered with organic arugula, chipotle aioli, guacamole, onion rings, and plum tomato, proving that getting your daily veggies can be a juicy, mouth-watering experience. 
For all the culinary explorers out there, Parka Food Co. offers a unique adventure into the realm of plant-based cuisine. This is a place where health-conscious eating meets delectable flavors, challenging the notion that vegan food can't be comfort food. Whether you're savoring the creaminess of their Mac 'n' cashew cheese or biting into the portobello mushroom burger, you'll discover that Parka Food Co. is where nutritious meets delicious in Toronto.
Hawker
Toronto doesn't have many vegan restaurants that specialize in South Asian cuisine, but we stumbled upon a gem called Hawker, and it's now a must-visit on our list!
Though it's a small restaurant, they manage to whip up some of the most iconic South Asian dishes like panang, biryani, chole, bharta, and mouthwatering basmati rice – all with a delicious vegan twist.
Don't miss out on their star dessert, the ube mousse, which comes with pandan whipped cream and almonds. The best part? It's not overloaded with sugar, so you can enjoy guilt-free indulgence!
If you're worried about your budget, fret not! Hawker has got you covered, with meals starting at just $2. So, if you're in the mood for delectable vegan Asian food that won't break the bank, this place should be your go-to. Give it a try, and you won't be disappointed!
Planta Queen
Planta Queen, one of Toronto's top-notch vegetarian establishments, takes vegan dining to a whole new level. No longer do vegans have to settle for uninspiring sushi options. Here, they can indulge their sashimi cravings with innovative offerings like ahi watermelon nigiri, which remarkably mimics the texture and flavor of raw fish. The dragon roll, packed with spinach, tempura broccoli, and a spicy unagi sauce, is another delightful surprise. Chef David Lee's plant-based menu incorporates some of the most loved dishes from Asian cuisines, such as General Lee's Cauliflower, a warming wonton soup with a rich mushroom broth, and BangBang Broccoli. 
For food enthusiasts with an adventurous palate, Planta Queen is an intriguing culinary destination. This isn't your run-of-the-mill vegan joint; it's a place that expands the boundaries of plant-based cuisine. The offerings range from watermelon nigiri that amazingly replicates the raw fish experience to an eclectic mix of Asian favorites. Planta Queen proves that a vegan diet doesn't mean missing out on a rich, flavorful dining experience.
If you consider yourself a gastronome with an appreciation for innovation, Planta Queen is a must-visit. This establishment breaks the stereotype that vegan food is bland or limited. A meal here is not just about eating; it's about experiencing the creative possibilities of plant-based cuisine. Don't miss the chance to sample their unique truffle-infused udon noodles and coconut cream—it's a taste sensation that you'll want to revisit.
Rosalinda
Rosalinda shines as a beacon in Toronto's vegan landscape with its vibrant plant-based menu. Recognized as one of the city's top vegan eateries, Rosalinda brings a taste of Latin-inspired cuisine to your plate. Imagine digging into warm guajillo chili noodles dressed in a savory, crispy garlic sauce or biting into a meaty mushroom birria taco. Each dish is an ode to vegan gastronomy, proving that plant-based cuisine can be as exciting and mouth-watering as any other.
Every food enthusiast should make a pit stop at Rosalinda. Offering a colorful spread of Latin-infused vegan dishes, this restaurant will change your perspective on plant-based dining. The rich flavours of their guajillo chili noodles and mushroom birria tacos make for a culinary experience that will keep you coming back for more. It's a testament to Rosalinda's genius that you won't miss the meat one bit.
Govinda's
Discovering delightful vegan and vegetarian dishes is a testament to the fact that plant-based food can be incredibly exciting and full of flavor. Embracing quality ingredients and the artistry of an experienced chef can transform even the most ordinary dishes into culinary wonders.
Enter Govinda's, a charming restaurant cafe that captivates taste buds with its diverse and extensive menu. With both a regular and a weekly menu, this humble eatery offers an abundance of options for vegans and vegetarians alike.
A tantalizing array of North Indian delights awaits patrons, from the hearty Rajma to the tantalizing Aloo Bhindi and the creamy Mattar Paneer. And let's not forget the heavenly Samosas that grace their menu, tempting food enthusiasts with each savory bite.
What sets Govinda's apart is not only their commitment to vegan and vegetarian diets but also their attentiveness to individual dietary needs. No matter the restriction, the dedicated staff is more than willing to accommodate their customers' preferences with a warm smile.
So, if you're on the lookout for an exceptional dining experience that celebrates the essence of plant-based cuisine, Govinda's is the place to be. Savor the delightful flavors and immerse yourself in a world of vegan and vegetarian wonders crafted with love and expertise.
Conclusion
Toronto ranks high among global cities for its exceptional vegan dining scene. This vibrant city opens its arms to vegan culture with a variety of mouth-watering plant-based options. Toronto shows us that vegan food can be fun and tasty, not just healthy. So, why not take a chance and try some delicious vegan food in Toronto?
About Author