Things To Know Before Buying A Set Of Wicker Furniture For Your Patio
3 min read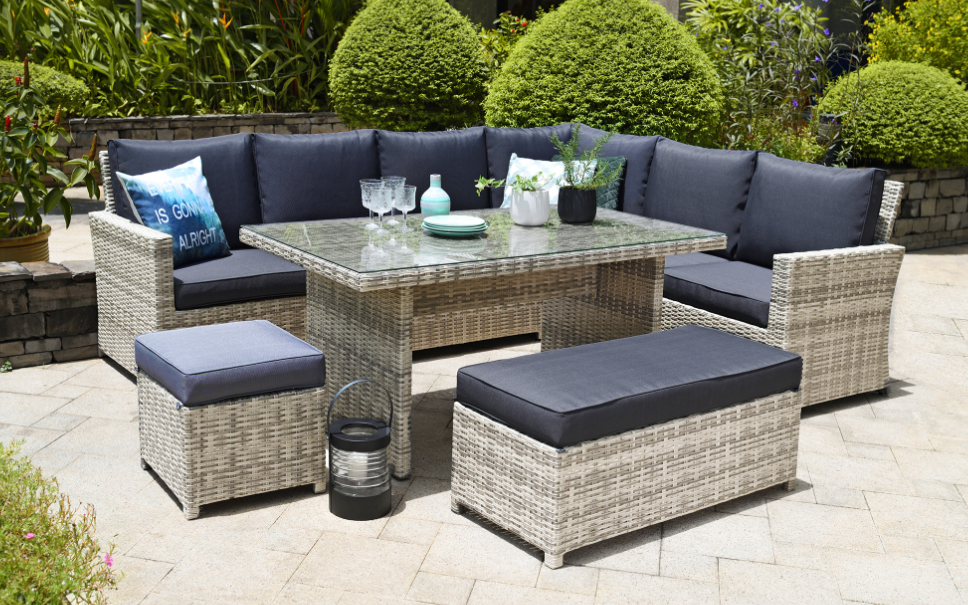 Want to upgrade your patio with a furniture set? The question arises, which type should you use to decorate the patio for a comfortable gathering?, which ones can be used for hangout purposes by friends and family, to sit, eat and enjoy the scenic beauty with a fresh breeze. If looking for the right one, the wicker patio furniture set is the right choice to fulfill all these requirements.
'Wicker' means weaving of vines, plants, and grasses into a systematic piece for human use.
There are two types of wicker furniture; one for outdoor use and one for indoor use.
The outdoor furniture is designed using synthetic, vinyl, and aluminum frames that give a brighter look and withstand harsh weather conditions outdoors, but the list does not end here.
Wicker is beyond these qualities. Read the article below to find more about this material.
Which materials are used in the making of wicker furniture? 
The materials used in the making of wicker furniture for outdoor use are man-made fibers. These also include aluminum, resins, and synthetic vinyl which resist harsh weather conditions like extreme sunlight increases durability, and keep the color of the furniture intact which
What is the difference between rattan and wicker? 
Wicker and rattan are often referred to as the same but they both are different.
Wicker is a style whereas rattan is a material. Wicker is a weave that is used in the making of rattan material.
While rattan is a growing vine eligible for designing lightweight, flexible and durable furniture.
The Synthetic rattan is an element that has successfully ruled the market because of its ability to withstand the weather.
How many types of wicker patio sets exist?
There are many furnishing companies that produce wicker sets for outdoor spaces and each company works with their USP, but the common wicker furniture sets are as follows:-
Full-size sets
A full-size set includes all the necessary and common elements of the furniture. These elements withstand rain and sun, retain the furniture quality, comfortable and large in size and give luxurious feels. These include
Chair
Sofas
Dining table
Ottoman
Loveseats
Mid-size sets
This set is designed for the purpose of entertainment of the family. This set is bigger than small-size sets and smaller than full-size sets. The components are:-
A coffee table
A Loveseat
An ottoman
A chair
Dining sets
You can arrange an entire dining table outdoors with the elements included in this set. This set comes with durability, comfort, and longevity at an affordable price. The furniture pieces in this set are
Small table
2-4 chairs
Rectangular tables
Lounge chairs
Chair and Ottoman sets 
If you want a good place to read, relax, have tea or just sit ideally, then this is the right furniture set for you.
These sets are designed to serve extra comfort and relaxation.
The chair and ottoman sets are available in different colors and designs, you should choose the one that complements your patio and fulfills your expectations.
5 Piece conversation sets
A perfect addition to your patio for comfort, relaxation, and reading newspapers. This set consists of 4 chairs and one small table where you can place your snacks or beverages you drink.
This will be of great support to the elders of your house if there are any. They will love spending their time there during the mornings and evenings.
Similarly, there is a 3 conversation set with two chairs and one table which would be suitable for a couple.
What to look for before making a final purchase? 
First of all, check that the quality of the furniture is good. After that ensure that your furniture set meets all the following requirements
Aluminum frame- For durability
Thick cushions- For cozy comfort
Fabric quality- For weather-resistance
A synthetic fiber made of HDPE
This will entirely transform your outdoor space and make it more appealing to visitors. The magic of the wicker will unfold once you find the right furniture set.