The Most Beautiful Celebrity Wedding Dresses
3 min read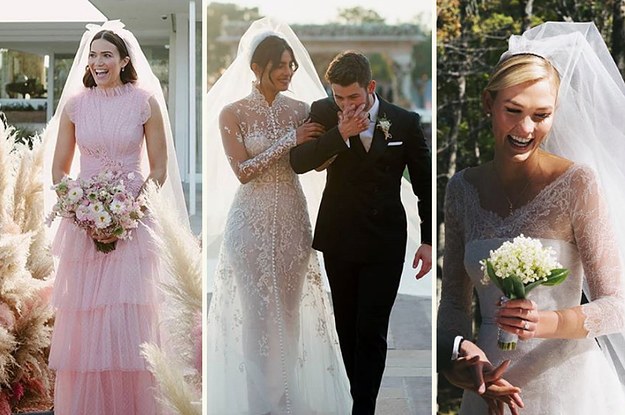 These dresses will cause delight and admiration for absolutely all the fair sex. And for those who have this important event to come, these options will be the inspiration for creating their own unique image. After all, choosing a wedding dress is not easy and very responsible. Let's take a look at these luxurious and expensive celebrity dresses. Beauty – do not take your eyes off!
Grace Kelly
During the marriage ceremony, the Monaco princess dress was ivory-colored with a train, bell skirt, expensive handmade lace and all decorated with pearls. The dress still causes delight and is considered one of the most beautiful. Many designers take this wedding dress as a basis.
Mahira Khan
The famous Pakistani  industry celebrity, Mahira Khan, has taught us well the art of dress to impress. The Famous actor turned into a superstar overnight has become a Fashion Icon of Pakistan Industry. On her wedding day she was wearing a Red Asian dress for wedding in which she was looking stunning and Gorgeous. Her Wedding dress was designed by Depak Parwani who is the Famous Clothing Designer in Pakistan.
Kate Middleton
The designer of this elegant dress is Sarah Burton (Alexander McQueen fashion house). To create a dress, the designer was clearly inspired by Grace Kelly's wedding photos. The dress, made of the finest silk and lace, made by hand, as well as a long train – all this is so subtle and restrained.
Ginza Tanaka (Ginza Tanaka)
The wedding dress by Ginza Tanaka, a Japanese designer, is one of the most expensive in the world, worth $ 8.3 million. The dress is decorated with 502 diamonds and 1000 pearls. The Olympic champion in figure skating Shizuka Arakawa has become a model for demonstration of the foundation dress.
Kate moss
Supermodel Kate Moss got married in 2011 to The Kills band guitarist Jamie Hins. She was wearing a dress by John Galliano. This is an open outfit of ivory color with a long veil decorated with lace flowers and golden sequins. It turned out a very gentle and light wedding dress in the style of the 20s.
Bella Swan from Twilight
Fans of this film were looking forward to the wedding ceremony of the main characters, and especially, what would be Bella's dress. Carolina Herrera (Carolina Herrera) designed the design of the wedding dress for the heroine of the film "Twilight". This is a straight, tight dress with long sleeves and a train. Looks very feminine, elegant and at the same time romantic. The highlight of this dress is exquisite lace on the back, decorated with numerous buttons. After the film was released on the screen, the dress became very popular and will undoubtedly remain so for many years.
Salma hayek
The famous actress appeared at the wedding in a spectacular dress from Balenciaga. The dress is presented in the form of a deep neckline, a heavy multi-layered skirt of satin and a bodice-corset decorated with a unique hand-made embroidery. Salma Hayek decorated her head with a veil.
Megan Fox
An American actress and model did not arrange a magnificent wedding. It was a modest Hawaiian ceremony. To match the chosen and dress from Armani. White outfit in the style of minimalism, airy and romantic. In addition to him, Megan was wearing a veil. For the entourage, the bride decided to appear at the wedding without shoes.
AmalAlamuddin
At the marriage ceremony with George Clooney, British lawyer AmalAlamuddin was wearing an exclusive dress from Oscar de la Renta. This classic silhouette outfit consists of ivory tulle and lace, as well as handmade embroidery with pearls and rhinestones.
Kim Kardashian
The wedding of actress and model Kim Kardashian with rapper Kanye West took place in Florence. The bride wore a dress from Givenchy, created by creative director of the brand Ricardo Tisci. For her outfit, Kim choose german lederhosen and the style of Godet dress. On the back and abdomen – only thin lace. Looks very elegant and graceful. Kim completed her wedding image with a long silk veil.