The 6 Best B2B E-Commerce Platforms For Small Businesses
5 min read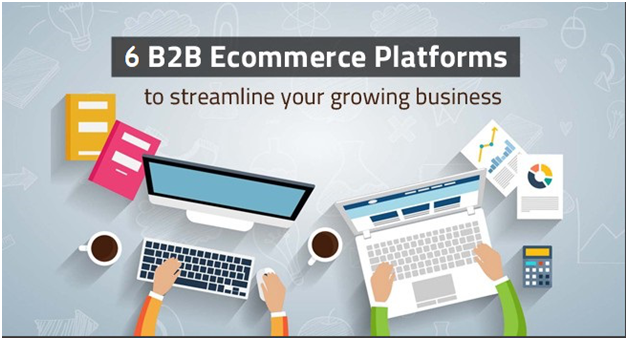 The E-Commerce industry is emerging as the top retailing channel. More and more retailers are entering into the e-commerce world. The reason behind the escalating growth of the e-commerce industry is its potential for huge benefits offered to retailers.
Seemingly, we can witness that B2B businesses are taking the most from the e-commerce world. With e-commerce retailing systems, B2B dealerseffectively manage business communications, inventory and order/delivery processes.
Currently, Investing in the B2B e-commerce industry is apparently quite sensible with a promising future. According to bigcommerce.com, the business-to-business e-commerce transactions would reach $1.2 trillion by 2021. The figure exhibits sheer future potential of the industry.
In case, if you are still not preparing to start B2B retailing, then you might not get the business opportunities.Starting your B2B business will help you provide pioneering solutions to fulfil the demands of wholesalers, manufacturers, and distributors.
If you don't have an idea about which B2B e-commerce platforms to choose from, then this blog is for you.Before exploring the best B2B e-commerce platforms let's take a look at some of the great examples of B2B eCommerce sites.
1. Alibaba.com
Alibaba.com is the chart-topping B2B e-commerce site that enables companies to revamp the way they sell, buy, and market products.
Alibaba.com is the best place for merchants who are looking for a way to leverage technology power for engaging and operating customers in an efficient way. Alibaba.com is the combination of art, entertainment, technology and innovations.
Direct Macro is another amazing B2B e-commerce site where businesses can make purchases for all the essential electrical equipment.
It's a one-stop-shop for all your networking needs. The leading tech-focused retailer offers a bulk stock of networking devices, PCs, laptops, tablets, power inverters, motherboards, cooling fans, storage devices and a lot more is available.
3. 3DXTech
3DXTech focuses on functionality,and that's the reason what makes this platform a reliable hub for all your 3D printing needs. 3DXTech manufactures high-quality filaments using state-of-the-art equipment and processes.
These are a few successful B2B e-commerce websites that are running successfully in the market and satisfying customers at all level. You can also take some inspiration from such sites if you want to start your e-commerce store.
Now you have explored the best B2B e-commerce platforms it's time to take a look at the best B2B e-commerce platforms.
Best B2B E-Commerce Platforms for Small Businesses
If you are just about to design your first B2B store, then platform selection might cause you some serious problem. There is huge collection of B2B platforms available. Each platform has its own specifications, features and tweaks among which you have to select the best that fits your budget.
Take a look at some of the best B2B e-commerce platform to get started:
1. GOECart
GOE cart is the bestfit for all those retailers who are looking for a customizable, extensive and all-inclusive B2B e-commerce platform. GOE Cart is a simple platform that contains powerful features which help you boost your e-commerce growth in a limitless way.
GOE Cart inhibits over 250 features that process multiple orders at a time. A few of the GOE Cart features are mentioned below:
Innovative orders approval, routing and processing
Single-click quotation to order conversion
Complete mail order telephone order (MOTO) support
Several payment support
Quick order record modification
Bulk order printing
centralized inventory and order management
Latest search options
Complete integration with GoECart's enterprise-level CRM capabilities
Advanced return authorizations including workflow approvals and routing.
2. NetSuite
NetSuite is emerging as the top B2B e-commerce platform that provides scalable, and modern solutions at a fraction of cost.
The platform enables retailers to automate several processes that improve operational efficiency and overall productivity. As of now, NetSuite is considered as the world's most installed cloud ERP platform. Supporting more than 40,000+plus organizations across the globe.
NetSuite ERP inhibits impressive feature sets that manage and control various back-office operations and financial business processes in the cloud. Some of the core features of the NetSuite are:
Holds the data in a single database
Enables companies to unite the fragmented data and automate processes from end to end
Advanced customization support
Web-based on-demand solutions
3. Contalog
For beginners, looking to start e-commerce webshop, Contalog is a go-to platform. It inhibits simple features that help merchants in order management, product management and inventory management.
Contalog's elegant and responsive design help B2B enterprises to fully leverage the available market opportunities. Initially, Contalog started as the order management solution but now, it has completely transformed into a full-fledged omnichannel commercial platform for businesses.
Here are some of its accentuating features:
Digital Catalog
Order Management
Product details management
Field sales app
Mobile Commerce
4. InsiteCommerce
InsiteCommerce is a popular out-of-the-box e-commerce platform that offers resourceful and responsive solutions for businesses.
InsiteCommerce comprises a range of powerful dynamic tools that help you grow your online business.InsiteCommerce help retailers in delivering a unique experience to the customers and guests.
Some of the core features are:
Dynamic pricing matrix
Multiple built-in merchandising and promotion techniques
Single point Content Management System
Site search management
Tuning of synonyms
Stop words
Auto redirects
Search Boosting
5. BigCommerce
BigCommerce is the top-performing cloud e-commerce platform that supports already established businesses. The platform is a great combination of functionality, open architecture and app ecosystem that results market-leading performance.
BigCommerce help e-retailers to easily meet and exceed the demand of their customers.
Core Features are:
Purchase orders and credit verification
Quote management and bulk pricing
Advanced search options
Advanced punchout
Automated 3rd-party data syncing
Advanced B2B-friendly shipping.
6. 3d Cart
The 3d Cart is a good option for B2B newcomers. 3d Cart inhibits tools that support online merchants to measure their growth and efforts. It also helps businesses to better manage other processes that are essential to selling to multiple customer bases.
Core features of the platform are:
B2B customer segmentation
Discount settings based on individual and group pricing
One-click reordering feature
Quick order pad for managing and streamlining bulk order processes
Tax Management feature
Get Ready to Select Your E-Commerce Platform!
With time and technological advancements, the upcoming B2B e-commerce platforms are providing complete support and managing the businesses processes like never before.
If you also want to be a part of the e-commerce world, then select the best B2B platform that fits in your needs and budget.
Author Bio –
Usman Ahmed works as the Digital Marketer at Cubix a Washington, D.C. based software Development Company. He is an experienced marketer and passionate about the latest technologies. He comprises a broad experience and frequently writes on topics related to mobile apps, Blockchain technology, SharePoint, E-commerce, and others. Visit Site for more info