Promote Your Business And Advertise Your Products Or Services With Custom Signs And Feather Flags
3 min read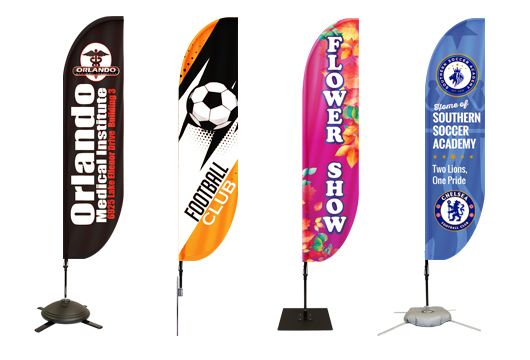 Putting first thing first, a feather flag is nothing but an advertising banner that event managers/organizers, and businesses all around the world use for promoting their event, brand, or business.
You can derive the name from the flag's shape, which resembles a quill's feather. Businesses use feather flags to advertise their products or/and services.
They consume very little space, which makes perfect for high-density location or areas with space crunch, such as indoor malls, dense metros, and trade shows.
Depending on the hardware, style, and size of your feather flag, its kit can cost $14-$290. The cheapest feather flags, stock flags entail pre-printing. The most expensive ones are the 17ft custom feather flag kits.
If you use your feather flag exclusively for special programs, it can last for many years.
You'll find that flags in calm, dry regions like California last well over nine months. In erratic and humid climates like Florida, they last about six months.
An Effective Marketing Tool
There's a reason why businesses with a brick-and-mortar range and location use feather flags. You can attract a considerable amount of traffic through a strategic implementation of feather flags.
When ordering them, it's crucial to understand the number game. One flag wouldn't suffice. When you have a legion of flags outside, all dancing against the wind, they naturally attract the attention of people.
It's important to select the right color that represents or complements your brand. It enhances the marketing's effectiveness.
Brighter colors reach a much larger audience. However, don't go overboard with the brightness as it looks very unprofessional.
Assessing your target audience's color personality is pivotal when choosing colors. Red and blue are common in ads.
The location and placement are the most crucial and important aspect of your flag campaign. Since not every retail store has the best location, place the flags in a place, where the greatest number of people can see them.
Also called flutter flags, blade flags, bow flags, sail flags, teardrop flags, and quill flags, you can shape each one of them differently.
You mustn't keep the flags out year-round until they ensure an increase in foot traffic.
In A Nutshell
While walking through government buildings, state estates, colleges, emporiums, restaurants, or any big commercial establishments, you watch those flags waving consistently through the wind. It's an amazing sight. They create a feeling of curiosity, awe, wonder, or attachment in your mind, and you walk right into the concerned building.
That's what advertisement and marketing are all about. There are premier companies that provide quality feather flag banners in 4-5 sizes. They provide the flag with a case, a standard custom feather flag, a ground stake inside the case to pin the flag on the ground, and a pole set.
They perform the printing process on a full color polyester fabric, which renders a very attractive and classy finish for the product. Besides covering the middle area, the colors also cover the flag corners and edges. You print the flags on a single side to display a reverse image.