Must Consider These Facts During Design Cone Ice Cream Cover For Your Brand
7 min read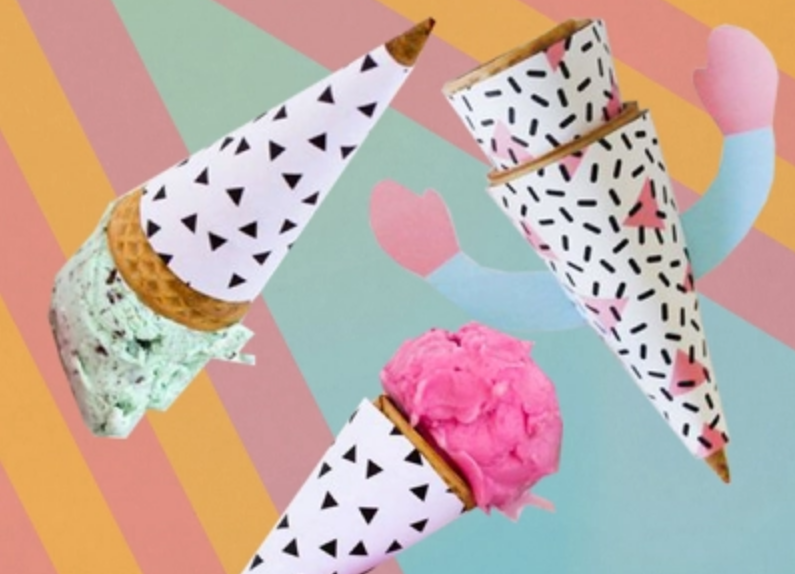 The ice cream is a luscious and mouthwatering frozen dessert that is taste buds for all people without age differences. With the passage of time, many new frozen desserts introduce, but no one takes the place of ice cream. Generally, ice cream makes from sweetened milk, sugar, eggs, vanilla, and many other ingredients that increase its delicious taste with time. The substance of the ice cream scoop looks gleeful when it is fill in the waffle biscuit cones that wrap with glossy and esthetic ice cream cone covers.
The endless demand for ice cream creates the zeal in people to start ice cream parlors and shop. And, most people are successfully established their brand name in the market, but it is not an easy-breezy task. If you want to succeed in this industry, you need to consider many things that you expect from the location, planning, and budget. You need to design custom cone ice cream covers. So, first of all, let see why ice cream cone requires packaging.
Why Does Ice Cream Cone Require Packaging Shelter?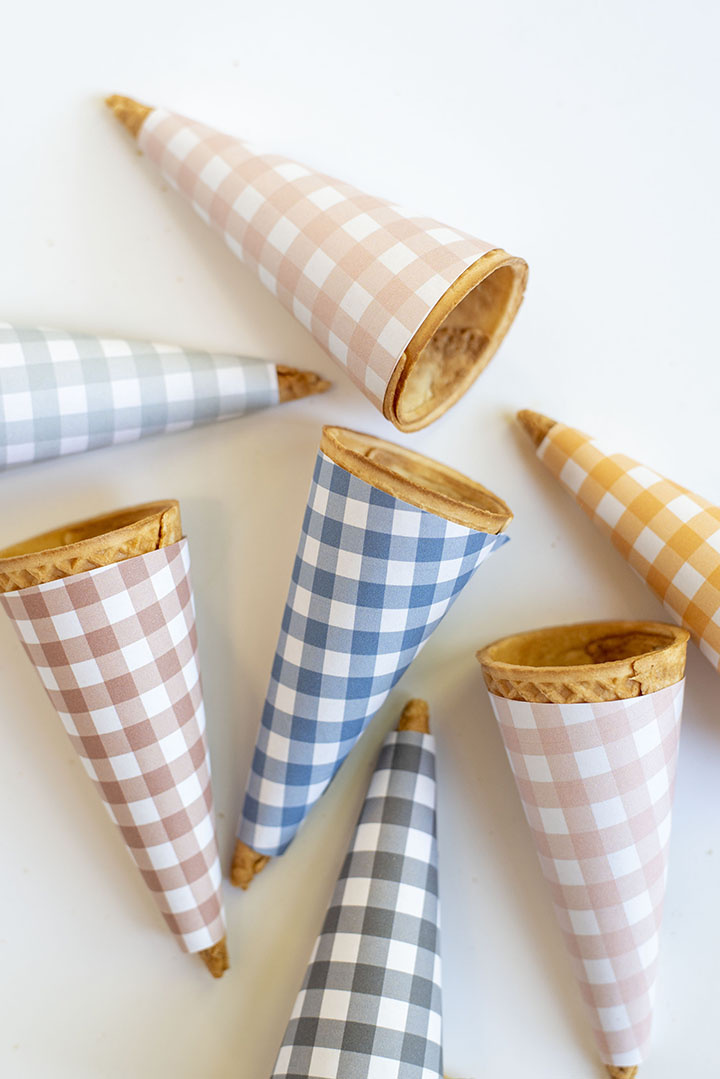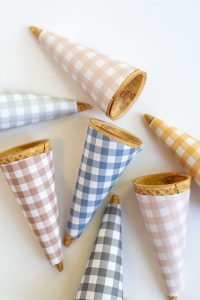 Like every snack, confectionery, and frozen food item, ice cream also require packaging for versatile reasons. Firstly, ice cream cone waffles are so sensitive and easily crack after some hard handling. Secondly, cone sleeves help them to instant messiness due to melting ice cream at high temperatures. Lastly, it protects your ice cream from dust particles and polluted components. Now it's time to take the first step to take the decision what waffle cone shapes you can pick to serve your customers.
Decide What Type Of Waffle Cone You Can Use To Serve Ice Cream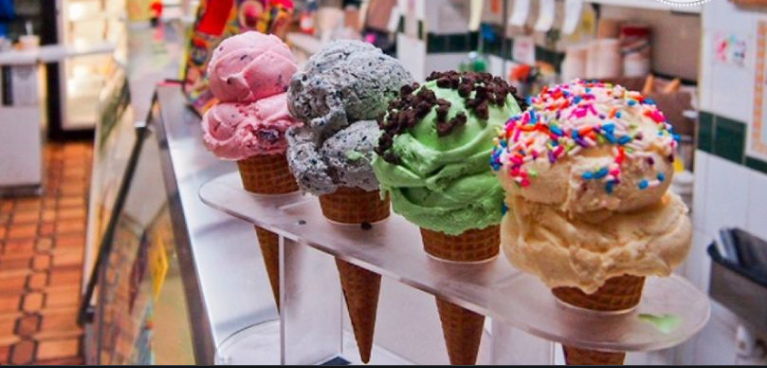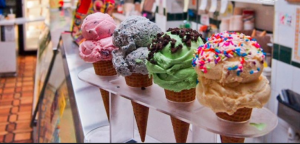 Ice cream parlors use various types of waffle cones to placing ice cream scoops to engage the customers. These cones present the esthetic look of ice cream cones in front of the target audiences. Plus, these waffles require packaging according to their sizes and shape. Here is the list of some sort of biscuit waffle cones for you:
Twin cones- Such waffle cones have two holes that show their constructs for two scoops of ice cream. This cone style is famous for couples to show their love.
Sugar cones- such biscuit cones have sugar particles in the cones batters, and it adds more sweetness to the ice cream cones.
Pretzel cones- These cones have salt particles on the outer surface of cones and have space to hold 2scoops of ice cream with enhancing toppings.
Simple waffle cones- Such waffles are simple and make from butter, yeast, flour, and brown sugar.
Waffle bowls- These bowls look like an ice cream cup that grasp the attention of end-users instantly.
So, choose the one, or maybe you can use all types in your ice cream shop, but you need to make customized wrappers or cone sleeves for them.
Go For Customization Of Cone Ice Cream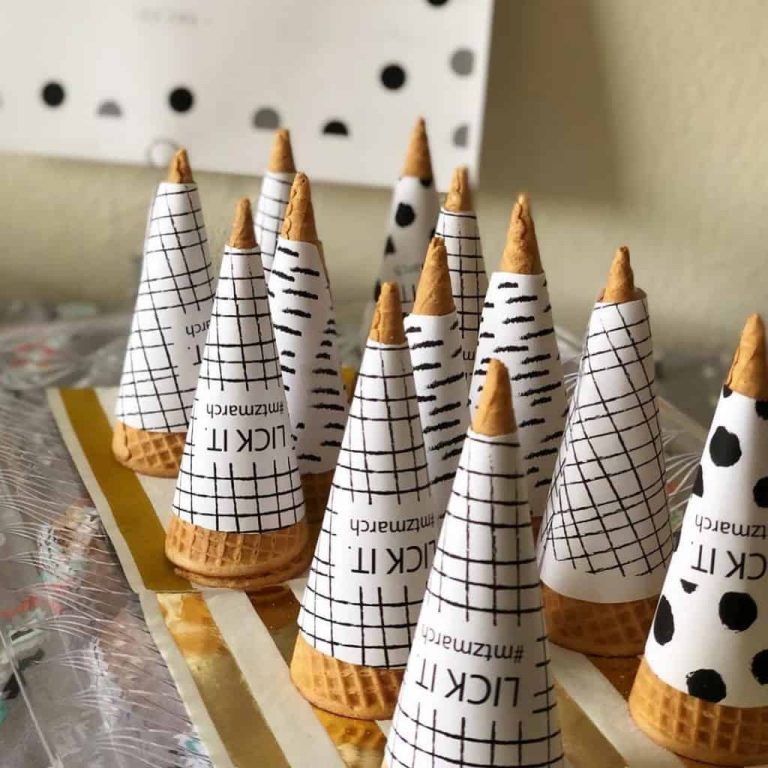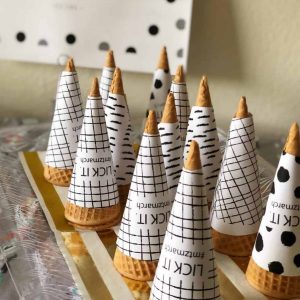 Customization offers you options to choose various aspects to make your ice cream cone titillating and engaging as per your imagination. Customization makes your ice cream cones sleeves enthralling and up to the mark. Moreover, you can use versatile options likewise, sizes, designs, embossing, debossing, UV coatings, cardstock, and many other elements that make your ice cream cone covers talkative.
Find Best Ice Cream Cone Sleeves, Suppliers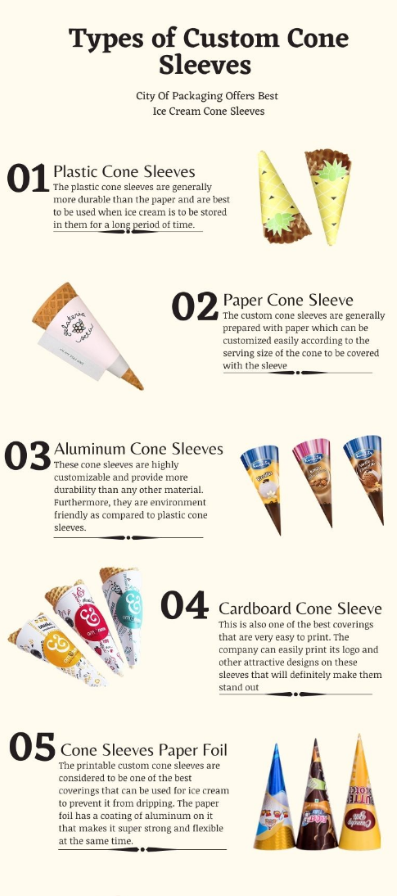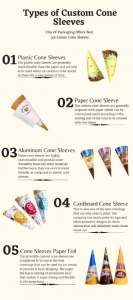 So, the initial step is to find the best and sublime ice cream cone sleeves suppliersthat provide premium quality waffle cone jackets for your ice cream shop. For this purpose, the best place is City Of Packaging that provides high-tech printing options for their clients. Plus, they offer discounts on various events so you can get an advantage from them easily. Apart from this, their experts are too humble to listen to your demands and issues humbly to provide satisfactory results.
Select Sizes Of Cone Ice Cream Sleeves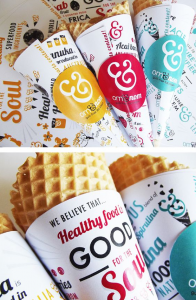 When you decide the types of waffle cones, then you need to finalize the ice cream cone sleeves to pack your waffle ice cream. So, you use pick standardized sizes and custom sizes for your ice cream cone sleeves covers. Here is the list of sizes of custom ice cream cone sleeves that you can pick for your ice cream shop.
130mm-Ultra mini size cone jackets
133mm-micromini size of cone sleeves
136mm- Micro cone covers
146mm- Mini cone sleeves
151mm- Standard size cone sleeves
165mm-jumbo size of ice cream cone sleeves
Pick Eco-Friendly And Durable Material For Ice Cream Cones
Choosing durable paper for your cone ice cream helps you to provide the best user experience to your end-users. With the durability of your ice cream cones, they must be pack in eco-friendly cardstock that is not harmful to your audiences.
So, you can use aluminum foil, Kraftpaper, and cardboard paper for custom ice cream cone packaging. All these cardstocksare nature-friendly as well as affordable for your ice cream shop. Cardboard-made ice cream cones have polythene linings that protect from damage and provide resistance against moisture. Moreover, the aluminum foil givesa shiny look to your ice cream cones that instantly catch the customer's eye. If you want eco-friendly ice cream ones, then you must visit City Of Packaging for more information.
Use Of Edible And Healthy Adhesive For Ice Cream Cones
You can choose nature-friendly ice cream cone covers, but you used chemical glue to wrap them on the biscuit ice cream cones. Consequently, you invite the heaps of disease for human beings. So to ensure hygienic and human health issues, this adhesive material must be edible. In this regard, most of the brand uses simple and ordinary oldcorn's syrup for gluing cone jackets around the waffle biscuit cones.
Play Printing Options To Make Your Ice Cream Cone Covers Talkative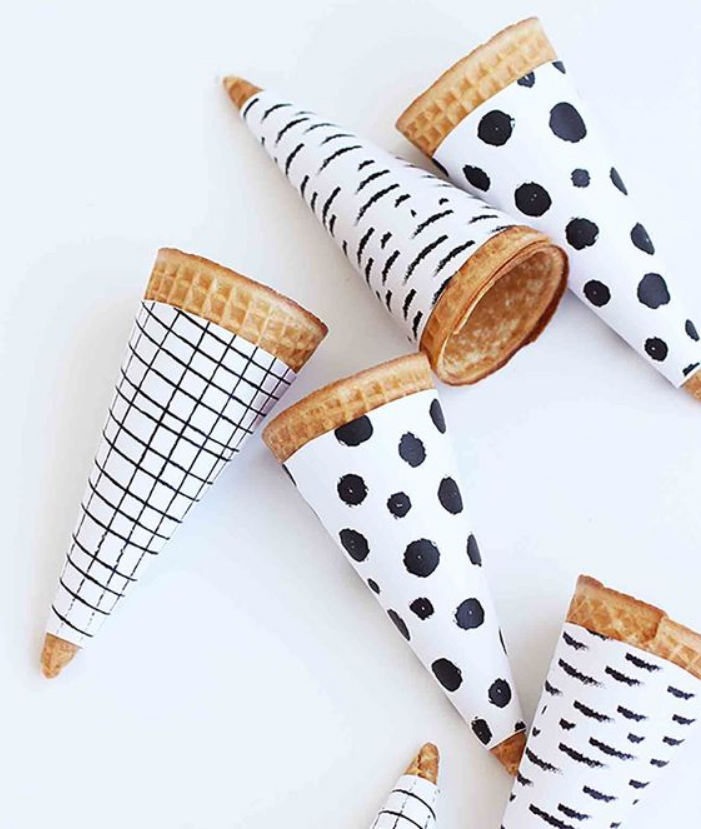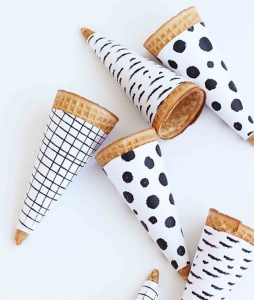 Your custom waffle cone sleeve must be talkative and deliver complete information about your brand and product. Communicative ice cream packaging builds profitable relationshipswith your brand with customers. Add to this; it helps to make your brand talk of the town and marketing. In this regard, you need to enlisting points on the ice cream covers as per your interest.
Logo
Brand name
Products name
Flavored
Taglines
Est brand established date
MFG
Expiry
The City Of Packaging experts help you print the right text and information on the printed ice cream cones to standout in the industry.
Annexation Of Elegant Design On Waffle Cone Jackets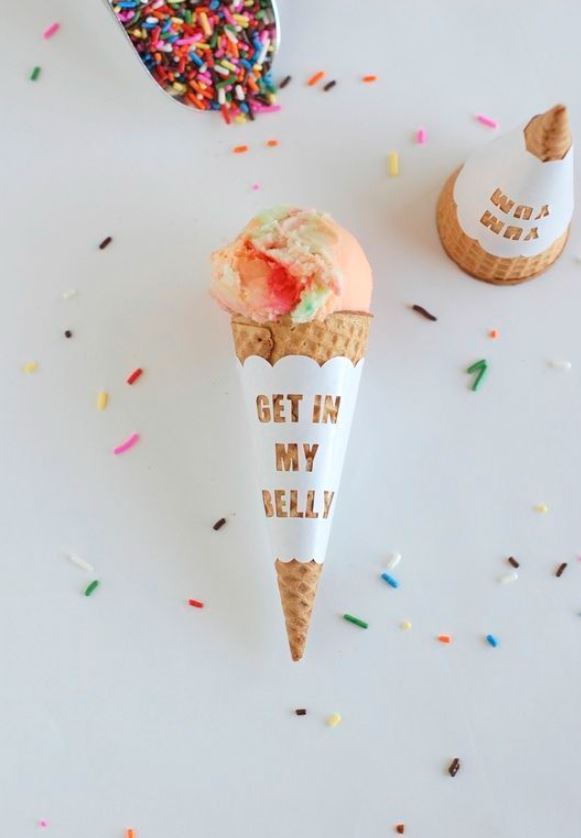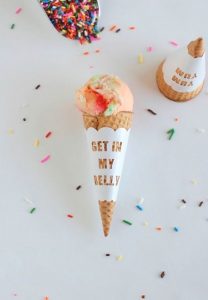 The design of your cone ice cream covers must be appealing and enough to grasp your customers' attention. If you want to print customized and enticing graphic motifs on your cone ice cream covers, then you can contact City Of Packaging experts. They provide the best quality ice cream cones for their customers that help them to build clients' trust in the brand. So, you can apply a variety of customizing design patterns for your ice cream cones; some are enlisting below for you.
Polka dot
Narrative
Intricate lines
Flavor printing
Juicy ice cream cone sleeves
Printing famous characters
Summer strips
Water waves
Simple zigzag lines
Quotation printing
Funny illustrative character
Make A Catchy Composition Of Vibrant Colors For Cone Sleeves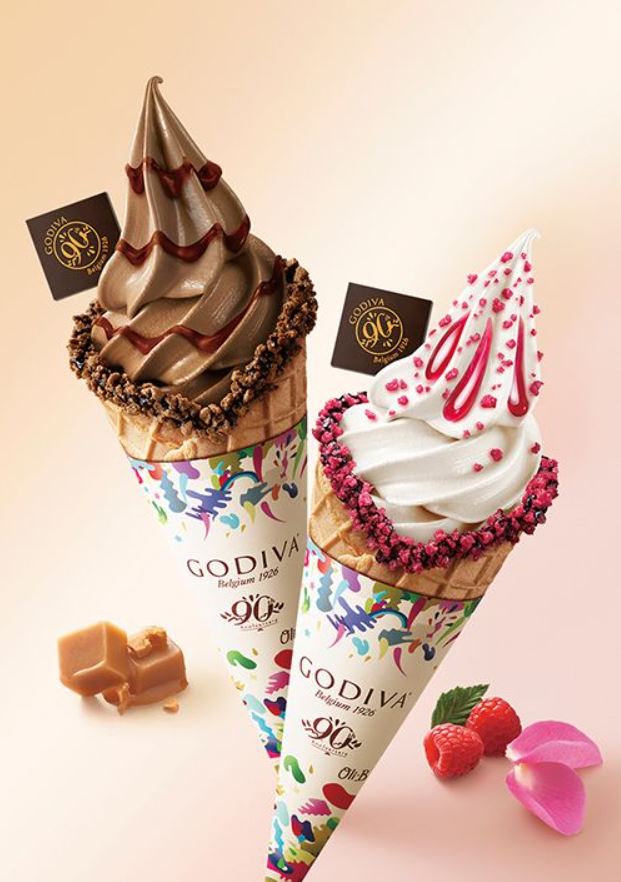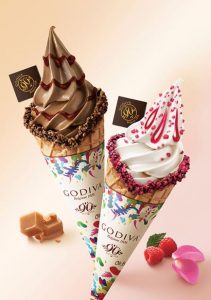 Most of the audience is influence by the colors combination of your ice cream cones sleeves. So, always used sparkling and cool colors for your ice cream cones jackets that look gleeful in the summer's seasons. For this purpose, you need to contact the best packaging designs that help you make the right color for your ice creamcone with the help of CMYK and PMS. Well, the packaging engineers of the City Of Packaging have too much expertise to provide the exact colors that you want for your waffle cone sleeves.
Finalize The Copyrighted Font Style
Sometimes ice cream brands makea mistake in copying the fonts style from other brands. So, never do such kind of thing because it hasa negative impact on the customer's mind and hurts your reputation in the industry. For this purpose, you need to use a unique and customized font style that provides your prominence in the industry and makes your brand memorable in customers' minds for a long time. You can choose fonts style from two umbrella terms like Serif and San serif.
Apply Additional Add-On
If you want to give a distinctive touch to your ice cream cones, you need to pay a little more and create sublime custom ice cream cone sleeves that help you obtain attention from customers. On this subject, the City Of Packagingoffers various add-ons for your ice cream cones you can pick as per your budget. Here is the list of add-on that you can use on ice cream cone sleeves.
Embossing
Debossing
Sport UV pattern
Add more embellishments in cones jackets like ribbon
Sealing Up A Discussion:
The above discussion is evident to explain the major facts that need your attention when you design ice cream cone covers. For this purpose, you need to pick customized options like sizes, design, printing options, material, font, logo, and add-on options that fix in your budget that decide to invest in cone packaging. Now it's your time to design your custom waffle cone jackets that standout in the industry and boost your sales rapidly.