MilesWeb vs BlueHost : Who Is The Best For Web Hosting Provider in South Africa?
5 min read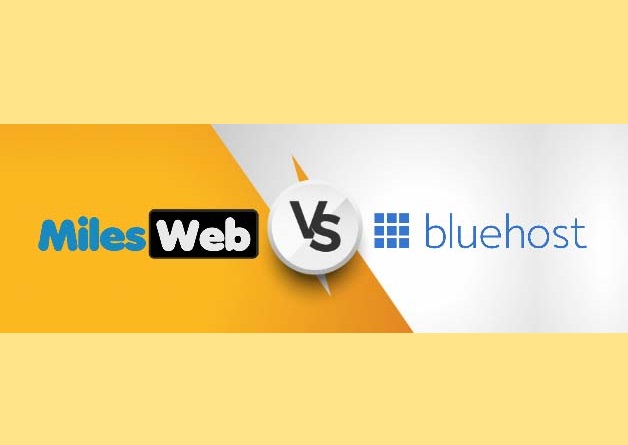 Are you looking for the best Web Hosting provider and at an affordable price?
But confused about which provider to select?
Then, you have come to the right place. In this article, we will consider two of the most preferred hosting companies that are MilesWeb and BlueHost. Depending on their plans, features, services and price we will check a fair see off so as to make your choice easy which provider is best for shared hosting.
We are considering shared hosting, as most of the business owners want to start their new online business and there are many those who want to start their blogs. And shared hosting is a preferable option for a newbie.  
MilesWeb offers wide range of shared hosting plan right from providing limited to unlimited resources. They are also good in cPanel reseller hosting services.
1)  Cheap Web Hosting :
They have a separate lane for the Cheap Shared Hosting Plans that have limited resources incorporated.
The plans range as (a) Lite – R9.40/month. (b) Deluxe – R28.20/month. (c) Ultimate – R37.60/month.
2) Unlimited Hosting :
You get different plans for Unlimited resources and these plans are categorized under Unlimited web hosting.
The basic unlimited plan is available at just R11.28/month. Where you get Unlimited bandwidth.
The second plan under this category is Value plan that costs R28.20/month. Features of the Value plan are :
•    Host 1 website
•    Lifetime free domain
•    Unlimited SSD Disk space
•    Unlimited Bandwidth
•    Free SSL certificate
•    cPanel+Softaculous
•    Unlimited MySQL databases
•    Unlimited Email Accounts
Bluehost doesn't have any cheap hosting plans. Their shared hosting plan starts with a Basic plan that cost $2.95/month.
Features of the Basic plan are :
Host 1 website
50 GB SSD storage
Unlimited Bandwidth
Free SSL Certificate
1 Domain Free for 1 Year
25 Subdomains
Conclusion on Start plans :
(i) From above you can see that MilesWeb's Value plan provides you more hosting features over Bluehost's Basic plan that too at low cost.
(ii) MilesWeb also has cheap plans for small size websites and blogs. These plans are not provided by Bluehost.
(iii) MilesWeb Unlimited resources plans start at $2.12/month = Value Plan.
(iv) Bluehost Unlimited resources plans start at $2.95/month = Basic Plan.
(v) SSD Storage – MilesWeb provides unlimited SSD storage with its Value plan.
Bluehost provides only 50GB SSD storage with their Basic plan.
(vi) Domain – MilesWeb provides lifetime free domain with their Value Plan.
Bluehost provides a free domain for the only 1st year with their Basic plan and from 2nd year, you will have to pay renewal cost.
# MilesWeb Unlimited Plan vs Bluehost Plus Plan :
The Unlimited Plan from MilesWeb costs you $3.57/month and it consists of the following features :
Host Unlimited Websites
Free Lifetime Domain
Unlimited SSD Disk Space
Unlimited Bandwidth
Free SSL Certificate
cPanel+Softaculous
Unlimited MySQL Databases
Unlimited Email Accounts
The Plus Plan from Bluehost costs you $5.45/month and it consists of the following features :
Host Unlimited Websites
Unlimited SSD storage
Unlimited Bandwidth
Free SSL Certificate
1 Office 365 Mailbox – Free for 30 Days
Unlimited Domains for a Year
Conclusion on Unlimited and Plus plans from MilesWeb and Bluehost respectively :
(i) Cost: The cost of MilesWeb plan is lower than Bluehost plan.
(ii) Features: MilesWeb provides some additional features like Unlimited MySQL databases and Unlimited Email Accounts.
Bluehost provides you 365 Mailbox that too only for 30 days and later you will have to pay for this.
(iii) Domain: Bluehost provides you unlimited domains whereas MilesWeb provides you only one domain. But the validity for domain provided by Bluehost is for only 1 year whereas for MilesWeb it is free for lifetime.
Bluehost has more two plans known as Choice Plus at $5.45/month and Pro at $13.95/month.
Both these plans comes with same features the only difference is with Choice Plus you get Standard Performance and with Pro you get High Performance.
This is not a case in MilesWeb because they guarantee high performance for your website with all the plans regardless of its cost.
Similar features from MilesWeb and Bluehost are :
Till now we saw different shared hosting plans from both the providers and how they vary in the features. Now let's have a look at the things these both share :
(i) Free SSL certificate: You get a security certificate with all the plan from both these providers.
(ii) Domains: Both the providers give you free domain but their validity differs. Bluehost offers free domains for only 1 year and MilesWeb offers free domains for lifetime.
(iii) SSD Storage: SSD storage improves your site performance by 200%, and luckily you get this feature from both the providers.
(iv) Unlimited bandwidth: Unlimited bandwidth can host every size of the website easily.
These are some features provided by both the companies.
Now let's see features provided exclusively by MilesWeb :
(i) Free Website Builder :
The website builder allows you to create your own website with easy drag and drop method. It has thousands of themes available, from them you can select one and drag and drop your content into it.
(ii) 1 Click Installer :
1 click installer allows you to install more than 400 applications like WordPress, Joomla, Drupal, etc.
(iii) Latest PHP and MySQL :
All the plans from MilesWeb have the latest version of PHP and MySQL, and there is a software that automatically updates them as soon as new version releases.
(iv) Datacenter Choice :
You get an option to select your data center location during the time of the sign-up process.
(v) Malware Scan and Removal :
Their expert team keeps a close eye to the malware and troubleshoot them as soon as any malware is found.
(vi) Free Migration :
Switching to MilesWeb is very easy just call them. They will carry the burden of migration of your data from other providers to their server that too at your time of preference.
All the features provided by Bluehost are mentioned in explaining their plans. For other features you need to pay them extra.
Conclusion :
Both MilesWeb and Bluehost are growing in the market but as per my personal opinion I think MilesWeb provides you best features at low cost than Bluehost.
Well both provide 24/7 technical support and 30 days money back guarantee. While the uptime varies for both. As explained in the article MilesWeb provides high performance website with 99.95% uptime with all its plans whereas, the uptime for Bluehost differs with plans. They provide high performance with their Choice plus and Pro plan while other plans have standard performance.