Magical Benefits of Pedicure and Manicure
4 min read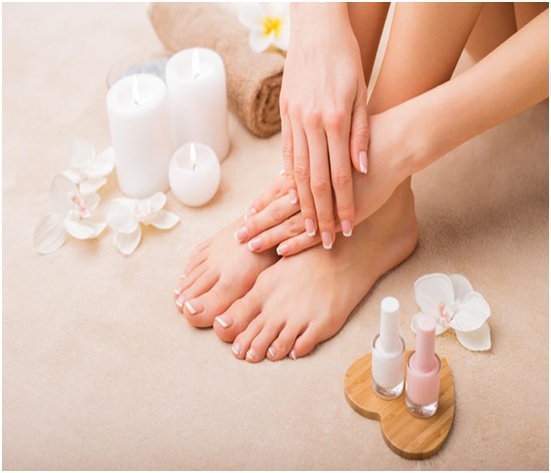 Pedicure and Manicure are the best ways to keep your nails look beautiful and healthy. This also helps in the development of your nails. Getting these treatments from a professional nail salon is a must not only for women but for men too. Since we make use of our hands the entire day while being either in the office or at home, we need to take appropriate care of them. Same is the instance with our feet too, we put a lot of pressure on them, so it's important to provide them some DE-stressing and pampering while being in a nail boutique at least once in two months. At home while tackling kids or cooking food, we have to keep our nails dust free and clean.
For those working in an office, it's even more necessary to keep the hygiene by keeping their nails fresh and clean. While being in an office, we interact with a lot of people, and many times we use hand gestures and shake hands, so it's important for your nails to look good at all these times. First impressions are the last impressions, so ensure the best one with pretty nail designs and nails, done by our professional nail artist. So, when we meet people, our nails will refresh them too. Vegas nail salon provides professional expertise. Our professionals also remove tan from your feet and hands as well as dead skin cells.
Exactly like a manicure, pedicure helps in relaxing our feet. It is the only stressed organ due to standing, walking etc. Pedicure from our nail salon is the best way of getting your feet relaxed. It is also beneficial in keeping your feet moisturized, removing tan and making your nails healthy and beautiful. The nail technician also adds a stress-free massage which also benefits in blood circulation especially of those who wear heels. A pedicure also makes you get rid of your foot pain. So hurry and take an appointment to reduce pain, stress, tan, etc. Here are certain great benefits of pedicures and manicures:
IncreasesBlood Circulation
While undergoing pedicure or manicure treatment, besides exfoliating, getting treatment for the cuticles, moisturizing you will also get a relaxing and stress-free massage with best massage oils for your feet and hands. It not only relaxes muscles but also improves the blood circulation and mobility of the joints. This reduces agony and keeps your feet warm amid cold months.
Enhances Well-being of the Nails
With consistent usage of the hands and feet, the chances of the nails getting fungi or infection persists. Therefore, it's a good idea to get thorough cleaning so that other than removal of dead skin cells, the chances of infection also reduce. Our professionals help you choose the best pedicure and manicure as per the damage of your skin.
De-stresses
We all are aware of body massages to be the best way to restore your nerves and relax, yet at times all it takes to relax is a good foot and hand massage. Pedicure and Manicure are a fantastic approach to relaxing and destressing while bettering the feel and look of your feet and hands. Sometimes under stress individuals bite their cuticles, leaving them cracked, dry or even bleeding. During stress having a pedicure or manicure is the best substitute of body massage for relaxing you plus it provides you with beautiful nails automatically thereby bringing a smile on your face. But only experts can get you the best results.
Keeps Feet and HandsDelicate and Smooth
For certain people with dry skin or sensitive skin, winters can be extremely harsh. It's suggested to get pedicures and manicures done regularly during winters. It keeps the feet and hands soft and smooth irrespective of being exposed to the harsh winter season. You might even experience painful scars, crack or soreness in winters. So, do not wait for the winters to get over, take an appointment with us and give a treat to your feet and hands.
Makes Skin Healthy
Your hands get more exposed to daily dust and dirt as compared to any other body part, except the face. Your feet also mostly get exposed by walking or standing and can cause uneven skin conditions. An expert manicure does careful cleaning and exfoliates your skin. All kind of dirt gets removed during the process, leaving your hands smooth and reducing the chance of wrinkles too. An expert pedicure expels any callousness on the feet. This makes your feet more appealing.
There are various kinds of manicure and pedicure available. You with the help of our professional you can choose the best possible option for you. So, make Your hands and feet both look amazing and reduce your pain and destress yourself with our manicure and pedicure. Additionally, increase your blood circulation.