Know About Interior Fit Out Companies And The Benefits They Provide
4 min read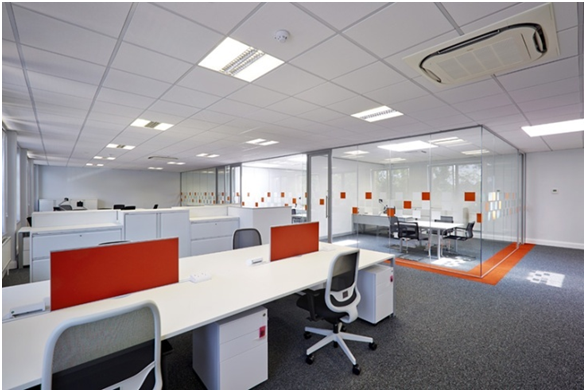 Office fit-out is critical for changing a basic, abandoned, and dusty area into your ideal fantasy office space that showcases your company's culture and encourages a positive working atmosphere. But, aside from the obvious reasons, did you realize that hiring interior fit out companies in Dubai may provide you with deeper and more important benefits?
The term "office fit out" is not a new one. Many of you may be aware of it, and many may have a few indications. If you're considering a new workplace or renovating your current one, it's time to learn about "Office Fit Out." Is your workplace truly "fit" for "Fit Out"? Is it a difficult or fascinating task? Here's all you need to know about "Office Fit out" before signing on the dotted line:
What Exactly Is "Office Fit Out"?
Fit-out is a word that is commonly used to describe the process of making interior spaces acceptable for the office's occupier. Essentially, office spaces are designed to meet the demands of office occupants.
What Is The Purpose Of Office Fit Out?
Investing your time and money in your current workplace will lead to future business success. Consider the various outcomes, such as how it may improve the worth of your firm. Hiring interior fit out companies in Dubai has a beneficial influence on employees, according to recent research. As a result, Office Fit out may really increase your employees' productivity.
What Is The Procedure Of Office Fit Out?
As a result, there are no defined "steps" in Office Fit Out. There are, however, two categories of office fit-outs: Category A and Category B.
What Does The Term "Shell And Core" Signify In The Context Of Office Fit-Out?
The building's mainframe is referred to as "Shell and Core." The structure is finished, but the systems and utilities have yet to be implemented.
What Exactly Is Category A Fit Out?
The tenant's own space Fit Out is referred to as Category a Fit Out. This is the fundamental Fit Out, which covers all procedures such as electrical and mechanical installations. This Fit-Out includes suspended ceilings, fire systems, lighting, and air conditioning. Grid ceilings fitted lighting, elevated floors, interior surface treatments, blinds, and other features are typical of Category a Fit Out.
What Is Category B Interior Design?
Category B involves transforming the internal area to meet the needs of the tenant. Category A is a blank canvas, while Category B is painting on it. With Category B, you have the opportunity to develop a fresh vision that is precisely suited to your organization. Private office spaces, IT common rooms, kitchen/ snack facilities, reception area, floor finish, doors, meeting and conference rooms, furniture installation, and so on are all included in this.
How Much Does It Cost To Set Up An Office?
This is a difficult question to answer because expenses vary by area and space. Merely a few Fit Outs require only aesthetic enhancements, while others necessitate structural development. These, too, vary depending on the quality, furnishings, space, and other factors specific to your needs. However, to get a ballpark amount in your head, consider the following: Costs of fit-out (as estimated by developers), as well as installation and training prices, furniture costs, and IT infrastructure costs. Also, set aside 5 to 10% of the overall project cost as a contingency budget.
I'm Still Unsure If Office Fit Out Is Right for Me.
If you're reading this, you're almost certainly ready for a change. It's all about how your company will evolve in the next five years when it comes to office fit-out. As a result, your workplace should reflect your current company value as well as the ability to adapt to changes shortly.
A decent office fit-out will provide you with your ideal fantasy office and assist your company in earning revenue. Without a comprehensive interior fit-out, a suitable establishment, whether it residential premises, office property, or manufacturing enterprises, is incomplete. A building that lacks a delicate finish from a fit-out builder is like a car that lacks music, sound, and other inside elements. Fit-out contractors, in essence, put the finishing touches on structural engineering work. When providing interior design services, interior fit out companies in Dubai ensure that the customer's specific requirements are met. To integrate the concept of domestic and official occasions, you'd require interior fit-outs.
Organizations should invest in developing locations and environments in which workers would want to spend time. Even a minor change in workplace layout may have a significant influence on productivity. When you develop a design that aligns with your goals, vision, and values, you can build a well-rounded office. Additional clients may need you to rearrange the furnishings to make the most of the available space. Expert fit-out contractors provide finishing touches for planning and design projects. Even if your company is currently established or growing, imagine it is in the middle of its growth cycle and is just getting started.