Guide To Marketing Automation For SEO In 2022
6 min read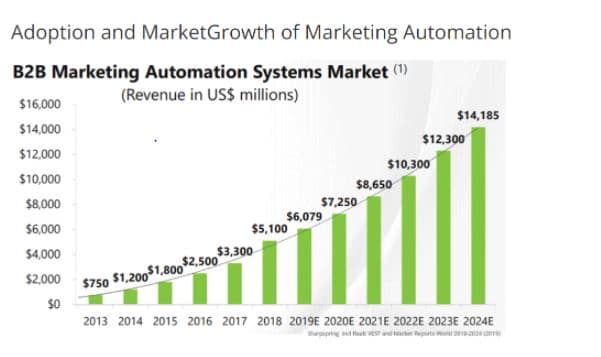 Marketing automation has been in trend for a while now. Email automation, social media automation, and automating SEO strategies is common practice among brands to scale their profits. 
Studies show that brands that have included marketing automation have increased their leads by 68% in just 6 months. The need for marketing automation is indispensable, and that's why an incredible number of businesses are adapting to market automation today.
So how to include marketing automation for SEO purposes that allows you to save time and produce great results – a bang for the bucks?  
Let's explore! 
Automate SEO Tasks
Use tools to save time and effort in your overall SEO strategy. You can use tools to perform repetitive tasks like finding keywords and perform all other SEO tasks that require multiple hours. 
SEO automation will enable you to systemize and simplify tasks using software and tools to reduce manual work and help you focus on more significant decisions in your overall digital marketing campaign. According to Digital Marketing Agency Dubai, Analysis can be done by the human mind, where you can easily automate tasks like keyword research using the following tools…
BrightEdge Autopilot
A key tool for search engine optimization! You can use BrightEdge to fix all the duplicate content on all web pages, the orphan pages, and optimize mobile pages. It can help you track analytics, use in-depth data and give you recommendations for your target audience. Track and use the deep data, web-wide context, and recommendations to optimize. It enables marketers to get real-time results for their SEO needs. 
Hunter.io
This chrome extension automates and speeds up your link-building process. You can install Hunter.io to build an outreach mailing list. It helps you find email addresses in just a few seconds and allow you to connect with people to align your link-building strategy. It's a powerful tool with incredible deliverability checks and search filters. 
Keywords Everywhere
Find the best keywords with this tool on the go. It works great for both Google Chrome and Firefox and gives you accurate metrics right that you need for your business. You will get detailed data trends of competitors including monthly search volume and CPC. It can help you save time for back-and-forth steps that are involved in keyword research. 
Screaming Frog
Use this fast and advanced tool for SEO audit of your website. It can quickly crawl your website and generate reports on redirects, metadata, and broken links. Screaming frog is great for both small and large websites. 
Ultra-Personalize your Content 
Today a large amount of content is created by the brands in an attempt to rank in search engines. While this is true, it's not good enough to just get the clicks. You need to be able to convert the visitors, send them a business proposal, and turn them into persistent buyers. 
A great way to create ultra-personalized content is to focus on the needs of the target audience and how that serves the buyer's journey. You can incorporate artificial intelligence to strategize your content personalization plan. 
So, here's what you can do. 
Tailor recommendation
Use your current database to personalize services/products on an autopilot basis via AI. A great example is Starbucks which used its data analytics to send personalized suggestions and menus. 
You can also place a chatbot on your website which can answer any queries the visitors have. Doing so will help your user in its buyers' journey. A user does his research, checks Google reviews, and looks for social media reviews before choosing your brand, therefore you should customize content that will help in getting answers to all the questions he has while keeping the brand top-of-mind. 
Dynamic content 
We all feel special when someone addresses us with our name, be it in person, an email, or a text message. Remember, the pop-up on your phone that starts with your name. Isn't that a special feeling?
Personalize everything that you can. Personalize emails, a document that your user is going to design a landing page or email, or you can even personalize the quotes and images. 
Let's look at this example below that's geared towards career advancement:
I registered for the free 5 days challenge that School of Greatness launched, and as soon as I registered on the website, I received this message in my inbox that's personalized. I felt special, and honestly, I can't wait for the challenge to start.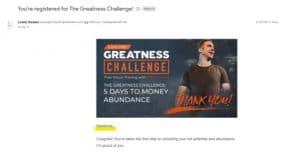 Automate your Social Media Marketing 
While we rely on SEO services more often, we need to understand that it's a social media world. Social media helps in optimization through increased brand exposure, extensive content distribution, increased organic traffic, and a longer lifespan of your social media posts. Metrics show that social media success can greatly improve your search optimization. 
Thus, we can say social media indirectly affects all those factors that contribute to your website ranking in search engines. Google leverages that business that has strong social media platforms. 
For example, if we search CNN, it's Twitter profile comes up like this: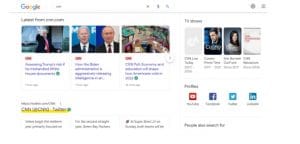 Plus, users look for social media profiles before they could make a decision that makes it one of the critical steps in a buyer's journey. Customers look for relevant hashtags and social proofs, so make sure you do it well. 
Automation tools can get so many tasks off your plate, you can schedule your posts ahead, queue them even for a month. Use social media marketing tools to: 
Track social media mentions

Schedule your posts 

Brainstorm headlines 
Use the following social media automation tools to leverage it's ranking benefits. 
Socialpilot
Perfect for small and large companies, a Social pilot helps you automate your social media marketing. It enables you to track analysis, schedule posts, manage calendars, etc. You can manage almost every single platform including Instagram, Twitter, Pinterest, Facebook, and Tiktok simultaneously. 
Hootsuite
I believe Hootsuite leads the industry for being and is one of the most popular social media management tools. This robust tool is perfect for large-scale businesses and has versatile features. You can even buy its premium version to explore its unique features. With Hootsuite, you can get real-time updates, and respond to the company mentions and tweets, etc. It's just cool, I'd say! 
Sprout Social 
Sprout Social has been in the market for quite a while now. Schedule your posts, run campaigns, and provide analytics using Sprout Social. You can even organize and assign tasks to your team members. However, it has yet to introduce scheduling campaigns on Instagram.
Automate Analytics 
Analytics is beyond gathering dry data, it's more about the actual results, and making sense of the figures that they get which help the marketers to make important decisions  
How to automate analytics for marketing?
Great if you have already incorporated marketing automation into your business, make sure you track them well. Use SEO analytics tools to find out whether your site is getting enough traffic, otherwise change them accordingly. Duplicate the tasks that give you results, or tweak anything that does not work at all. 
In a similar way, you can use social media automation tools mentioned in our list that will help you analyze the best-performing posts. Based on the result you can create similar posts and add them to the queues. 
Monitor, analyze, repeat as you include marketing automation to get great SEO results. What marketing automation tools do you use for ranking in 2022?