Five Innovative And Creative Bookshelf Designs For Any Home
4 min read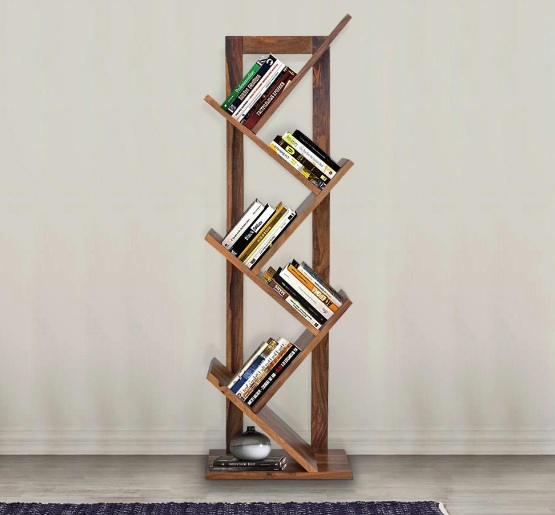 The immense knowledge of humanity is only found on bookshelves, right at your fingers, along with the excitement of a child entering a candy shop as you hunt for a book to snuggle up with and lose yourself in. After all, books serve as a vast repository of knowledge, intellect, and information, playing a very important part in everyone's life. Although the internet may now be our best friend, books still have a greater influence. They are better at relaxing our brains and enveloping us in creative worlds. Every book plays a significant, unique part in defining our personalities.
Since there aren't many homes in India with dedicated libraries, each one has a designated area in the living room that is decorated with a contemporary aesthetic and serves as the true centerpiece of the residence. Wakefit provides the most beautiful selection and styles of wooden bookshelf, giving your home library the best possible appearance and storage capacity.
Join us as we explore some fantastic bookshelf design concepts that offer distinctive book solutions for your house.

Stack those straight up :
The simplest strategy is sometimes the best one. For this reason, the majority of contemporary book rack designs have straight and patterned shelves. Stacking books on segregated straight shelves can result in an appealing yet straightforward design for a built-in bookshelf on the wall. All you really need is a stable flat surface to keep the books on. Additionally, this kind of bookshelf design blends in beautifully with any room in your house, whether you want to make a statement in your living room with a series of shelves surrounding a TV unit, create closed modern bookshelf for study room using glass or workroom, or create a floating wall hanging design just above your bed.
With the aid of a neighborhood constructor, building a custom straight bookshelf won't need much time if you have your dimensions and available space in mind.

Corner Crunch, Cramp :
Corners shouldn't be lifeless and uninteresting. To breathe life into the room, get your hands on a 5-tier wood corner bookshelf. This book shelves designs with white floating shelves, which are adorned with books, a few plants, and other decorations, serve as the room's center point. The bookshelf won't be scratched up because of the sturdy wood structure.
Bear, Tree of Knowledge, and Rustic Royalty books :
Look forward to never this contemporary wall book rack design, often known as the "tree of knowledge" or the "wisdom tree," if you're seeking for a popular bookshelf idea. As the name implies, you may either construct a custom bookshelf design for study rooms or just buy a DIY version online. At the corner of your sitting space is a floor to ceiling wooden bookcase in the style of a tree. This wood-made, seven-tier bookshelf is ideal for showing your book collection. You have the option to position both open, free, face down, or standing – as you like – on the branch-like angular shelves!
For a contemporary look, try open shelving :
Now that we're back to simple bookshelf design, you should definitely think about having an open shelf design for your books. Open shelves, as opposed to covered bookshelf designs, provide you unprecedented access because nothing is hidden. They are available in both l-shaped and angular forms. A straightforward yet gorgeous addition to contemporary houses is this freestanding bookshelf design with metal legs and timber shelves. Not only can you show off your ornamental items, but the bookshelf also consumes less material while producing a space for your collection that is as robust. You may organize your book collection both horizontally and vertically to generate interest thanks to the spacious shelf.
The incorporation of accessories gives this simple home design a touch of sophistication and usefulness. For some areas that you would like as drawers or cabinets, you could even choose a bookshelf with a glass door design. The sky's the limit once more. So proceed. Along with your collection of Harry Potter books, add a coffee shop. Leviosa Wingardium
A Magnificent Ladder :
Get a fashionable ladder bookshelf instead of those dull wall bookcase designs so you can not only store your items perfectly but also give the room a touch of glitz and joy. A gorgeous piece of furniture design, this ladder has golden legs and dark grey shelves.
Bookshelf Design Ideas Summary :
Whatever design you pick for your bookshelf, whether it be rotating, square, round, slanting, or in the form of a pillar, you can have it done! Utilize these simple-to-install bookshelf design ideas to stylishly construct your bookshelf while taking into account the available space and budget.