Duplicate Content – What Is It And How To Avoid It?
4 min read
Content duplication has long been and is still debated among SEO experts. You may have...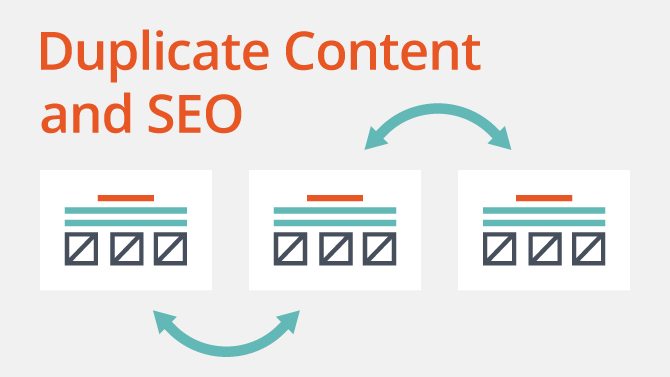 Content duplication has long been and is still debated among SEO experts.
You may have it on your site without even knowing it!
What is Content Duplication?
It is simply the presence of the same text on several pages. These pages may be on the same website or at two distinct sites.
Google defines duplicate content, literally, as "considerable content blocks in multiple domains that completely match or are very similar." Do not forget that for Google the content is not only text but also photos and URLs.
If a text is found on several websites, there is probably plagiarism. In this case, legal proceedings can be initiated.
A website full of repeated content or copied from other online pages, makes search engines have difficulty when positioning a website before others. When two different websites ends up with the same content, it is possible that the search engine does not know which of the two originally created this content.
10 Reasons to Hire a Digital Marketing Agency
What are the consequences of having duplicate content?
The duplicate content may cause our positioning to worsen, although there are different levels of penalization: from a slight decrease in search engine positions to disappearing from search results. The latter occurs if Google detects – or decides – that the duplicate content has been created with bad intention, that is to say, that we are cheating to achieve a better positioning in search engines.
Apart from the consequences in search engines, the author of the material, text or photo may also decide to denounce the copy, causing legal consequences. Also, if it is discovered that we are copying other people's content, our online reputation can be seriously damaged. Any comments or complaints of plagiarism posted about our website on social networks will leave a trace very difficult to remove.
Why does your website need unique content?
Although there are many reasons why your website should have original content, the three main ones could be:
Better classification possibilities
Better user experience
Sales conversions
The content must be unique to classify well in the SERP; from the perspective of creating content, it is essential that you know what duplicate content is and what implications it has for SEO.
Think of your search engine as a guide, take a trip and know where you want to go, then describe it to your guide (Google) and it will give you the best directions to get there. When you duplicate content in different URLs, your trip will take slightly different paths and end up in slightly different places. And maybe, not in the best destination.
From the point of view of a researcher, this is not so bad, since you get the information you need after all. However, from a marketing point of view, this is terrible. Your article may have been picked up by several different bloggers, some of them have been linked to one URL, while others have been linked to another. This reduces your chances of getting a high score on a search engine.
Tips to avoid duplicate content
You can make changes in the HTML design of your website to give the robots instructions on things like what content on your site they should not track, if there are several versions of your website or translations of it, which is the best version according to the type of recipient …
Do not copy other people's content. If you want to do it, it is best to let the author know and ask for his permission. Once you have permission, remember to include their name and a link to the original post.
Check that no one is copying you. There are different tools to track duplicate content, one of the best known is Copyscape, free and quite intuitive. In case you detect that someone is copying your content, the first thing is to contact the infringing website and request that they remove the content or that they reference you correctly. If this does not work, you can report the page to Google.
Google Search Console is another essential tool to review our URLs.
Screaming Frog and Virante tools are useful tools to locate duplicate content within our website or blog.
When you create a website using a website builder like hPage.com, search engines will be able to detect copied content on your webpages. Do research when writing your content and avoid using the copied texts, even if they are hidden in the Meta descriptions. Do not overlook those little duplicate content within your website, which is common in almost all cases. And if you suspect something is wrong, ask for help from professionals who help you solve it before your website is seriously damaged.