Capital Smart City
4 min read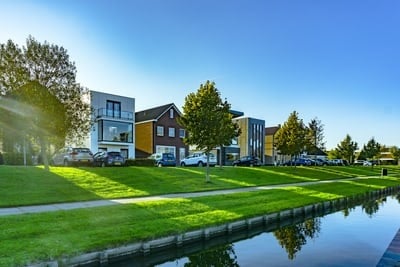 Capital Smart City Islamabad is the first housing society in Pakistan to be commissioned on the smart city concept. The idea of a Capital Smart City is based on real-time data gathering, storage, and deduction. Habib Rafiq Limited and its counterpart in the project, Future Development Holding, are working on the Islamabad CSC.
Residents of the Capital Smart City Islamabad would be able to live in an environmentally friendly and sustainable environment. CSC will be built near the Thalian interchange on the M2 motorway, adjacent to the New Islamabad International Airport. This is the only RDA-approved housing society with formal authorization from FWO and the National Highway Authority to build a motorway interchange. CSC Islamabad has seen a rise in demand since its launch in 2018.
Owner and Developers of CSCI
Capital Smart City Islamabad is a joint venture between Future Holdings Developments and Habib Rafiq (Pvt). Habib Rafiq (Pvt) is a well-known name in Pakistan's real estate market; they are the developers of Islamabad's Bahria and DHA. They've also built their own housing societies in Sargodha, Multan, and Sahiwal, dubbed Royal Orchard Sargodha, Royal Orchard Multan, and Royal Orchard Sahiwal, respectively.
Location
The Rawalpindi region of Islamabad is home to Capital Smart City. To simplify things, it is close to the recently constructed Islamabad international airport. This project is located 9.2 kilometers away from the M-2 toll plaza, which is close to the Thalian interchange.
Eighteen Islamabad, Al Mairaj Housing Scheme, Blue World City, and Qurtaba City are some of the nearby residential societies. The map of the smart city capital will help you better comprehend it. You may also like to learn about the Park View City Islamabad.
Future Developments Holdings (Pvt.) Limited (FDHL)
FDHL is a renowned Pakistani real estate developer and asset management organisation that contributes to the construction of futuristic smart cities by providing not only a luxurious lifestyle but also financial contributions to its clients. Under the Companies Ordinance of 1984, the FDHL is a registered group association.
Multiple national and international commercial enterprises make up this group. FDHL is the result of the merger of China Liaoning International Economic and Technical Cooperation Group Corporation Ltd (CLIC) and Engineering Dimensions (Pvt.) Limited (EDL), two large businesses with leadership and technical talents.
About Habib Rafiqe (Pvt.) Ltd
HRL has been a trend setter in the housing and infrastructure industry for the past 11 years. Furthermore, HRL has risen to the top of Pakistan's ever-expanding real estate market. Meanwhile, HRL demonstrated for the first time ever significant engineering engagement in the creation of housing and infrastructure.
Because of its hard-won reputation and trust, HRL stands tall and apart from the competition today. HRL also has a high value of Human Resources and electro-mechanical assets, giving it a competitive advantage over its market competitors. Habib Rafiq Pvt. Ltd. has a 61-year track record in the industrial and infrastructure sectors.
Capital Smart City NOC
The Rawalpindi Development Authority is in charge of the land where the Capital Smart City Islamabad is located. The RDA has already approved the Capital Smart City NOC, which is great news for investors and potential investors.
There are a few additional housing societies in the area where Capital Smart City is located, but nearly none have received a NOC from the RDA. Furthermore, while it is widely assumed that RDA takes months, if not years, to issue societies their NOC, the NOC for Capital Smart City was granted in record time. All of this demonstrates the project's credibility and potential.
Project Plan
Farmhouse plots are available in Capital Smart City in sizes of 20, 10, and 5 Kanal. They have plots of 5 and 10 marlas and 1 and 2 kanal for residential use at the pricing listed below. The initiative also provides access to the government's shops and offices.
CSCI is a pioneer in the provision of cutting-edge, international-standard facilities. If you live in a housing society, you can expect a load-shedding-free atmosphere. As long as the backup system is operational, there will be no interruption in the flow of electricity. The business district, well-distributed sub-centers, and neighborhood centers on the outskirts are all part of Capital Smart City's master plan.
Capital Smart City Payment Plan
Let's have a look at the payment plan, which is the most significant thing to consider when deciding where to live. Due to financial restraints, the high-class and attractive lifestyle is frequently out of reach for the average person.
This isn't an issue with Capital Smart City. You'll be relieved to learn that those who follow straightforward and inexpensive payment and installment processes can achieve excellent and dream living. Clients will find the prices of the properties to be quite affordable and attractive. The CSC housing initiative also offers residential plots, commercial plots, luxury villas, and farmhouses.
Conclusion
The Rawalpindi Development Authority has approved the capital Smart City NOC in its entirety. As a result, it is a completely legal housing design, and inhabitants will have no legal problems in the future. Capital Smart City is an excellent lodging Endeavour as well as an excellent investment option. Furthermore, the property value is likely to improve as a result of RDA's Capital Smart City Approval, which is crucial from an investment standpoint.
Author Bio
Muhammad Junaid senior Analyst, and Search Engine Expert. Extensive experience being an IT Manager in Aura Bizz, Silver City Islamabad –. Work for years with local and international enterprises. Also, represent well-known brands in the UAE.
About Author